Top 10 Places To Celebrate Your Birthday In Los Angeles!
Get PUMPed!
Lara Sophia November 15, 2018 9:17am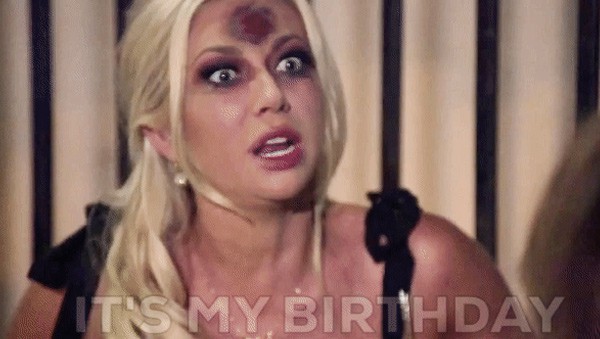 Want to celebrate your birthday in La-La Land like your favorite reality tv stars?
Well, we've curated a guide that will have you living it up 90210 style, even if it's just for one night!
The Real Housewives of Beverly Hills and the Vanderpump Rules crew may not have a lot in common but one thing they do is knowing how to have a good time.
Over the years, our favorite Bravolebrities have shown us the right way to celebrate and live it up! That means delicious dinners, lots of drinks, dancing, a maybe just a little bit of drama 😉
Oh, yeah and if you're up for it – go skinnydipping with your besties a la Birthday Queen Stassi Schroeder.
Here are the top 10 places to celebrate your birthday in Los Angeles:
FIG & OLIVE Melrose is about passion for the best olive oils, flavors, and cuisine from the Riviera & Coastal regions of the South of France, Italy, and Spain. The large variety of extra virgin olive oils was selected to be paired with each dish and to be offered for tasting at the beginning of each meal.
As seen on RHOBH: S7/E17- The ladies reconvene after their tumultuous trip to Hong Kong. Dorit's honesty comes into question after she tried to smear Erika's name. "She should be held accountable for the words that come out of her mouth." Erika
S8/E12 – Erika and Kyle catch up after the NYC trip and decide what to get Lisa Vanderpump for her birthday. "In Beverly Hills, you better bring something GOOD." -Kyle
Located in the heart of Hollywood, Glass Hookah Lounge is an innovative, fresh, and original café/hookah bar where you can relax and enjoy La Marzocco espressos, Bindi deserts, great food, entertainment, and if you're interested, a top of the line glass hookah smoking experience.
As seen on Vanderpump Rules: S6/E6 – Stassi and Katie go on a double date to a hookah lounge with a hidden entrance. "What's more exclusive than going to a place with a secret bookshelf? You're not going to find commoners there!" -Stassi
Looking to feel like you've traveled abroad without leaving the comfort of West Hollywood? Sur Restaurant, featuring eclectic cuisine, brings a taste of the exotic to the trendy corner of Melrose and Robertson. Sur offers guests friendly, attentive service and sumptuous international cuisine for a truly unique dining experience. Low lighting, candles, crisp white linen, and fresh cut flowers give an intimate touch. Sur has comfy indoor dining, a romantic patio, and a chic private room.
Since 2011, Sur has been featured in the Bravo series The Real Housewives of Beverly Hills. And now Vanderpump Rules follows Lisa, the best RHOBH, as she oversees Jax, Stassi, Scheana, Tom, Kristen, Katie and the rest of the red-hot staff at her red-hot West Hollywood restaurant and lounge, SUR.
As seen on RHOBH: S3/E6 – Brandi has enough of the Maloof hypocrisy and lies so she drops the ultimate bomb at the dinner party about Adrienne and Paul. What she says is too hot for TV and eventually gets edited out for legal reasons when all hell breaks loose and lawyers get involved.
SUR also happens to be the place where 90% of the drama on Vanderpump Rules takes place.
Located in Los Angeles, Dirty Laundry is a trendy nightclub in a hidden underground speakeasy with DJs, dancing, inventive drinks & sly house rules.
As seen on Vanderpump Rules: S6/E10 – Stassi throws herself a macabre, murder-themed birthday party to celebrate the "death" of her 20s. "Besides all the gore, the ranch dressing fountain is probably one of the most disgusting things I've seen in my life." -Schwartz Later that evening, Stassi has an Adderall + wine induced meltdown when Katie tries to get her to take a body shot off their stripper friend. "It's my f***ing birthday! What I say goes!" -Stassi
Located in Hollywood, Electric Owl is a neighborhood restaurant and bar modeled after a bygone era, evoking train travel and dining car luxury.
As seen on Vanderpump Rules: S6/E5 – Katie gets a drink with Brittany and Kristen to talk about Schwartz's drunken makeout session with another girl after they got married. Brittany is dealing with her own issues with Jax but she invites the girls to a housewarming party to try and normalize their relationship. Scheana's relationship is next on the chopping block because the girls have learned her man was also caught making out with someone. "I hope he doesn't break her heart." -Kristen
Located in the heart of Sunset Blvd, State Social House is a rustic-chic gastropub plating American comfort food & offering a cigar lounge & upstairs piano bar.
As seen on Vanderpump Rules: S6/E8 – The gang gets together to celebrate Peter's birthday which is historically a sh*t show. Jax is floored when Kristen not only invites Brittany's mom into town but also her sister! Katie and Scheana are also at each other's throats for mutually accusing each other's boyfriend/fiance of cheating. "Come up with some new material b*tch!" -Katie
Rated one of the most romantic restaurants in Los Angeles, Il Cielo, is known for its dreamy ambiance. Il Cielo has created a backdrop for many soirees that have lead to a feeling of enchantment and wonder. Il Cielo has produced numerous events for corporations, organizations and social gatherings and has also been named one of the top seven places to get married in Los Angeles. Within the esthetic of Il Cielo, they have fashioned a versatile atmosphere that lends itself to various uses.
As seen on RHOBH: S6/E1 – At Lisa Rinna's birthday dinner, the ladies can't believe the state Yolanda is in after her battle with Lyme disease. "In Beverly Hills, a woman going to dinner without a drop of makeup on is SHOCKING." -Kyle
Tart Restaurant serves American Comfort food with a country flair. Exclusive patio dining including an area with fire pit. Brunch available 7 days per week. Great cocktails and delicious desserts, just how Mom used to make.
As seen on RHOBH: S7/E4 – Eileen, Rinna, Dorit sit down for a relaxing drink but Dorit is still obsessing over Erika's panty-gate. "Oh c'mon. You can't be thinking am I flashing my puss." -Lisa Rinna
Located in the heart of Beverly Hills, Villa Blanca is Real Housewives of Beverly Hills star Lisa Vanderpump's sexy, stylish and romantic restaurant, serving Mediterranean, Italian, and Asian food. Enjoy the patio for people watching while also enjoying the reasonable prices.
As seen on RHOBH and Vanderpump Rules: too many times to count LOL. However, there are  two memorable VERY moments that took place at Villa Blanca:
RHOBH S7/E4 – Kyle meets Lisa at Villa Blanca for a day drink and to talk about Pantygate! "I saw what Mr. Girardi has been munching on for a decade!" -Lisa V
RHOBH S3/E1 – It's all angels and dry ice drinks for Lisa's big event at Villa Blanca. All the ladies (sans Adrienne) mingle over their sexual conquests and horoscopes until a strange gift from a missing person arrives. It's a monstrosity of a bouquet from Adrienne. A subtle F YOU, if you will. Or maybe just a peace offering. "I think it was supposed to be an olive branch, but it looked like the whole damn tree came in the room." -Kyle "It's kind of strange for someone to send flowers to an event they're not invited to." -Lisa
The Penthouse restaurant pulses with excitement 18 stories above the shores of Santa Monica. Contemporary cuisine and creative cocktails are served in intimate cabanas and fireside hangouts with views of endless Pacific coast & sparkling city lights.
As seen on RHOBH: S7/E7 – Dorit invites Rinna and Eileen to lunch to clear the air after their confrontation over Pantygate. Eileen can't even get a word in. "Please, please shut up. She likes to talk a lot." -Eileen 
And just for kicks, I thought I'd throw in two BONUS hotspots!
Pump is Lisa Vanderpump's sexy garden Restaurant & Lounge located in the heart of West Hollywood, CA. Pump is an eclectic restaurant that makes you feel like you've been transported to a magical garden in Tuscany or Provence. When you enter the majestic gates you're greeted by one-hundred-year-old olive trees, twinkle lights, and lanterns for a romantic ambiance.
Tom Tom is the latest crown jewel in Lisa Vanderpump's West Hollywood restaurant empire. Tom Tom transports you a bygone era with its eclectic design concept and menu of hearty, healthy and elegant bar food. You'll be seduced by the heady combination of decadent, delicious cocktails and sumptuous bar food.
If you want to get even more PUMPed check out one of our LA-based reality TV tours!
---