Top 10 LA Restaurants Most Featured on KUWTK!
LA food guide Kardashian-Jenner style!
Lara Sophia July 16, 2019 9:55am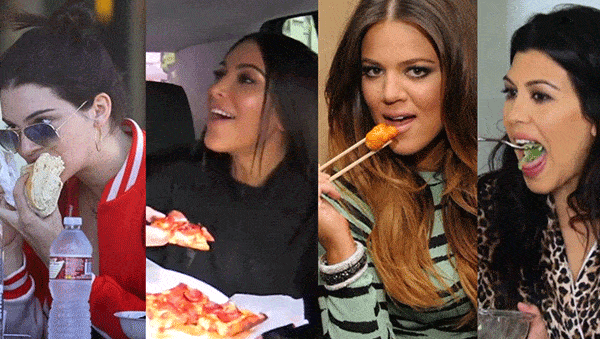 If you have ever wondered about all the eateries and restaurants featured on Keeping Up With the Kardashians then you're in luck because we've curated a list of the top 10 LA-based restaurants most featured on KUWTK!
So, if you're ever in LA and want to feel like a Kar-Jenner for a day or two then these are places you need to go! Your tummy can thank us later! Happy Eating!
If you ever watched an episode of KUWTK you've probably seen the Kar-Jenners eating salads and I bet you've often wondered where those salads were from, well we're happy to reveal they are from Health Nut.
Health Nut is a family-owned neighborhood health store that has been serving the Woodland Hills/Calabasas community since 1971. They have a variety of products, including vitamins, herbs, cosmetics, teas, and various other health-related items. Health Nut also offers a wonderful dining experience; featuring a menu that is filled with a variety of healthy food options from sandwiches, salads, and smoothies, to open-faced melts, various wraps, and homemade dressings.
Since 1980, Hugo's Restaurant, located in Agoura Hills, CA, has prided itself on producing original and delicious meals from scratch using whole-food ingredients that everyone can enjoy. At Hugo's, they focus on creating balanced meals that give customers healthy choices they would find in their own homes.
For over 62 years, the family-owned Casa Vega has been providing the San Fernando Valley with authentic Mexican food.
Located on the famous Ventura Boulevard, Casa Vega serves delicious food and drinks in a warm, inviting, and festive environment. With its cool 1950s vibe, dim lighting and red leather booths, you'll be transported back in time every time you enter Casa Vega.
Since 1983, when Chin Chin made its debut in Los Angeles, it's been serving the community with fresh, flavourful, and quality Chinese food sans MSG.
Chin Chin revolutionized the Chinese American food experiences in the United States with its delicious dishes like Chinese Chicken Salad, Dim Sum, and Orange Chicken.
All of Chin Chin's dishes are based on traditional recipes from a multitude of providences in China and other areas of Asia. Chin Chin prides itself on providing patrons with generous portion sizes and food that has been created with all fresh ingredients.
At Emilio's Trattoria "you'll always find a familiar face" whether it's in person or via one of the caricatures of beloved Hollywood stars that litter the walls of their Encino based restaurant.
Emilio's Trattoria is most known for its wonderful Italian Cusine, great service, and family-friendly environment. The Ventura Bloueveard establishment boasts a beautiful enclosed patio, red leather booths, and 70's LA vibe that will take you back in time.
Located on the PCH, Nobu Malibu sits on a beautiful beach front property that boasts floor to ceiling windows, outdoor patio seating, an exterior lounge and a fourteen person bar that overlooks the Pacific Ocean.
No seat is bad a seat at Nobu Malibu and views of the ocean are guaranteed no matter where you sit. Sip on light, crisp, and refreshing specialty cocktails with noshing on an array of Japanese inspired culinary delights.
Ruth's Chris Woodland Hills
Ruth's Chris Steak House, located in Woodland Hills, CA, has been named "Best Steak House" for 10 years in a row. The light wood interior with copper overtones helps create an enjoyable ambiance for dinners that they are sure to remember.
The atmosphere at Ruth's Chris exudes sophistication and elegance while not being overly stuffy – it's easy yet refined dining. Ruth's Chris prides itself on delivering superior service and unforgettable dining experience for every occasion.
Maria's Italian Kitchen in Woodland Hills prides itself only being the number one Italian neighborhood restaurant that boasts a homey and inviting atmosphere. Maria's is committed to offering it's patrons great Italian food at affordable prices.
At Maria's, you can expect to find meals created with love using the highest quality food and the freshest ingredients served by warm, friendly, knowledgeable servers.
The Villa is located in Woodland Hills and sits on one of the areas most historic restaurant sites. The location is the original home of Eckbergs Steak House which was uber-popular in the 60s and 70s and was actually converted from a home to a 10 table restaurant. Since then the location has changed hands multiple times and housed various eateries including Lautre and Villa Piacere.
Most recently, The Villa returned to it's home themed aesthetic thanks to designer Thomas Schoos who created a warm and inviting space that makes you feel right at home.
Catch is perched above the streets of West Hollywood and serves up a one-stop-shop for food and beverages. This LA-based eatery has something for everyone and provides seamless transitions from daytime dining to dinner, nightlife, and more.
Catch LA is known for its signature open kitchen and breathtaking views of the Hollywood Hills. Catch boasts 340 seats, a retractable roof, and unique open-air dining which comes together perfectly to create an elevated atmosphere.
With a focus on food, you'll find fresh, local and sustainable ingredients at Catch. The menu at Catch features great seafood, including sushi and Asian influences, like the Catch Roll, Truffle Sashimi, and Wagyu on a Rock just to name a few. Vegan and Gluten-Free options are also available.
For more check out TOR's curated

KUWTK Tour

!
---