Watch Vanderpump Rules' Tom Sandoval in This Cringy '00s Bon Jovi Video
I am so embarrassed to be a human right now.
Genny Glassman May 11, 2018 4:44pm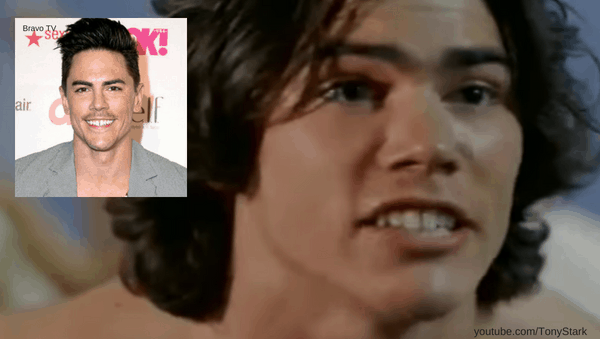 It's the weekend and we all could use a little comedic relief. Which is why this 2002 music video starring Vanderpump Rules' Tom Sandoval is a gift from the Heavens.
The video, which was made for the song, "Misunderstood," is a true early aughts masterpiece and also stars future wife of Matthew McConaughey, Camila Alves. Tom, who must have been about 18-years-old, even has the long, skaterboi hair that was popular at the time.
The video, which was over 25 million views, depicts a bumbling boyfriend (Tom) caught in the act with another woman when his girlfriend finds them in bed together. The boyfriend then tries to explain through a twisted and complicated web of fibs how the two "accidentally" ended up in doing the nasty.
Now gird your loins for this: this video had a sequel.
Yup, that's right. Tom made a SECOND Bon Jovi video. Which depicts the same bumbling boyfriend proposing to the girlfriend that he cheated on in the first video.
In "All About Lovin' You," Tom now has shoulder length hair (to show that time has passed) and as he jumps from the top of a building to declare his undying love for his girlfriend, the video flashes back to all the way the couple fell in love.
I am so embarrassed to be a human right now.
Tom has yet to comment on his blast from the past, but as Page Six notes, in his Bravo blog from 2013, Tom spoke about how he exhibited EXTREME professionalism on set.
"I can tell you, that on any legit photoshoot, being anything less than completely professional is just flat out not tolerated. Before Camila even met Matthew McConaughey and became his wife, we shot a huge budget, Bon Jovi music video together and she was topless on top of me for three hours. I did nothing but keep direct eye contact with her, in paranoia of being anything less than professional."

"Because of my professionalism and awesomeness (OK, I'm being a bit cocky, LOL!), I went on to shoot the next video ('All About Loving You') and many more things came from that."
Tom then went on to star in several low-budget sci-fi films, including a movie called "Puppet Master: Axis of Evil," which IMDB describes as, "During the Second World War, a young man, with the help of some animated puppets, must stop the Nazis who attacked his family and kidnapped his girlfriend."
No shade. We all need to start somewhere!
Tell us if you remember Tom's big break in the comments!
---