Fired Southern Charm Star Slams Co Star
Thomas Ravenel took to Twitter to throw shade at Patricia Altschul.
Ashley Hoover Baker October 24, 2019 10:34am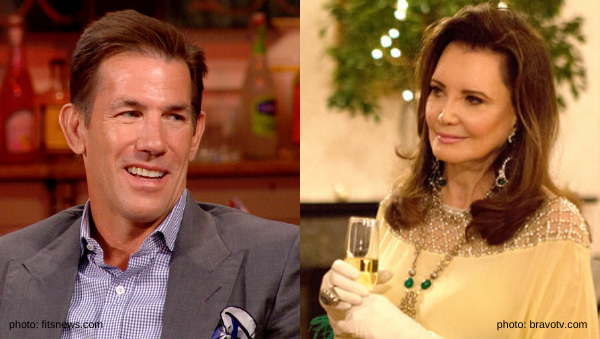 Terminated Southern Charm star, Thomas Ravenel, slams his former co-star, and it's not Kathryn Dennis! This time, the disgraced politician went after Patricia Altschul.
You've got to see this tweet for yourself….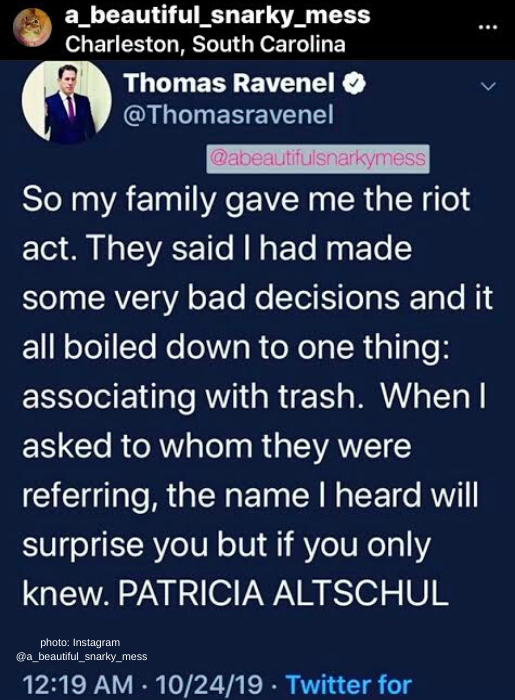 Who knows what you can believe out of T. Rav's mouth, but here is what Kathryn's baby daddy has recently claimed. He's remarked that he regrets ever being on Southern Charm (sounds like a sore loser to me) as well as speculated about the filming schedule for the show's 7th season. Though there have been rumors cirulating of the hit Bravo franchise not returning, Thomas tweeted "Just heard they start filming in January." Not sure why he would care, but I digress…
Now back to Patricia, the heart and soul of Southern Charm. Per Thomas' tweet, "So my family gave me the riot act. They said I had made some very bad decisions and it all boiled down to one thing: associating with trash. When I asked to whom they were referring, the name I heard will surprise you but if you only knew. PATRICIA ALTSCHUL."
Thanks to CheatSheet.com for posting this response from Thomas' Twitter account, as he blocked me a long time ago. "When a follower remarked that there is no way Ravenel can win in the war of words, Ravenel said he has other plans. 'In court, I will. Not here on Social Media.' He then claimed it was Altschul who tried to send him to prison adding, 'She ain't no lady, lady,' he added." Does anyone else feel dirty after reading his words?
Keep in mind, Thomas was accused of sexually assaulting his kids' nanny and has recently settled the lawsuit against him. Click here if you missed how he settled.
Cheat Sheet also reported, "He said he no longer plans to remain silent while Altschul continues to comment about him. 'I let her trash me for a year while keeping silent. She was relentless. Lying left and right about me on national television and trashing me on social media. The truth about her needs to come out.'"
If you love all things reality tv and pop culture, check out the On This Day Entertainment podcast. Not only will you hear the latest reality news, but also nostalgic flashbacks! This week, Danny Pellegrino joined me to break down the iconic OG reality show, Newlyweds: Nick and Jessica. Click here to listen!
Do you think there is any truth to Thomas' claims against Patricia? Drop your opinions off in the comments!
---