Thomas Ravenel claims to "quit" Southern Charm
Bye, Thomas.
Genny Glassman August 15, 2018 8:43am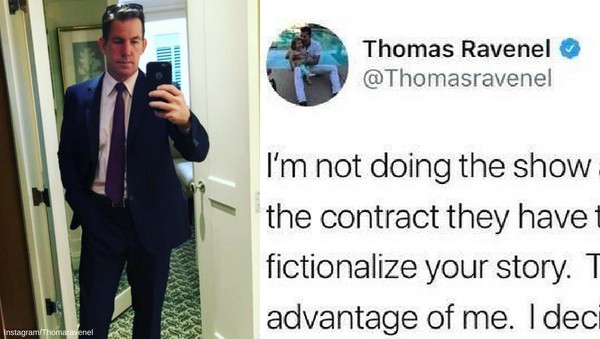 Will anyone miss him? After a revealing season and a girlfriend who drove the rest of his cast crazy, Thomas Ravenel is finally leaving the Bravo hit show, Southern Charm.
In a Tweet written earlier today, Thomas revealed that he was finally done with the reality TV show. Thomas claims that he takes issue with the way he was portrayed, alleging that producers where allowed "to fictionalize your story." And added that "They took advantage of me."
But anyone who has been following the show this season will remember that Thomas' hands aren't completely clean himself. The former politician is marred in two ongoing sexual assault investigations. The first claim made by Debbie Perkins, whose daughter, Ashley Perkins, claimed that Ravenel assaulted her mother while on a Tinder date. And the second made by the former nanny to the two children he shares with Kathryn Dennis (Saint, age 2, and Kensie, age 4).
The nanny, Nanny Dawn, claimed that Ravenel attempted to rape her after finishing her day working for the family. Dawn told South Carolina police that she told Ravenel "no" when he came up behind her and tried to kiss her. She said that after she rebuffed Ravenel things become violent. According to People, on the police report the incident was classified as "forcible rape."
Thomas was noticeably absent from the Southern Charm reunion due to the ongoing investigations.  And in a move that is sure to get tongues wagging, today Thomas' girlfriend, Ashley Jacobs, has tweaked her Instagram account — by deleting any pictures of the two of them together.
We can only guess what that might mean for the couple.
Are you happy to see Thomas leave the show? Let us know in the comments!
---