The Vanderpump Rules Guide to Cabo San Lucas!
What happens in Cabo stays in Cabo.
Lara Sophia January 2, 2019 8:20am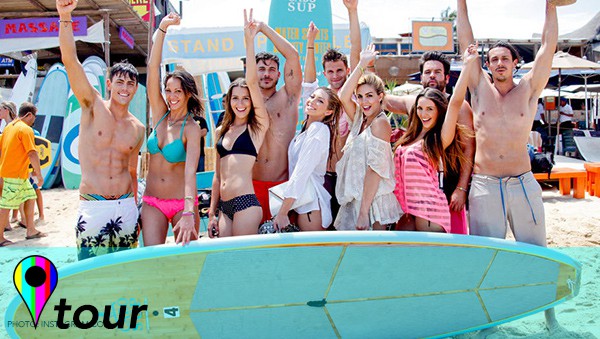 The Vanderpump Rules crew knows how to party. In fact, the party pretty much follows this group wherever they go. However, whenever the Pump Rules crew heads South of the Boarder things get extra crazy. Maybe it's the tequila, maybe it's just them, either way, it a good time for all involved. One place the Vanderpump Rules cast love to travel to is Cabo San Lucas. Why? Because it's close, it's gorgeous, and it's oh so much fun! I mean what's more fun than bikinis, booze, and the beach? Not to mention the tacos and tequila. Did I mention the tacos?
If you're looking to escape the cold weather this winter Cabo is the place to go. It's beautiful, warm and a whole lot of fun.
So, we've curated the perfect Vanderpump Rules approved guide to Cabo San Lucas! Grab your passport and go because we've basically planned out your whole trip for you. You can thank us later 😉
Here's how to vacation in Cabo – Vanderpump Rules style!
Hotel
The Bahia Hotel and Beach Club is a full-service boutique hotel in Cabo San Lucas's Medano Beach district is the ideal destination for visitors who want to explore the region's best activities, shopping, nightlife, and dining from its location steps from the lovely Sea of Cortez and the most swimmable beach in the city.
As seen on Vanderpump Rules S2/E10: The Sur crew arrives in Cabo to celebrate and heads to the hotel where they have a unique sleeping arrangement. "My birthday is a BIG deal." -Stassi
Restaurants
Bar Esquina features a unique twist on International creative cuisine: Mexican influenced Mediterranean flavors using locally grown, organic produce; fresh fish from the Pacific and Sea of Cortez; and the highest quality meats cooked on a mesquite grill.
As seen on Vanderpump Rules S2/E10: In Cabo for Stassi's 25th birthday, the group sits down for a nice, friendly, drama-free dinner where Katie definitely doesn't have a meltdown about BF Schwartz not liking her for obvious reasons. Hahaha. Can you hear our sarcasm? LOL  "You make my life miserable." – Schwartz
Located right in the heart of Cabo San Lucas, on Medano Beach, Mango Deck boasts an unbeatable view of Lover's Beach and the famous Arch of Los Cabos, where the Sea of Cortes and the Pacific Ocean meet. Mango Deck beach club is open bright and early 7 days a week so you can come and enjoy a variety of different breakfasts consisting of great big omelets, pancakes, Mexican specialties, breakfast burritos, fresh fruit plates and a variety of healthier lighter choices, and for recovering after a crazy CABO Saturday night, you must come to our all you can eat, Sunday brunch featuring a wide selection of dishes and of course Mexican pancita or pozole, the Mexican fix for a Mexican hangover!
As seen on Vanderpump Rules S2/E10: On their Cabo expedition, the crew stops off to grab a drink at a beachside bar. The guys end up being judges in a wet t-shirt contest. "There is a skank hierarchy: hookers, strippers, and wet t-shirt contest people." -Stassi
Activities 
Cabo Expeditions will show you the very best of Baja!
As seen on Vanderpump Rules S2/E10: For Stassi's 25th, the gang takes a boat to a secluded beach for some fun in the sun and paddle boarding. "There's definitely priorities in Cabo. Number 1, get plenty of beer. Number 2, check out all the girls in bikinis." -Jax
Board the tall ship Sunderland, built in 1885, the oldest English tall ship left in the world that is sailing in the Mexican Riviera. You will experience the power of the sails and learn about the maritime history that evolved around the town of Cabo San Lucas, Mexico. In an area rich in pirate lore and stories of buried treasure, those who think Baja is only about Missions and cave paintings cannot afford to miss this aspect of local history.
As seen on Vanderpump Rules S2/E10: The crew takes a booze cruise in Cabo for Stassi's 25th birthday. Jax disappears, but when he shows back up he's got a pack of wild sluts waddling after him. "Jax is thinking he's a stud with 7 girls around him… little do they know we're about to rip their heads off." -Stassi As quickly as they came, they hit the deck running when Stassi kicks them off the boat. Meanwhile, the group plays spin the bottle and the Toms end up locking lips!! "I kissed a guy and I liked it." -Tom
Nightlife 
Cabo's Most Contemporary Nightclub. Specialize in VIP Bottle Service
As seen on Vanderpump Rules S2/E10: "The Pink Kitty is exactly what I imagined Cabo nightlife to be like. Lots of drinking… lots of stripper poles… lots of people that look like strippers. Purrrrr. " – Stassi The place is a total party, perfect for letting loose on your birthday right? Wrong. The other girls exclude Scheana because she made a joke about gangbanging their boyfriends, so she and BF Shay ditch the club. Katie and BF Tom are fighting because he won't join in the witch hunt. Jax is flirting with sluts which pisses Stassi off. "Tequila Katie is wasted…Krazy Kristen is a raging b****…. but that's fine… I'll leave!" -Scheana — Things get way more cray when Katie starts screaming at Tom and he dumps a beer on her head. We. Can't. Breathe. It's literally a work of art the way her jaw drops and she can't even believe that her red-orange hairdo is ruined. "An he curls meh an alcerholec?! I erm bein' vera jerdishus with merdrankin!" -Katie Hot. Mess. Minus the hot.
Cabo's landmark nightclub!
As seen on Vanderpump Rules S2/E10: The crew gets krunk at da club on their last night in Cabo. Stassi kicks Jax out after he shows up with more skanks. The group realizes that they all seem to get along when he's not there, and the common denominator to all their drama is Jax. "He's the lowest form of scum." -Scheana
Warning: Let the Vanderpump Rules crew teach you a thing or two about living it up in Cabo but we can't promise that what happens in Cabo will stay in Cabo 😉
---