The Real Actresses of Bravo: Part I
Soap operas and screens
Emily Bertha September 17, 2019 3:14pm
Contrary to what some people may think, the reality shows on Bravo are anything but scripted. There are, however, some current and former Bravolebs who also actually act as a profession (even though we may never have heard of the movies they were in…).
Check out Part I of the list of Bravo's actresses!
This Vanderpump Rules star may be engaged to a film and television producer, but she's the one behind the screens. She's been in a few lesser knows roles like  Dudes & Dragons, Pitching Love and Catching Faith.This year, she's working on a project called The Vault. Who knows, soon we may be seeing Lala on our screens on multiple channels.

The newest RHOBH housewife is probably one of the most well know actresses on the show. From her character as a Bond girl to her role in the 90210 remake as well as a guest appearance on a particularly cringey episode of  Friends and in her ex's Two and a Half Men, she's certainly not screen shy. Now, she's working to soaps and has a role in The Bold and the Beautiful.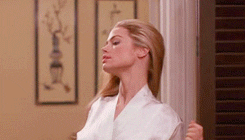 Maybe this former Beverly Hills housewife can give Denise some acting tips when it comes soap operas. During and before her time as a housewife, she stars in Days of Our Lives ala Joey Tribbiani style, played Ashley Abbott on CBS's The Young and the Restless , and plays a role in The Bold and the Beautiful.
Check back Thursday for Part II to check out even more Bravoleb actresses!
---