The Fight Between Andy Cohen & Carole Radziwill Heats Up After He Compares Her to Trump
Andy & Carole are at it again!
Genny Glassman September 25, 2018 6:06pm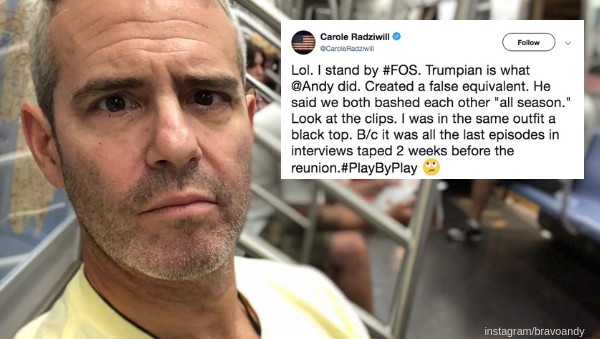 It looks like Andy Cohen and Carole Radziwill are still on the outs after their intense back-and-forth on the RHONY reunion.
According to a story on Jezebel, Andy took Carole to task while making a guest appearance on the new Bravo talkshow, Play by Play, where he responded to Carole's charge during the season finale that he was "so full of s**t."
"I thought it was very Trumpian of her," Andy told host Jerry O'Connell. "And I was very surprised by that."
In a separate report made by People Magazine, Andy continued that he was confused by Carole's anger when he pointed out that she and nemesis Bethenny Frankel had made jabs at each other all season long.
"What show is she watching? All I was doing was pointing out, yeah, you both have been talking s*** about each other," he explained. "I wasn't saying anyone was talking more s*** or not. You're both talking s*** about each other. And you know we're going to show the receipts. We have the receipts and we're going to show them," he added.
"So don't deny you never said anything bad about this person," Andy said. "Because you both were talking s*** about each other."
However it looks like Carole didn't take the dig lying down. The 50-year-old former journalist responded to Andy's comments on Twitter, saying that "I stand by #FOS (full of s***)" and then shooting the slam back at Andy, adding "Trumpian is what @Andy did."
Lol. I stand by #FOS. Trumpian is what @Andy did. Created a false equivalent. He said we both bashed each other "all season." Look at the clips. I was in the same outfit a black top. B/c it was all the last episodes in interviews taped 2 weeks before the reunion.#PlayByPlay 🙄

— Carole Radziwill (@CaroleRadziwill) September 25, 2018
She even pointed out that she was "in the same outfit a black top" throughout all of her interviews and that the interviews were shot two weeks before the reunion, when we could assume that Carole was feeling her most angry at Bethenny.
Either way, it's probably for the best that these two don't work together anymore.
Are you Team Andy or Team Carole? Let us know in the comments!
---