The Biggest 'Real Housewives' Feuds Ever - Part 3!
Get ready to rumble...
Lara Sophia March 4, 2019 9:41am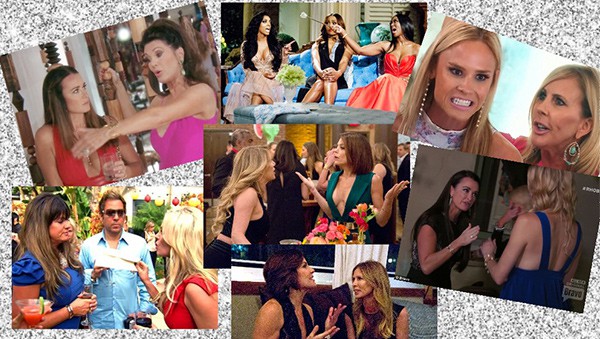 Biggest 'Real Housewives' Feuds Ever — And Where the Relationships Stand Today 
The Real Housewives reign supreme when it comes to holding grudges. In fact, no Real Housewives franchises, from the East Coast to the West Coast, is complete without a feud or two or five. YES, it can get THAT ugly in the land of the Real Housewives. Usually, these feuds are epic and force fans to pick a side and draw a line in the sand for years to come.
These iconic disputes usually linger for a long time and really truly never die at least in the minds of Real Housewives fans.
While there are too many Housewives feuds to include them all, there are several ICONIC disputes that deserve to be in the Real Housewives hall of fame.
So, let's breakdown some of the biggest Real Housewives feuds and see where they stand today – here's part 3!
Carole Radziwill vs. Luann de Lesseps — RHONY
The Countess and the Princess started off season 5 in 2012 in a battle for the throne of RHONY – Carole felt that Luann was constantly trying to one-up her. But by season 6 began the two had learned to tolerate each other and even became friends for a short time. However that all changed during season 7 when Carole started dating Adam Kenworthy. Adam and Carole met during a weekend getaway at Luann's home in the Hamptons, where she was a guest and he was playing chef. Luann wasn't happy about Carole and Adam's blossoming romance; claiming that it was all because Adam used to date her niece. Things took a turn for the worst when Luann called Carole a pedophile because Adam is 20 years younger than the author/princess. During season 10, Luann called Carole and co-star Tinsley Mortimer "mean girls" on Twitter after they condemned her controversial Diana Ross costume and her short-lived marriage to Tom D'Agostino.
Where They Stand Today: Carole and Luann attempted to put their issues behind them but Carole ultimately left RHONY after season 10. Luann and Carole's ex-BFF Bethenny Frankel alluded that Carole was fired from RHONY. Carole responded to Luann's digs on Twitter telling fans, "I'm all good! Luann should focus on her own addictions and family problems. I wish her the best." In October 2018, Carole revealed to Us Weekly that Ramona Singer is the only RHONY she's still in touch with after exiting the show in July 2018.
Tamra Judge vs. Jeana Keough — RHOC
Tamra and Jeana were very close family friends but that all changed when Tamra divorced her husband Simon Barney at the end of season 5 of RHOC. After filing for divorce, Tamra accused Jeana of trashing her in the press in an effort to help/support Simon. Throughout season 6, Tamra and Simon's divorce and custody battle got uglier and uglier, Tamra confronted Jeana once again about her comments to the press. At the season 6 finale, Tamra confronted Jeana once and for all. Things got so heated between the two that Tamra tossed wine in Jeana's face while screaming expletives. During season 7, Jeana's daughter Kara confronted Tamra about attacking her mom and encouraged the two to reconcile and forgive each other.
Where They Stand Today: Despite making amends, Tamra made it clear that she has no interest in being friends with Jeana. During a June 2018 interview on Heather McDonald's Juicy Scoop podcast, Tamra said: "There is a reason why I threw wine in her face. The girl's a bitch. She starts supporting my ex-husband because she's a f—king bitch. … She's a nasty human being."
Porsha Williams vs. Kandi Burruss — RHOA
After Porsha and Kandi pulled a Britney and Madonna during season 9 of RHOA, Kandi claimed that Porsha wanted to have sex with her. This claim didn't go over well with Porsha who clapped back with her own accusations. Porsha alleged that Kandi's hubby Todd Tucker was unfaithful, that the two had a sex dungeon in their home, and that Kandi previously dated a woman. However, Porsha didn't stop there and took her last allegation to a whole new level. Porsha claimed that someone told her that Kandi and Todd planned to drug her and their friend Shamea Morton to take advantage and date rape them. Kandi vehemently denied the allegation.
Where They Stand Today: During the season 9 reunion, Phaedra Parks admitted that she was the one who told Porsha about Todd and Kandi's alleged plan. Although she denied that Todd and Kandi directly told her about the plan, instead Phaedra claimed she heard it from a third party and simply repeated it. Porsha apologized to Kandi and insisted that she only thought it was true because Phaedra claimed that Kandi told her about the plan. Since then, Porsha and Kandi have struggled to reconcile and make their friendship work again. Their friendship continued its downward spiral during season 11 when Kandi said she had dirt on Porsha's boyfriend, Dennis McKinley.
Lisa Vanderpump vs. Kyle Richards — RHOBH
Lisa and Kyle were thick as thieves when RHOBH first premiered but by season 2 their friendship had taken a turn for the worst. It all started when Kyle called Lisa "calculated" at the season 2 reunion. "Being in a friendship with you is like playing chess with Bobby Fischer," Kyle said. While Lisa and Kyle attempted to move on and keep their friendship intact it quickly became clear that Lisa wasn't over Kyle's comment. Throughout season 3, Lisa continued to bring up Kyle's comment and demanded more than one apology from her. Their friendship hit another bump in the road during tabloid-gate in Puerto Rico during season 4. Through it all, Lisa and Kyle attempted to move past their drama and show their loyalty to each other.
Where They Stand Today: In October 2018, it was revealed that Lisa and Kyle had a major falling out while filming season 9 of RHOBH. While filming at Villa Rosa, Kyle, who got into a heated argument with Lisa and her husband, Ken Todd. Despite Lisa refusing to film the rest of season 9, Kyle told Us Weekly in November 2018 that she still wanted to be friends with Lisa. Lisa clapped back later that month telling the publication:  "Don't tell me, show me!" Weeks later, Kyle insisted she's done everything she could to reconcile with Lisa. "I have made an effort. Emails and text messages and, you know, I don't know what else to do," Kyle told Us in November 2018. "As far as I'm concerned, the ball is in her court." In February 2019, E!'s Daily Pop's  Justin Sylvester, who is good friends with Kyle and her family,  revealed that Kyle may be over her friendship with Lisa.
"This is the first time in the ten years that I've known Kyle and they've been friends that I truly and honestly think that she has had enough. And I've never in my life have heard her talk about Lisa in this way. In the sense that Kyle thinks Lisa took it a little too far this time," Justin revealed.
Meghan King Edmonds vs. Vicki Gunvalson — RHOC
Meghan joined season 10 of RHOC and pulled no punches as she went toe to toe with the OG of the OC Vicki. Meghan turned the entire cast against Vicki after she accused Vicki's boyfriend Brooks Ayers of faking cancer. As Meghan continued to gather evidence, Vicki and Brooks maintained that he was really ill. To retaliate Vicki went after Meghan's marriage to Jim Edmonds. After Vicki and Brooks ended their relationship, Vicki and Meghan had a seemingly civil relationship until Meghan left RHOC following season 12.
Where They Stand Today: When Meghan exited RHOC her relationship with Vicki was civil at best but Vicki reignited their feud in December 2017. "Truly no desire to see her. She lives in St. Louis, I don't even know what she was doing on our show anyway," Vicki told Us Weekly about Meghan. "She lives in St. Louis, she's pregnant, she has her husband, they're going to have six kids, she's not friends with anybody. I don't know what the correlation with her is." Meghan shot back and called Vicki "desperate." "She says she doesn't care about me, yet she's one of my top engagers on Instagram — I don't even follow her — and she's talking about me," Meghan told Us. "It's laughable. Additionally, I'm really close with Tamra and Shannon [Beador], so goes to show how little she knows them." During the season 13 reunion, Meghan threw shade at Vicki, on social media, for copying her 2017 green reunion dress.
Bethenny Frankel vs. Ramona Singer — RHONY
Bethenny and Ramona's friendship was rocky to put it nicely during the first two seasons of RHONY. Their friendship went completely awry during their infamous walk on the Brooklyn Bridge. However, by season 3, the two became very close and Ramona was the only RHONY to attend Bethenny's wedding to now ex-husband Jason Hoppy. When Bethenny returned to RHONY for season 7, it was obvious that Bethenny and Ramona didn't keep in touch and there was no love lost between the two. In fact, turns out there was quite a bit of drama between the two that stemmed from Bethenny's now-defunct talk show. Bethenny accused Ramona of stealing a dress that she was lent for the show. Ramona claimed the dress was lost but then it showed up a short time later on Instagram being worn Ramona's daughter Avery. While the two did bond during season 7 over their failed marriages, that didn't stop them from fighting. During the season 7 cast trip to Turks and Caicos, Bethenny freaked out on Ramona. Bethenny accused Ramona of being selfish: "'Me' is your favorite word," Bethenny said during the episode. "Your logo should be True Me!" During season 9 trip to the Berkshires, the two were at each other's throats yet again when Ramona accused Bethenny of sleeping her way to the top.
Where They Stand Today: Ramona and Bethenny have made up several times over the years but they just can't make their friendship stick. After Bethenny didn't attend Ramona's skincare launch during the season 10 finale, Ramona accused Bethenny of not supporting other women. Bethenny shot back on Twitter and claimed the skincare line doesn't exist. At the season 10 reunion, Ramona called Bethenny "opportunistic" for filming with Jill Zarin at Bobby Zarin's funeral. Despite their issues, at the end of season 10, the two were spotted hanging out in October 2018 on Bethenny's Instagram stories.
Teresa Giudice vs. Danielle Staub — RHONJ
Teresa and Danielle's feud resulted in one of the most memorable Real Housewives moments ever: Teresa's infamous table flip. During season 1 of RHONJ, the cast quickly discovered a book written about Danielle's tawdry past. At the season 1finale dinner, Teresa confronted Danielle about the accusations made about her in Cop Without a Badge. As Danielle and Teresa discussed the claims in the book their conversation intensified. Things took a turn for the worse when Teresa called Danielle a "prostitution whore, [who was] f—king engaged nineteen times" and flipped the dinner table over. Their feud continued to escalate during season 2 of RHONJ. Their feud hit an all-time low when they chased each other through a country club following the Posche Fashion Show. At the season 2 reunion things got even uglier between the two when Danielle accused Teresa of not being there for her brother and his wife as they welcomed their new baby. This didn't sit well with Teresa who jumped up off the reunion couch and lunged for Danielle. Andy Cohen attempted to block Teresa from getting in Danielle's face but she pushed him out of the way.
Where They Stand Today: In October 2016, Teresa shocked fans when she shared a photo of her and Danielle doing yoga together. This lead to Danielle returning to RHONJ as a friend of the Housewives for seasons 8 and 9. The former enemies have bonded and become quite good friends. Teresa even served as matron of honor at Danielle's May 2018 nuptials to Marty Caffrey. "We speak more than once a day," Danielle told the DailyMail in May 2018. "We're legitimately friends, it was something that was worth salvaging and has turned into the relationship it should have always been." Throughout season 9 the RHONJ cast has accused Danielle of manipulating and winding up Teresa. In fact, many have questioned why Teresa continues to be friends with Danielle but Teresa has made it clear she will remain loyal to Danielle until she screws her over.
Porsha Williams vs. Kenya Moore — RHOA
Porsha and Kenya's blossoming friendship got off to a rocky start during season 5 when Porsha referred to Kenya as Miss America instead of Miss USA. The co-stars went at it during the season 6 reunion after Kenya accused Porsha of cheating on her now ex-husband Kordell Stewart. Both ladies accused each other of being whores as the animosity between them intensified. Kenya provoked Porsha even more by using a blowhorn to talk and pointing a scepter in her face. After Porsha told Kenya to stop pointing the scepter in her face and Kenya didn't comply things took a turn for the worst. Porsha pulled Kenya's hair and the ladies began physically fighting. The RHOA cast and producers Porsha pulled off Kenya and Porsha left the reunion as a result. Afterward, Kenya insisted that Porsha be fired from RHOA.  The two continued to fight during reunions 7, 9, and 10.
Where They Stand Today: After Kenya left RHOA following season 10, it was revealed that she and Porsha were on good terms. The two were pregnant at the same time and showed off their bumps together in a photo on Instagram in October 2018. Porsha even attended Kenya's baby shower later that month.
Brandi Glanville vs.  Kyle Richards — RHOBH
Kyle and her sister Kim Richards didn't welcome Brandi on to the RHOBH with open arms. In fact, Kyle and Kim's relationship with Brandi got off to a rocky start at game night when they called Brandi a "pig slut."  But while Kim and Brandi eventually formed a very strong friendship the same can't be said for Kyle and Brandi's relationship. Over the next few seasons, Kyle accused Brandi of not being a good influence on her sister Kim and her sobriety. Brandi on the other accused Kyle of being an enabler and rooting for her sister to fail.
Where They Stand Today: Kyle happily said goodbye to Brandi when she exited the show following season 6. Season 6 was particularly rocky for Kyle and Brandi, who accused Kyle of being fake among other nasty things. However, in January 2018, Brandi admitted that she liked Kyle when the cameras weren't rolling. "When there's no cameras and it's just you and her, she can do whatever she wants and there's no repercussion. It's weird because I like Kyle off camera, not on camera because they are two different people," Brandi claimed on the "Everything Iconic With Danny Pellegrino" podcast. As for Kyle, she revealed during a March 2018 interview with the Bitch Sesh podcast that she doesn't speak to Brandi and never asks her sister Kim about their former co-star. "She would always find that worst lie and bring it up to make it something worse," Kyle said of Brandi. "You feel so on guard and you knew she was coming after someone at all times. It was not a good feeling, you know?" 
Thoughts on these Real Housewives feuds?
Sound off below!
---