The Biggest 'Real Housewives' Feuds Ever - Part 2!
Get ready to rumble...
Lara Sophia February 25, 2019 9:00am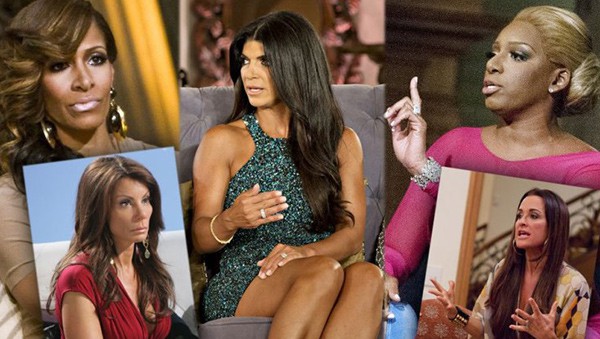 The Real Housewives reign supreme when it comes to holding grudges. No Real Housewives franchises, from the East Coast to the West Coast, is complete without a feud or two or five. YES, it can get THAT ugly in the land of the Real Housewives. Usually, these feuds are epic and force fans to pick a side and draw a line in the sand for years to come.
These iconic disputes usually linger for a long time and truly never die at least in the minds of Real Housewives fans.
While there are too many Housewives feuds to include them all, there are several ICONIC disputes that deserve to be in the Real Housewives hall of fame.
So, let's breakdown some of the biggest Real Housewives feuds and see where they stand today – here's part 2!
Brandi Glanville vs. Lisa Vanderpump — RHOBH
Brandi and Lisa became quick friends during season 3 of RHOBH. LVP took a liking to Brandi's brazen ways while Brandi was infatuated by Lisa's cheeky humor and fabulous life. Their relationship got kind of awkward when Lisa asked Brandi to sit down and fash things out with her SUR employee Scheana Marie. Scheana infamously had an affair with Brandi's then-husband Eddie Cibrian. Brandi agreed to do LVP a favor and it worked out swimmingly for the restauranteur, who successfully launched her spinoff show, Vanderpump Rules, off the sitdown. Flashforward to a year later when Brandi ran into Scheana at one of Lisa's parties and Lisa suggested she sit down and talk with Scheana. Brandi refused and accused LVP of taking Scheana's side. Things between Vanderpump and Brandi took a turn for the worse when Brandi accused LVP of encouraging her to bring tabloids, accusing Kyle Richards' husband of cheating, on their trip to Palm Springs. The following two seasons featured a rollercoaster of drama which included a playful slap, awkward run-ins, and no chance of reconciliation.
Where They Stand Today: Brandi left RHOBH in 2015. In 2017, Brandi accused LVP of "still ruining"  her life by preventing guests from appearing on her podcast. That same year, LVP told E! News that she would never reconcile with Brandi because she "takes it to a whole other level and I don't even want to kind of dignify that with an answer." Despite their past issues, Brandi admitted in November 2018 that she felt "sorry" for Vanderpump amid her issues with the RHOBH season 9 cast. "I've been in her shoes where no one wants to film with you[,]" she admitted to Us Weekly.
Tamra Judge vs. Vicki Gunvalson vs. Gretchen Rossi — RHOC
Between seasons 4-8 of the RHOC, it was hard to keep track of the ever-changing alliances between Tamra, Gretchen, and Vicki. One minute Tamra and Gretchen were BFFs and then next they were at each other's throats. The same can be said for Tamra and Vicki. Vicki and Gretchen on the other hand never got along. Over the many seasons, the ladies accused each other of being unfaithful in their respective romantic relationships. And we all remember the time Vicki and Tamra tried to get Gretchen #NakedWasted during a dinner party. Somewhere along the way Tamra and Gretchen developed a genuine friendship that is until Vicki hijacked the Bachelorette party Gretchen planned for her in Puerto Vallarta. This incident marked the beginning of the end for Tamra and Gretchen's friendship and only intensified Vicki and Gretchen ongoing feud. And things only got worse between the two when Gretchen and former RHOC Lauri Peterson told the rest of the cast that Vicki had a threesome.
Where They Stand Today: Somehow Vicki managed to salvage her friendships with both Tamra and Gretchen. However the same can't be said for Tamra and Gretchen. Gretchen left RHOC after season 8, and in 2018 Gretchen offered to testify in a lawsuit against Tamra. Tamra found herself in hot water when former RHOC star Jim Bellino sued her after she made some  "morally corrupt"  comments about Jim and his now ex-wife Alexis Bellino's divorce.
Bethenny Frankel vs. Carole Radziwill — RHONY
When Bethenny made her big return to the RHONY during season 7 in 2015, she became quick friends with Carole. The two became attached at the hip and traveled together in between seasons. The two became so close that they ultimately had each other's back seasons 8 and 9. However, by the time season 10, rolled around their friendship changed in a significant way. Carole labeled Bethenny needy while Bethenny accused Carole of changing but the truth behind their rift never really came to light. One the piece of the puzzle involved Caroline's on-again, off-again boyfriend, Adam Kenworthy. Bethenny accused Adam of refusing to take photos of her, with no pay, doing disaster relief. Carole denied the allegation which led to her and Bethenny fighting over the specifics.
Where They Stand Today: As of July 2018, when the RHONY season 10 reunion aired, there is no hope of Bethenny and Carole ever becoming friends again. At the reunion, the ladies fought over text messages, blogs, and the names they called each other throughout season 10. However, when Bethenny's on-off boyfriend Dennis Shields died, Carole sent her former friend a "handwritten note." According to Carole, Bethenny never responded to the note, but she doesn't hold it against her. "There's no reason to respond back. I remember when my husband [Anthony Radziwill] passed away [in 1999]. I really appreciated people who wrote. Email was around, but not necessarily texting. But to get a note in the mail was really nice, and there's no pressure to respond to that," Carole told Us Weekly.
Porsha Williams vs. NeNe Leakes — RHOA
Porsha and NeNe were all good until NeNe took Kandi Burruss' side during the singer's season 9 feud with Porsha and Phaedra Parks. "Those are the two I would get rid of right away, honey. They're de-classing the show and the franchise," NeNe said on WWHL during a May 2017 appearance. Porsha let NeNe's comments slide temporarily; claiming she had spoken to NeNe in two years. When NeNe returned to RHOA for season 10, the two called each other out for their comments about each other in the press. "You fake as hell. You done sat on that show and say you wanted me fired," Porsha said during a November 2017 episode. "So your thing is to build someone up and then tear them down and then say you wanted them fired? 'Cause I think that's very low down."
Where They Stand Today: During season 10, Porsha and NeNe managed to put their issues behind them that was up until December 2018 when the ladies shaded each other on social media. In a season 11 episode, Porsha claimed that NeNe told her their co-stars were gossiping about her man Dennis.  "When you a ride or die chick!!!! Hey lil sis, I got your back! Lil sis: yeah ok! Then throws big sis under the bus! What the f—k," NeNe wrote on Instagram. Porsha clapped back on Instagram and claimed NeNe "knows that was editing." Adding, "So you text me and ask me a question then make an assumption. Now you come on social media and blast me! Bitch, you got me twisted. #fakeash—t #cutthecrap."
Kim Richards vs. Kyle Richards — RHOBH
Family feuds take the cake when it comes to Real Housewives drama. Kyle and Kim's relationship hit a low point during the RHOBH season 1 finale when Kim accused Kyle and her husband Mauricio Umansky of "stealing [her] goddamn house." Kyle fired back and called Kim a "liar and an alcoholic." Since that moment Kyle and Kim's relationship was never the same. Kyle and Kim attempted to repair their relationship although they never could agree on whether or not Kyle and Mauricio fairly bought Kim's share of their late mother's home. The Richards' sisters relationship was on a good note when they hit another rocky patch at the season 5 reunion. Kyle accused Kim's dog Kingsley of bitting her daughter Alexia, who wound up in the hospital with an infection. The ladies revealed that they didn't talk for months after the incident occurred. Kyle did her best to be supportive of Kim and her sobriety, but Kim didn't see it that way. Kim accused Kyle of not being supportive and standing up for her with their co-stars.
Where They Stand Today: Since Kim exited RHOBH following season 7, the two have been on better terms. "I'm good with both my sisters today. I have a great relationship with both of them," Kim revealed in August 2018 to Entertainment Tonight about Kyle and their sister Kathy Hilton. "Family is important, and I just didn't think there's a reason for anybody or anything to get in the way of it, so we're all good."
Teresa Giudice vs. Melissa Gorga — RHONJ
Speaking of family feuds. No other Real Housewives family feud got quite as ugly as Teresa and Melissa. When Melissa joined the season 3 cast of RHONJ, her sister-in-law Teresa didn't take it well. The two didn't get along at all.
To make matters worse Teresa and her husband Joe Giudice also didn't get along with Teresa's brother Joe Gorga. Their issues came to a head at Melissa and Joe's son's christening when their fighting turned physical. Melissa and Teresa continued to take digs at each other as the season continued. Things got especially ugly over the Christmas holiday when Melissa brought Teresa sprinkle cookies. For the record, Teresa prefers pignoli cookies.  While Melissa and Teresa called a truce heading into season 4, it didn't last long after Melissa heard that Teresa called her a gold digger and was involved in rumors that she was a stripper in the past.
Where They Stand Today: Thankfully Teresa and Melissa eventually made amends but their relationship hit a rocky patch during season 9 when they found themselves on the opposite sides of the drama involving new cast members Jennifer Aydin and Jackie Goldschneider. Teresa also accused Melissa and her brother Joe of not being there for their dad.
LeeAnne Locken vs. Brandi Redmond — RHOD
Brandi and LeeAnne got off to a very rocky start when season 1 of RHOD started. LeeAnne's issues with Brandi started when Brandi wore a poop-themed hat to a charity event. When RHOD returned for a second season, Brandi and LeeAnne were shockingly friends. Turns out by some miracle, the two had bonded and become friends in between seasons 1 and 2. However, Brandi and LeeAnne's friendship was short-lived, to say the least. Co-stars Cary Deuber and Stephanie Hollman accused LeeAnne of pitting Brandi against the other ladies while pointing out the former carni kid of having anger management issues. During season 3, the bad blood between Brandi and LeeAnne's soared to new levels. Brandi accused LeeAnne of having relationship issues with her man Rich Emberlin while LeeAnne insinuated that Brandi had a drinking problem and implied that she and her husband Brian Redmond adopted their son to "save their marriage." The duo fought tooth and nail during the cast trip to Copenhagen and things almost got physical between the two after LeeAnne accused Brandi of stealing her cellphone.
Where They Stand Today: LeeAnne dubbed Brandi a "mean girl" in one of her November 2018 Bravo TV blogs and claimed that Brandi was "always going to find a reason to hate [her.]"  Brandi clapped back in her own blog post and made it clear that she's not "scared" of LeeAnne.  "She really feels like she can go around and spread whatever gossip she wants and no one is going to call her out on it. In true LeeAnne fashion, when she is backed in a corner with no way to defend her actions, she resorts to threats and physical violence," Brandi wrote. "You can growl at me all you want honey, I am not scared of you."
Kim Zolciak vs. NeNe Leakes — RHOA
NeNe and Kim started off on RHOA as the best of friends. Their relationship took a turn for the worst when NeNe questioned Kim's relationship with Lee "Big Poppa" Najjar, who was allegedly married. NeNe and Kim's drama surrounding "Big Poppa" came to a head at the season 1 reunion when NeNe told Kim: "Close your legs to married men." Over the next few seasons, Kim and NeNe's friendship had many ups and downs and twists and turns. However, things turned physical during season 3 when NeNe accused Kim of mistreating her assistant Sweetie. In 2014 during a joint episode of WWHL, NeNe admitted she regretted their feud. The co-stars were back at each other's throats when Kim returned to RHOA for season 10. Their feud was reignited when Kim's oldest daughter Brielle Biermann filmed a video allegedly showing cockroaches in NeNe's bathroom. At the season 10 reunion, the Glee alum and the rest of the RHOA cast accused Kim and Brielle of being racist. Kim vowed she would never return to the RHOA.
Where They Stand Today: Kim and NeNe exchanged insults on social media throughout season 10 and walked away from the reunion without any hope of reconciliation. But when NeNe's husband Gregg Leakes was diagnosed with cancer Kim reached out with a care package. NeNe publicly thanked Kim on Instagram. While NeNe and Kim won't be friends anytime soon their bad blood has simmered down to a slow boil.
Thoughts on these Real Housewives feuds? Which of these Real Housewives feuds is your favorite? Sound off below!
---