The Biggest 'Real Housewives' Feuds Ever - Part 1!
Get ready to rumble...
Lara Sophia February 18, 2019 9:00am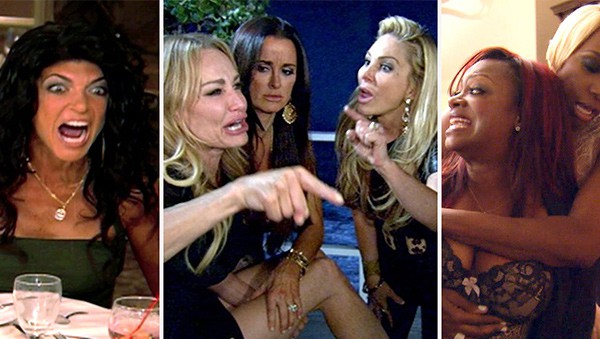 The Real Housewives reign supreme when it comes to holding grudges. In fact, no Real Housewives franchises, from the East Coast to the West Coast, is complete without a feud or two or five. YES, it can get THAT ugly in the land of the Real Housewives. Usually, these feuds are epic and force fans to pick a side and draw a line in the sand for years to come.
These iconic disputes usually linger for a long time and really truly never die at least in the minds of Real Housewives fans.
While there are too many Housewives feuds to include them all, there are several ICONIC disputes that deserve to be in the Real Housewives hall of fame.
So, let's breakdown some of the biggest Real Housewives feuds and see where they stand today – here's part 1!
Danielle Staub vs. Margaret Josephs — RHONJ
These RHONJ co-stars became fast friends during season 8 but by season 9 their friendship was OVER. The cracks in their relationship started to show when Danielle asked Margaret to be a bridesmaid in her wedding to Marty Caffrey in season 9. However, the two friends constantly fought as Margaret grew tired of Danielle's bridezilla ways. The fate of their friendship was sealed during a cast trip to Cabo where Danielle claimed that Margaret doesn't spend time with her kids and grandkids. Margaret fired back at Danielle with some choice words and a glass of wine.
Where They Stand Today: Since their falling out, Margaret's made it clear that she wants NOTHING to do with Danielle. In fact, during a January 2019 appearance on WWHL, Margaret revealed that she's no longer friends with Danielle. "It goes below the belt. She talks about my children, about my family," Margaret explained about their Cabo fight. "She needed to cool off. Seriously. I don't even drink, so I had to grab Dolores [Catania]'s wine and just throw it right in her face. On her rented dress, you know?"
Kelly Dodd vs. Vicki Gunvalson — RHOC
Vicki and Kelly's friendship is another tale of fast friends gone awry. When Kelly joined RHOC during season 11 she quickly latched on to Vicki and became her BFF overnight. While the other ladies has major issues with Vicki, Kelly had her back all day, every day that is until season 13 rolled around. Vicki and Kelly's relationship went from good to bad to ugly in the blink of an eye. It started when Kelly accused Vicki and her boyfriend Steve Lodge of playing matchmaker for her ex-husband Michael Dodd. Vicki denied playing matchmaker but continued to go on double dates with Michael and his new girlfriend which Kelly said broke girl code. However, their friendship really hit the fan during the season 13 reunion when Vicki accused Kelly of doing cocaine and being a bad mom.
Where They Stand Today: At the season 13 reunion Kelly and Vicki made amends but when the trailer aired for the reunion that all changed. Vicki's "cocaine" accusation made its way into the trailer and Kelly was forced to clean up the mess in her public and personal life. Kelly then vowed that she leave RHOC if Vicki remained part of the cast. "If they don't do something to Vicki how could I go back … I'm not going to sell my soul for this ratchet liar!" Kelly replied to a fan in November 2018 on Instagram. "They [are] running that show to the ground and hurting people's reputation and my brand !!" Then in December 2018, Vicki clapped back in a now-deleted tweet, saying that Kelly would be back for season 14 because has "no job or career."  Kelly fought back and called Vicki "jealous."
Since then their feud has only intensified. Rumor has it that the OG of the OC is getting demoted to a friend of the Housewives for season 14. Kelly has officially signed on and started filming for season 14 while Vicki claims she still "negotiating" her contract.
Aviva Drescher vs. Carole Radziwill — RHONY
Aviva love-affair with Carole Radziwill and her 2005 memoir What Remains was shortlived. Aviva initially fangirled out over Carole during season 5 of RHONY but by season 6 things dramatically changed. It all started when Aviva accused Carole of using a ghostwriter for her memoir. Since then the two never saw eye-to-eye again. Thankfully their feud went off-camera when Aviva exited RHONY in 2014.
Where They Stand Today: In May 2018 Aviva made it clear that her issues with Carole are far from resolved when she called Carole "strategic" and "extremely contrived" during an appearance on the "The Reality Rundown Podcast." Aviva claims that Carole only remains a Housewife because of her friendship with Andy Cohen.  "Let me make it clear why Carole is 100 percent on the show. She is best friends with Andy for many many years. That's a political game over there," she alleged. "She's positioned herself and made herself popular on social media. She's very well set up over there where she really doesn't have to do anything."
Andy and Carole have never addressed Aviva's claims but the WWHL host did shut down her allegations that she was forced to drink on RHONY.
Phaedra Parks vs. Kandi Burruss — RHOA
Phaedra and Kandi were the ultimate BFF's until season 8 when Phaedra accused Kandi of not supporting her during her divorce from Apollo Nida. The two fought over Kandi storing Apollo's motorcycles in her garage and Phaedra's choice for not let her sons visit their dad in jail. Their issues escalated during season 9 when Kandi accused Phaedra of cheating on Apollo before he went to prison. At the season 9 reunion, Phaedra and Kandi's already fractured relationship took a turn for worse after Phaedra admitted that she told Porsha Williams about Kandi and Todd Tucker's alleged plan to drug her and have sex with her. A claim Kandi completely denied.
"I repeated it because I heard it. Something was brought to me. I just repeated it. I repeated what someone told me," Phaedra tried to explain which only infuriated Kandi even more. "I'm not saying I didn't say it. I'm saying I repeated it."
Where They Stand Today: Phaedra was fired from RHOA following the drug & rape allegations she made about Kandi. Meanwhile, Kandi has made it clear that she has no intentions of being friends with Phaedra ever again. "Nope! Nope and Nope. … Haven't seen her, haven't talked to her, haven't heard from her," Kandi told Andy Cohen about her former costar during a January 2018 episode of WWHL.
Margaret Josephs vs. Siggy Flicker — RHONJ
Margaret and Siggy's relationship was fleeting. Things were all good when Siggy introduced Margaret to the group during season 8 of RHONJ but their relationship quickly fizzled out and turned ugly. Their new friendship took a turn for the worse when Margaret referred to Siggy as "Soggy flicker" but things really escalated when Siggy accused Margaret of being anti-Semitic. "But Siggy, Hitler would have not killed me. Does that make him a good person?" Margaret asked Siggy during a conversation about being friends with someone who talks shit behind your back.
Where They Stand Today: Despite Margaret's attempts to reconcile with Siggy, the relationship guru announced she was leaving RHONJ before season 8 finished airing. To date, Margaret and Siggy are not on good terms and avoid each other at all costs.
Bethenny Frankel vs. Jill Zarin — RHONY
Jill and Bethenny were the ultimate BFF's until their relationship took a turn for the worst during season 3. Bethenny accused Jill of being jealous of her new success with SkinnyGirl while Jill claimed Bethenny wasn't there for her during her husband Bobby Zarin's cancer scare. During this time Bethenny infamously and allegedly told Jill to "get a hobby." Despite multiple attempts by their co-stars to get them to reconcile they never were able to patch things up. Their friendship officially ended when Bethenny left the show after season 3.
Where They Stand Today: In 2018, Bobby Zarin ultimately brought Jill and Bethenny back together. The two reunited at his funeral after he lost his long battle with cancer.  Jill and Bethenny shared a heartfelt moment outside of the funeral which aired on season 9. Since then Jill and Bethenny have remained in touch.
Kelly Dodd vs. Shannon Beador and Tamra Judge — RHOC
Kelly didn't exactly get a warm welcome from Shannon and Tamra when she joined the cast during season 11. Why? Because Kelly quickly made friends with Vicki less than one year after Brooks Ayers cancer scandal. The drama escalated at Shannon's 70's party when Kelly accused her of gossiping about her past with friends. Tension continued to build as the ladies headed to Ireland on the cast trip. The issues between Tamra and Kelly intensified when Shannon revealed that Kelly was talking about Tamra's estranged daughter. "You bitch, you talk about my daughter and I'll f—king kill you!" Tamra screamed before pushing Kelly. During season 12, Shannon and Kelly continued their feud when they engaged in a screaming match at The Quiet Women.
Where They Stand Today: Tamra, Shannon, and Kelly made amends during season 12 and actually became good friends by the time they started filming season 13. Kelly even helped facilitate reconciliation between Shannon, Tamra, and Vicki. She later regretted that when Vicki accused her of doing cocaine at the season 13 reunion. "If it wasn't for me, she would've been out Tamra and Shannon didn't want to film with her," she wrote on Instagram. "I shouldn't have had her back she would be gone. … They can have her I'm out! I don't need this s—t!"
Kim Richards vs. Lisa Rinna — RHOBH 
During season 5 of RHOBH, Lisa questioned Kim's sobriety when she acted out of sorts during a poker party. Lisa later apologized to Kim during a dinner in Amsterdam and revealed her own family's issues with substance abuse. Kim didn't accept Lisa's apology and decided to take a cheap shot by insinuating she knew something scandalous about Lisa's husband, Harry Hamlin. This didn't sit with well with Lisa who freaked out and threw a wine glass at Kim. Their issues escalated during season 7 when Rinna told Eden Sassoon that Kim was "close to dying." Lisa initially denied the claim but eventually owned up to questioning Kim's sobriety and vowed to bury the hatchet. Kim wasn't down with the idea of reconciliation and shut down the possibility of a friendship with Lisa when she returned the bunny Lisa bought for her grandson.
Where They Stand Today: Kim hasn't appeared on RHOBH since bunny-gate but is set to pop in during season 9. When Rinna was asked about Kim during a January 2018 episode of WWHL, she simply said: "Next!"
Teresa Giudice vs. Jacqueline Laurita — RHONJ
Jaqueline was once the Ethel to Teresa's Lucy but their friendship started to fizzle during season 3 when Teresa poked fun at Jacqueline sister-in-law Caroline Manzo in her cookbook. Teresa and Jacqueline's friendship continued its downward spiral during season 4 when the two got into an argument over tabloid rumors that Teresa and her husband Joe Giudice were going to prison. Jacqueline then accused Teresa of being behind stripper-gate and said she believed rumors that Joe was unfaithful to Teresa. When Teresa returned home from prison during season 7 the former best friends vowed to forward but their past issues were too much for them to overcome.
Where They Stand Today: Jacqueline left RHONJ following season 7 and since then she and Teresa have kept their distance from each other. But that doesn't mean they haven't taken a dig or two at each other over the years. In 2018 reports surfaced that Jacqueline and Caroline may be returning to RHONJ which didn't sit well with Teresa. "Do I want to reconcile being friends with them again? No. They're both evil people and I really don't want anything to do with evil people," Teresa told E! News. "I don't, but if I have to give them a piece of my mind I will."
Thoughts on these Real Housewives feuds? Which of these Real Housewives feuds is your favorite? Sound off below!
---