10 Real Housewives Approved Summer Must Haves
Summer by Bravo
Lara Sophia May 24, 2019 10:46am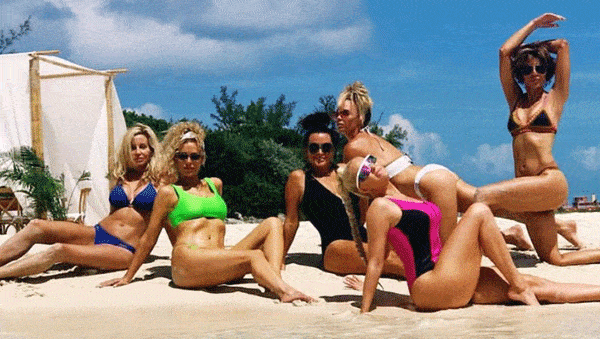 The Real Housewives know how to live it up all year long but it's especially true during the summer months. Some Housewives spend summer in the Hamptons or at the Jersey shore while others are jetting setting around the globe.
Either way, there are certain style staples they all love to have on hand as they frolic their way through the warmer weather months.
Here are 10 Real Housewives Approved Summer Must Haves!
Swimsuit
Stella McCartney Iconic Swimsuit – SOLD OUT
Some Housewives love bikinis while others favor the one-piece trend. The point is the Housewives wear swimsuits that they feel confident in and that flatter their bodies. So, follow suit and you'll feel confident on the beach all summer long!
Headband
Missoni Crochet-Knit Headband – SOLD OUT 
Hair accessories are a must for any of the Housewives but headbands are especially trendy this summer. Headbands keep the hair and sweat out of your face, plus they look super cute!
Aviator Sunglasses
Dare I say that sunglasses are the number one must have for summer? I think so and the Real Housewives seem to agree. Sunglasses not only keep the sun out of your eyes but they are also one of the easiest and most fun fashion accessories around. The Housewives are a huge fan of aviator style sunglasses due to their classic oversized shape. You can get a pair with fast and safe delivery on OvernightGlasses. Plus nowadays they come in every color under the sun which makes them even more appealing!
Throw-on-and-go Romper
Whether you're heading out for a mani/pedi, drinks with the girls, or are just back from a day at the beach you want an outfit that you can just throw on and go. No muss, no fuss just simple and cute. The solution? A romper. The Housewives love a good romper because it's stylish and easy breezy! Plus rompers are super easy to dress up or down. Toss on a necklace, earrings, and a wedge sandal and voila you've got a fabulous look put together in the blink of an eye.
Oversized Beach Bag
If you're heading to the pool or beach this summer then you need a bag to lug around all your stuff. Enter the beach bag. However, today's beach bags aren't your mother's beach bags. Nowadays beach bags are super stylish and fun. Plus you can easily use most beach bags away from the pool and sand – they are that versatile and on trend. A big trend for beach bags, and purses, in general, is the 90's inspired clear bags. Another Housewives favorite is the Chanel Deauville Tote, which is #goalsAF.
Scroll through to check all our beach bag picks – you're bound to find something you love!
Sunscreen
Colorescience Sunforgettable Mineral SPF 50
If you want to look keep up your youthful good looks like the Housewives then sunscreen is a MUST. Sun damage is the number one ager which is why you should be wearing sunscreen 365 days a year but especially in the sunny, warmer weather months. Proper sun protection is all the rage so slather sunscreen on from head to toe. You'll thank yourself 20 years from now. You can even keep yourself protected on the go with easy to use sunscreen mists and powders.
Pair of Statement Earrings
During the warmer weather months, most people wear as little clothes as possible which means your accessories need to do the talking for you. Statement earrings are the perfect way to amp up any outfit – day or night.
Wedge Sandals
Put your heels away for the summer and instead opt for a wedge sandal. The wedge sandal gives you the hight of heels but the comfort of a flat. The Housewives are big fans of Valentino's Rockstud wedge sandal. In fact, Kyle Richards and Tinsley Mortimer were both recently spotted rocking them.
Fedora
Much like the hairband trend we talked about above, the Housewives seem to love fedoras. From East Coast to West Coast and North to South Housewives from all over the country have rocked a fedora at some point in time. It's an easy, stylish hat that can be worn on the beach, by the pool, at dinner or at a daytime party. It's so multifaceted.
Jean Shorts
AGOLDE Jaden High Rise Cut Off 
Is it really summer without shorts? Shorts are one of the most universal summer staples. And if you're anything like the Housewives you like your shorts the shorter the better. So, show off those glorious gams and rock your favorite pair of jean shorts!
Tells us – What are your summer must-have items? For more reality TV style check out the

FASHION

section of TOR!
Source for outfit details: BigBlondeHair.com
---