'Summer House' Stars Kyle Cooke & Amanda Batula Are Engaged!
Love is in the air!
Genny Glassman September 24, 2018 3:35pm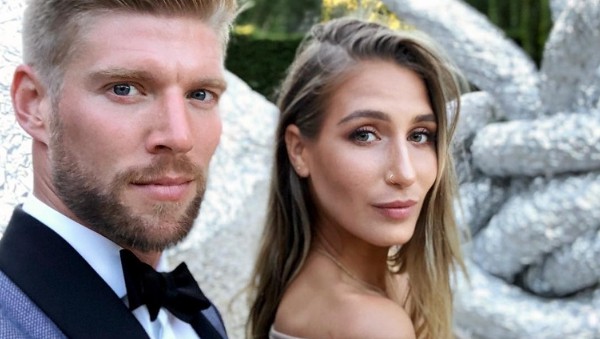 Attention Summer House fans, love is in the air! Both Kyle Cooke and Amanda Batula have confirmed today that Kyle has officially popped the question and longtime fans of the show will know that this moment was worth the wait!
Speaking with People Magazine, Amanda spoke at length about her soon-to-be husband. "It's surreal," she said of the engagement. "Aside from how funny and sexy he is, Kyle's my best friend. He's the person I go to for everything. And he forces me to be a better person in different ways by pushing me outside of my comfort zone. Life with him is exciting. And to think he wants to spend the rest our his life with me and I feel the same way, it's just a real happy feeling."
And Kyle equally gushed about his now-fianceé, "Amanda's the most authentic, genuine person I've ever met," he said.
"I really look up to her. She's incredibly selfless, thoughtful, generous and accommodating. She puts family and friends as the top priority, and bends over backwards for the people that are important to her. That's what you look for in someone you want to spend the rest of your life with. She's a hell of a partner."
The two met in 2015 while starring on the Bravo show Summer House, but it took two years before Kyle popped the question. Speaking of the ring that Kyle used to propose, Amanda shared that she "had a pretty good idea of what [she] wanted,"but the exact ring didn't exist anywhere that I could find visually, so I gave him a few examples that he could choose from."
She also confessed that the proposal had been a surprise to her. She admitted that she didn't expect Cooke to propose for another year, though "He ended up designing exactly what I wished." The ring is a two-and-a-half carat diamond engagement ring, cushion cut on a split shank band from designer Stephanie Gottlieb.
"It's beautiful. He did a good job. I look down at it and still can't believe it's my ring on my finger. When friends would get engaged in the past, I'd try their rings and you sort of get an idea about what it would be like if it was yours. But it's so different when it happens. … I can't stop staring at it," she said.
And Kyle said he is "relieved" now that the proposal is over. "I kind of felt like I was living a lie for several months because I knew I was going to propose but I wanted to keep things secret, catch her off guard, and completely surprise her — all of which I managed to pull off."
As far as wedding planning goes, both Kyle and Amanda say that they aren't quite ready to take on the task just yet. "It's going to be overwhelming and expensive and probably very stressful in our relationship, so right now, we're just enjoying the engagement," Amanda said. "We haven't even planned an engagement party, let alone even figured out where we want to get married!"
Though Amanda does let slip that they will most likely stay on the East Coast for the nuptials and despite the show that has made them famous, the couple has decided that they don't want a summer event.
Congrats, Kyle and Amanda!
Sound off in the comments what you think about Kyle and Amanda's engagement!
---