Steal Her Style: Kameron Wescott and Kelly Dodd's Pink Boss Pants
Elle Woods would approve!
Lara Sophia October 19, 2018 2:33pm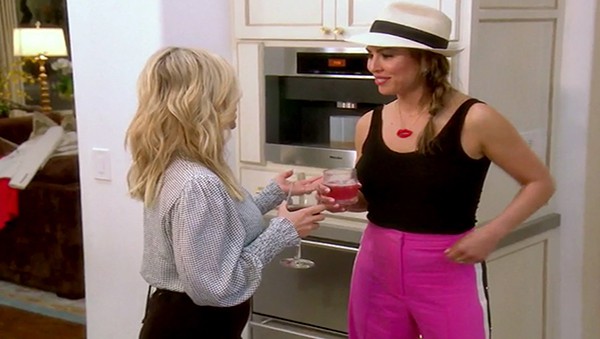 Twinning!
It seems that more often than not we see Real Housewives rocking the same fashion choices. Sometimes Housewives that are in the same city will wear the same dress or top, à la Lisa Vanderpump and Erika Girardi, and cause a major fashion faux pas. Remember this?
But more often than not it seems that Real Housewives from other cities have very similar fashion senses and wind up wearing the same pieces on their respective shows.
A prime example is the pink pants that both Kameron Westcott and Kelly Dodd recently rocked on their shows.
While I'd hardly say that Kelly and Kameron have similar styles but obviously great minds think alike. Kelly's style is more funky, edgy, and sexy while Kameron's is classic, girly, and sophisticated.
However, they clearly both agreed that these pink pants are fabulous.
Kelly and Kameron's pink pants are the Russo Trouser by Veronica Beard. Sadly, they are sold out of the pink ones worn on RHOD and RHOC. They do however have them in black and navy which are perfect colors for fall and winter.
Luckily, for you, we found similarly styled pants by Calvin Klien, Rag and Bone, Racil, and other brands that will easily help you recreate this style at any price point. Shop them below 😉
Now, that you know where to buy these lovely pink pants lets talk about how to style them.
Kameron dressed her pink pants up with a black long-sleeved bodysuit, Valentino Rockstud Heels, and a Celine Bi-Color Nano Luggage bag. Kelly, on the other hand, played up the sporty aspect of the pants by pairing them with a simple plan tank top. Kelly topped off her look with a lips necklace, white fedora, and white blazer draped over her sleeves.

When recreating this look I highly suggest pairing these pants, or any of the dupes, with a fitting top or bodysuit. If you get cold easily take a page out of Kelly's book and drape a sweater, jacket, or blazer over your shoulders for added warmth. Also, a heel is a must with these type of wide leg pants but if you are going for a more sporty look the right sneaker could work.
Remember, balance is key with this look but other than that you can dress this look up or down depending on your style.
Who do you think rocked the pink pants better, Kelly or Kameron?
---