Kylie Jenner Throws Stormi A Massive First Birthday Party
Try and Keep Up!
Lara Sophia February 13, 2019 9:00am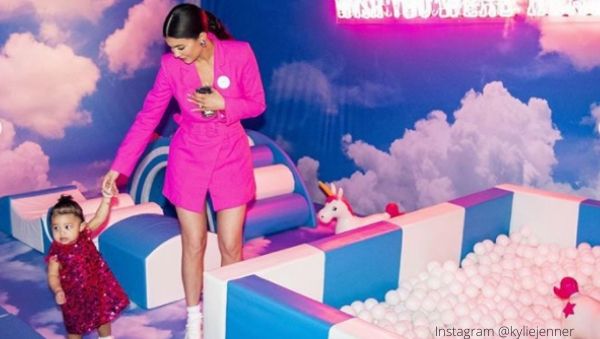 Here's everything that went down with the Kardashian Jenner family this week.
Kylie Throws Stormi A Massive Birthday Party
It's Stormi's world and we just live in it! Kylie proved that when she created Stori World to celebrate her daughter's first birthday. While excessive and over the top birthday parties are nothing new for the KarJenner clan, Kylie took things to a whole new level for Stormi's first birthday.
If Stormi's epic party weren't enough, DJ Khalid got the one-year-old a mini Chanel purse. Shockingly, it's her first Chanel. She can add it to her collection which already includes a mini Louis Vuitton from her Aunt KiKi.
Kendall Graces the March Cover of Allure
Another week, another magazine cover. Kendall showed off her March 2019 Allure cover where she once again proved she can do no wrong. The stunner also walked the catwalk during NYFW for Stuart Weitzman, who she happens to the face of for Spring 2019.
Kourtney
 

Bans Plastic Water Bottles in Her House

Kourtney Kardashian is taking a stand for the environment while promoting KarJenner family friend Jayden Smith's ethically sourced beverage company.

"No more plastic water bottles allowed in my house," Kourtney wrote alongside a photo of two paper cartons filled with H2O.
Kim Reveals Why She Barely Smiles These Days
Kim Kardashian may look like a "sad bitch" because she's doesn't smile much these but that's not the case at all. Turns out Kim doesn't smile in an effort to fight smile lines.
"Don't smile," Kim revealed during Mario Dedivanovic's The Master Class in L.A. on Saturday.
However, that's not the only reason. Kim recently revealed that she stopped smiling for the paparazzi after they called her fat and made fun of her looks while she was pregnant with her daughter North West.
Kim says being body-shamed during pregnancy "changed the way I viewed wanting my picture taken."
"Before I was always smiling, and so into being out and about," Kim told C Magazine. "After I had the baby, I was like, 'These are the same people that made fun of me, and posted the stories that were so awful, calling me fat for something I couldn't control.'"
Kim's solution? Stop smiling.
"'I don't want to smile for them. I don't want to be out,'" she added. "Even if I was more confident, I just didn't feel like being that girl who was going to be smiling for every photo. It changed my mood; it changed who I was; it changed my personality a lot."
Khloé Never Thought She Was Fat Until Staring On KUWTK
Khloé has gone through the biggest transformation since KUWTK started. The Good American co-founder has lost a ton of weight since KUWTK premiered in 2007 but it turns out Khloé never thought she was heavy until starting reality TV.
"I never, ever considered myself chubby or overweight," Khloé told Stellar magazine. "I didn't know that I was until I went on TV and everyone told me that I was fat."
"I never felt that way, because my family never allowed me to," Khloé added.
Over the years, Khloé's gotten the ultimate revenge body and now focuses on body positivity which she's passing down to her daughter, True.
"As silly as it sounds, I do positive affirmations with her in the morning," Khloé revealed, explaining that she sits in front of the mirror with True and says, "I am beautiful!"
"It's my job to make her feel, no matter what she looks like, that she is strong and confident and beautiful, and it's OK to embrace all different shapes, sizes, and ethnicities," Khloé shared.
---