VPR Star Stassi Schroeder Spills On Her Sex Life
The NYT bestselling author has plans to
Ashley Hoover Baker October 16, 2019 2:09pm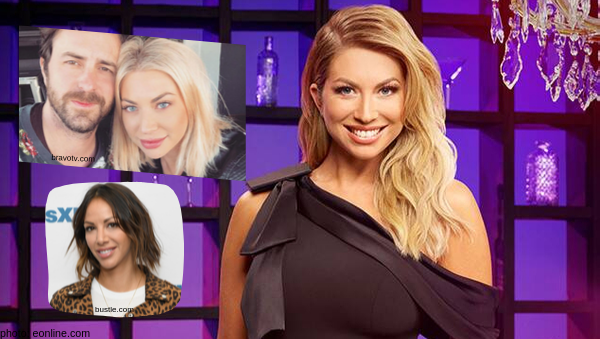 Vanderpump Rules star, Stassi Schroeder, spills on her sex life post-engagement and how she plans to "cut the fat out of her life" before her wedding to Beau Clark.
Never forget that Beau proposed to Stassi at the Hollywood Forever Cemetery earlier this year. If you're a Khaleesi, you'll know why that's so perfect for the New Orleans native.
If you listened to the former SURver's podcast, Straight Up With Stassi, you would have heard Stassi admit, "We hook up a lot less because we're so busy." The New York Times bestselling author continued, "I realize that we're so busy working together because we're doing the podcast tour and planning a wedding and just then in between, still filming Vanderpump Rules and having shoots and things we need to do that I'm like, 'Oh my god. Like, we barely hook up. I'm so sorry.' That's the negative that's come from it."
It doesn't sound like Stassi is too worried about Beau getting it elsewhere: "The positive is I feel like there's just an extra layer of safety."
Now, let's talk about the wedding.
Stassi and Beau are having a destination wedding in Rome, Italy. Boujee AF goals. Stassi's good friend, Lo French, joined Stassi on her podcast and she spilled the tea on the guest list for her upcoming nuptials. "I'm sorry but this day isn't about anyone else but me and Beau and if someone questions why they aren't invited to something, I'm just sorry. It is what it is."
The Next Level Basic didn't stop there, "I'm really going to have the thickest skin because I'm not going to be at any of my wedding events feeling uncomfortable with someone or feeling any sort of tension. I don't want any of that."
Stassi doesn't directly call out her frenemy, Kristen Doute, but she continued, "If I haven't gone to lunch with you or you haven't been a part of my life in a serious way for the last six months or a year, you kind of don't deserve a part of the biggest moment. Sorry. Sometimes you just have to say tough s–t. It also helps that Beau and I are paying for it ourselves so we're not going to have our family members try and be all up in our business." Oh, the sweet, passive aggressive shade!
If you're a Stassi super fan, you should hear the Next Level Basic book review episode on my podcast, On This Day Entertainment. My Bravoholic friend, Austin, and I break down all the 'basic' as we discuss the evolution of our personal styles, ranch dressing, dating deal breakers, the OOTD life, and finding our Beaus. We share our own 'season one Stassi' moments and even share our most basic mistakes! Click here to listen!
Do you think Stassi's plans to "cut the fat out of my life" before her wedding will go according to plan, or will there be the return of Season One Stassi?
---