Southern Charm Alum Accuses Ex Of Violating Court Order
Thomas Ravenel is firing back at Kathryn Dennis over her ex-boyfriend, Hunter Price.
Ashley Hoover Baker September 25, 2019 7:49am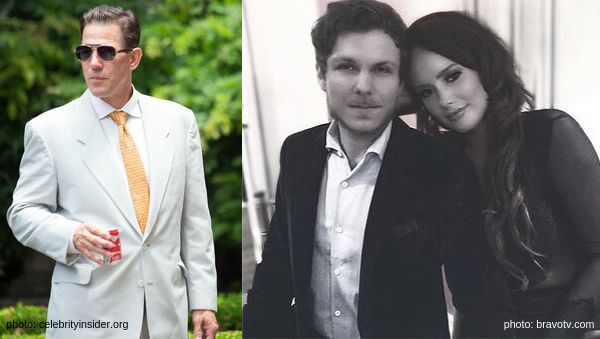 Southern Charm alum, Thomas Ravenel, accused his ex, Kathryn Dennis, of violating a court order stating no men could spend the night if their children are in her care. He also claims to have surveillance footage for proof! Thomas revealed this immediately after he was accused of taking drugs – violating his court order – and sexually assaulting his ex. Click here if you need to catch up!
According to reports from People, "Ravenel's team of private investigators began secretly recording Dennis through cameras mounted across the street at the beginning of February 2019, according to the report filed with the court by Ravenel."
On Feb. 20, Hunter was spotted on a surveillance camera putting his bags into Kathryn' car outside of her home around 2:30 p.m., according to The Daily Mail. The country singer appeared to be hiding out in the automobile as Kathryn's children's court-appointed guardian shows up for a home visit 30 minutes later. Within minutes of the guardian's exit, Hunter and Kathryn began unloading his luggage and taking it back into her house.
In case you missed it, a court order demands that neither Thomas or Kathryn are allowed to have any partners stay over at their individual residences while caring for Kensington and Saint. After the video footage was analyzed it appears that Hunter spent the night 37 of the 56 times that Kathryn had the children in her custody – the documents state that the number may even be higher. Additionally, the court stated that neither Thomas or Kathryn are to introduce their kids to any significant others of less than four months. Kathryn and Hunter started dating around the new year and the video footage was shot in February..
"Kathryn Dennis has exhibited poor and erratic behavior detrimental to her children consisting of multiple male friends spending the night with the children, significant drug and alcohol abuse, smoking or vaping in [the] proximity of the children and very little time spent outside her residence interacting with the children," as per Thomas' Private Investigator David C. Leaird to The Daily Mail. He also noted, "the patterns of behavior … observed during Kathryn's custodial time … raise concern for the children's general welfare."
Speaking of raising concern for the children's general welfare….
Just two weeks ago, Thomas pleaded guilty to third-degree assault and battery following accusations of rape from his children's former nanny. He received a 30-day sentence suspended to a $500 fine and will go on probation in lieu of jail time.
I spoke of this injustice on the season one finale of the On This Day Entertainment Podcast. I interviewed April Kidwell, the creator and star of the musical, I, Nomi – which serves as the prequel to 1995's  masterpiece, Showgirls. Showgirls is a film as misunderstood as it's leading lady, Nomi Malone.
April bravely shared her journey from starring in the Off-Broadway productions of Bayside: The Musical and Showgirls: The Musical (yes, she played Elizabeth Berkley's role in both plays!) and how her #MeToo story (that involves an original cast member from Saved By The Bell) led to the creation of her one woman show. 
*This is not my story to tell. Click here to hear April tell her Me Too story on the On This Day Entertainment podcast episode called Nomi Malone Goddess.*
While we are talking about Thomas sexually assaulting women, Kathryn recently reported an occasion in which Thomas watched 'muscleman porn' and then masturbated on her back while she slept after she rejected his sexual advances "because I was exhausted and pregnant," according to The Daily Mail.
No means no.
What do you think would be in the best interest of Kathryn and Thomas' kids? Drop your opinion off in the comments!
---