Southern Charm Alum Took Hallucinogenic Drugs
Thomas Ravenel's ghosts are coming back to haunt him.
Ashley Hoover Baker September 24, 2019 1:11pm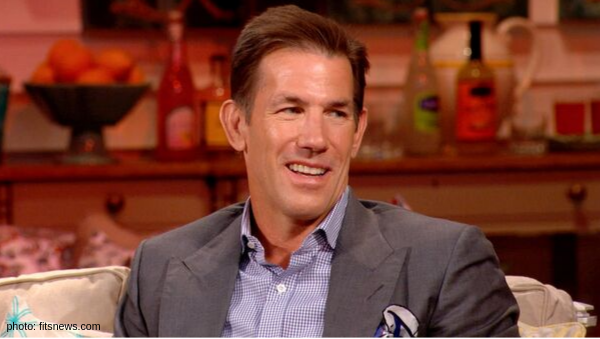 Southern Charm alum, Thomas Ravenel, took hallucinogenic drugs – according to a video that recently caught up with the disgraced politician. It doesn't stop there- Kathryn Dennis' baby daddy engaged in an 'inappropriate and violent behavior', according to a sworn statement filed in court.
According to reports from People.com, "The newly surfaced video allegedly showing Ravenel, 57, taking magic mushrooms during a party at his Charleston home is just one of the many allegations that were recently made against the Southern Charm star as he fights with Dennis for sole custody of their two children Kensington, 5, and Saint, 3."
In case you're at work and can't watch the video (been there) here are the Cliff Notes:
An off camera female asked Thomas, "You're gonna do that right now?" before pleading, "Thomas, no. No, you're, like, gonna geek out right now."
The woman was then recorded stating, "I wouldn't want to do it. I don't want to hallucinate."
"It's just mushrooms," responds Thomas allegedly. (Sounds like his creepy tone to me!)
Thomas is also overheard talking about how mushrooms don't show up on drug screens. Keep in mind, there are court ordered mandatory drug tests in place as a condition of the couple's current temporary custody arrangement. As of now, Thomas is the children's primary custodian, but the parenting is split 50/50 between he and Kathryn. Kathryn has previously accused her ex of trying to "evade follicle tests by shaving all of his body hair," according to The Daily Mail.
In addition to this damning video, Queen Kathryn submitted a statement to the court that was obtained by The Daily Mail. She reported an occasion in which Thomas watched 'muscleman porn' and then masturbated on her back while she slept. She continued to explain that he was mad at her for rejecting his sexual advances "because I was exhausted and pregnant."
This latest installment of the Kathryn/Thomas saga comes nearly two weeks after Thomas plead guilty to third-degree assault and battery following accusations of rape from his children's former nanny. As a result, Thomas received a 30-day sentence that was suspended to a $500 fine and will go on probation in lieu of jail time.
I spoke of this injustice on the season one finale of the On This Day Entertainment Podcast. I interviewed April Kidwell, the creator and star of the musical, I, Nomi – which serves as the prequel to 1995's misunderstood masterpiece, Showgirls.
April bravely shared her journey from starring in the Off-Broadway productions of Bayside: The Musical and Showgirls: The Musical (yes, she played Elizabeth Berkley's role in both plays!) and how her #MeToo story (that involves an original cast member from Saved By The Bell) led to the creation of her one woman show. 
*This is not my story to tell. Click here to hear April tell her Me Too story on the On This Day Entertainment podcast episode called Nomi Malone Goddess.*
I literally can't even with all this toxic masculinity.
What do you think would be a fitting punishment for Thomas using drugs while being monitored by the court? Sound off in the comments!
---