Southern Charm Savannah Recap: Communication Breakdown
Season 2 - Episode 1
Jennifer Ray July 17, 2018 9:40am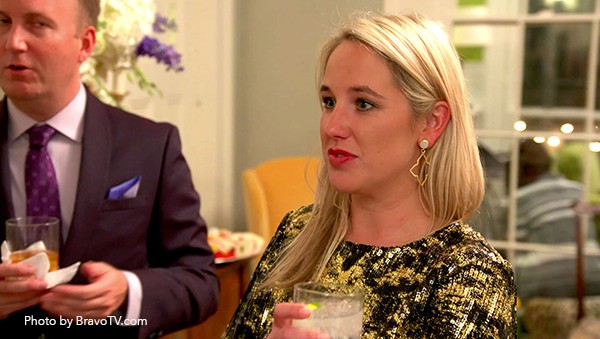 The first time I got drunk I was 16-years-old and Zima was the culprit. I remember it like it was yesterday, primarily because Zima has made a comeback, for some reason, and every time I see it I'm reminded of the hangover that almost killed me. While Zima didn't make me swear off alcohol entirely, it has kept me away from anything that even remotely smells like it. It's awful. Take it away and let it die once and for all. I'd never felt so strongly about something disappearing until I watched Southern Charm New Orleans – it became my new Zima. So when I was asked to write recaps on Southern Charm Savannah I was hesitant – would this be like Zima with that red coloring in it? Just another flavor of terrible?
It's not. I like it. I still hate Zima, though.
Southern Charm Savannah is in its second season and because I'm new to it, I'm going to recap it as though you're new to it as well. Refreshers never hurt.
Let's begin with Catherine Cooper. Catherine has been dating her boyfriend Lyle Mackenzie for 16 years, and after moving back to Savannah to be with Catherine, he's ready to take their relationship to the next level. Catherine is not ready to take their relationship to the next level and really, can you blame her? I mean they've only been together for 16 years, what's the rush? As you can probably imagine, things have been a bit tense since Catherine turned down Lyle's proposal in the most dramatic way and embarrassed him on a national platform. At one point she tells her dad that she wanted a courtship and Lyle ruined that for her. In other words, she's just not that into him. In addition to not having a relationship, Catherine also has no job. At 32, she's having a bit of a rough go getting this whole "adult" thing off the ground. Even her friends think she needs to get it together – basically telling her to s**t or get off the pot when it comes to Lyle. Lyle's friends just want him to get off the pot.
Next up is Daniel Eichholz. Daniel is currently transitioning out of his party life to a more adult one. I'm not sure how much of a partier he was but these days he does adult things like wake up at 6:30 to work out, and then he goes to work. Currently, he works at his brother's law firm but wants to start his own business. When we see Daniel he's waiting to go to the park with his friend, Hannah Pearson. Unlike Catherine, Hannah does want to marry her boyfriend Louis Oswald, except they've only been together for five years and according to Catherine's rules of dating they practically just met. Unfortunately, Louis is too busy to even think about getting married. A year ago he quit his job and bought into a sock company and now he works 16 hour days making zero money. Look, I watch a lot of Shark Tank and my inner Mark Cuban can see this deal going south by the end of the season. Forget him and Hannah, I want to know if he can make this sock company work without calling The Profit. Although that would be a good spin-off. (*All ideas from Jenn's head are copyrighted the minute they're thought of. Please contact Taste of Reality to purchase the rights to this brilliant show idea)
While his hard work and dedication to his fledgling sock company is commendable, Hagood Coxe has known Louis for a while and based on her observations of his frat guy behavior, the sock company might be the only thing he ever commits to. Hagood is new to the cast but is already friends with everyone, I guess? This will eventually prove to be problematic since she's friends with Hannah yet tells Louis he should probably break up with Hannah if it's not right for him. I'm calling it now: her storyline will include being blamed for the Hannah and Louis eventual breakup. Or maybe not, what do I know?
Anyway, let's get to the ingredient that makes this entire show one big television of joy: Mr. Brandon Branch. Most people don't know this but I actually know Brandon, and by that I mean I remember him from an episode of Kathy Griffin: My Life on the D-List when he was working for Paula Deen and I was introduced to him when Kathy and her crew spent a weekend at Paula's house. He was hilarious and loveable then, and he's hilarious and loveable now. Everyone should have a Brandon in their life. Brandon is planning a party to celebrate him and his husband Jim's 11th anniversary. He's hired a party planner, Bruce, and a caterer, Susan, who is going to make cheese straws. What are cheese straws, I thought? Brandon then instructed me to look it up. I did. I'm making them this weekend. I love Brandon.
While Brandon plans his party, Hannah meets Louis at Lafayette Square, ready to talk about their relationship. It's the most awkward conversation you've ever witnessed. She's holding on to Louis with bloody Southern belle fingers, but she does tell us why: her parents went through a bad divorce and she wants to get married and start a family of her own to create a new normal. What a great reason to get married, and what a great reason to light a fire under his ass after five years. This will end delightfully.
Finally, it's Brandon and Jim's party. On Kathy Griffin's show, Brandon was all about the gin and tonic's, and he still is, explaining that it's more acceptable to be seen drinking those in public than it is to pop Xanax. Have I mentioned that I love Brandon? Everyone begins to arrive, separately. We discover that the term "Keeping Up With The Jones'" came from Jones street, where Brandon and Jim live. Hannah and Louis run into each other but never really spend time together at the party and the whole thing is just awkward. Lyle works on getting drunk before the party because he's not too excited about running into Catherine. Catherine gets wasted at the party, presumably to be able to talk to Lyle, and eventually, they leave together. They stop at a park to talk and Lyle pretty much blames their situation on Catherine, probably because it is entirely all her fault. She claims to want to work things out but I can't tell if it's the cocktails talking or her. She suggests seeing a counselor and Lyle is, at this point, over it. He doesn't understand why she wants to work things out now and then tells her he's not proposing twice. As they walk off he tells her maybe one day she'll get it together and realize what she's lost. Side note: there was a moment where I had a hard time focusing on what she was saying because of her facial expressions. She makes weird faces like she's constantly trying to figure out what's going on. Then I saw the previews for the rest of the season and it looks like we're in for about 12 episodes of Catherine parodying herself. I may have to shut my eyes when she makes an appearance just so I don't miss anything when she speaks.
So, what do you think's going to happen this season? Will Catherine and Lyle get back together? Will Hannah and Louis stay together? Will we end up seeing Louis on The Profit? ISN'T BRANDON ALREADY YOUR FAVORITE? Comment below!
---