Southern Charm Recap: What da Fuskie
Season 5 - Episode 8
Genny Glassman May 25, 2018 1:24pm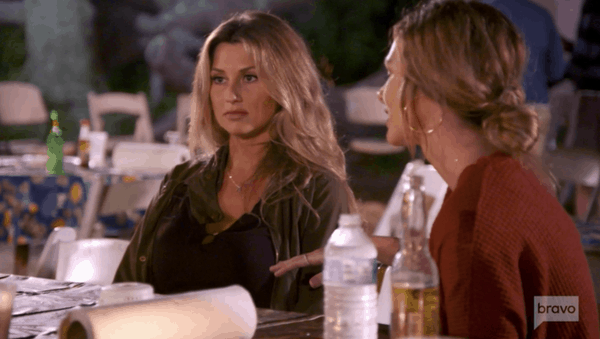 Ashley, Ashley, Ashley. What happened to you this week? Was it too much to drink? Or going on a vacation with a group of women who don't like you? Or were these merely the catalysts for what's always been there all along, breathing fire beneath the surface? Either way, this week Ashley Jacobs officially became this season's villain and that is saying a lot given that T-Rav is still on the show.
Let's get this out of the way, Cameran Eubanks is still 900 months pregnant. Palmer is clinging to Cam for dear life. Every week I feel like the producers need to show us Cameran's baby watch, but this week they made good use of her 5 minute cameo and showed us a phone call between Cameran and her partner in crime, Shep Rose. Shep calls Cam and tells her that he broke his nose by running into a door (but he wasn't that drunk! He swears it!). Weirdly, Shep wasn't the only person who showed up in this episode with an injury. Craig Conover sliced his pinkie and Naomie Olindo broke her ankle (not together though, no worries).
Kathryn Dennis' cracked iPhone makes another appearance and unfortunately for her, her grandmother has passed. This isn't a major plotpoint in the show, but her phone call with Chelsea Meissner is a nice reminder that Kathryn is building genuine friendships with the rest of the cast.
How much money do we think Gwynn's is making this season? It feels like every episode, the SC crew is trekking back to this regional department store and now I just think that Thomas Ravenel is purposely being mean to Ashley to get her to move back to California. The two make another trip to go shopping because as Thomas puts it, "They don't know how to dress out in California." Okay, Thomas, but then please explain why all of the men on this show dress like their mom picked out their outfit before the 8th grade dance???
But I digress, let's stick with the central problem in this episode, which is Ashley being VERY desperate for a wedding ring. Things aren't looking good for Ashley (whom I just realized, reminds me of Ashley Tisdale), Thomas shoves Kathryn in front of her face every chance he gets. I'm not even convinced that Thomas actually wants Kathryn back. I really believe that once an abusive person figures out what your biggest insecurity is or what you want the most, they will do anything they can to push that button.
The gang makes the voyage over to Hilton Head, birth place of Shep, Chelsea, and one, Teddi Mellencamp (but unfortunately for us, she wasn't on this episode!) Craig and Naomie meet before the trip and agree to play nice in front of the rest of the group, a lesson that Ashley and Thomas could have taken to heart!
The problem here is that Thomas is not putting Ashley in her place, nor is he sticking up for her. He just needs to tell her that she can't come to Saint's birthday party because things are too tense between her and Kathryn and then he should have facilitated her entrance into the group a little more smoothly. But then again, Thomas a messy, drama king, so there is no chance that he would want to be that generous.
The rest of the weekend is just a mess. The women on the trip are not giving Ashley the time of day and when the ladies go horseback riding, Ashley throws a fit at Thomas because she doesn't have the right clothes to go riding in. Things just get worse and worse for Ashley, as the women continue to ignore her, exclude her, and treat her with downright contempt. But let's not be too sensitive to Ashley's plight; though Thomas is the one to light the cannon, Ashley is the one to set things off. She angrily asks Kathryn if she is going to be invited to Saint's birthday party and when Kathryn politely says that she doesn't want to talk about it in public, Ashley explodes. She insists that she wants to talk about it NOW and Kathryn rightly questions if she is looking to start a fight. Kathryn tells Ashley that if she's going to be sticking around she needs to mind her own business a little more closely, and then Ashley shoots back that "in ten years –"
"Oh you'll be lucky if you make it to next month," Kathryn interjects.
Now the mask is off and Ashley, who is perhaps a little drunk, tells Kathryn, "I see those kids more than you do!"
Have you ever seen an entire group of people immediately decide they hate someone? Well that was what happened in that moment, every woman at that table is visibly changing their opinion on Ashley from, "nice gold digger," to "insane a**hole."
Chelsea even tells Ashley that her comment was " low, dude."
The episode ends on a cliffhanger, with all of us at home wondering how much higher this fight is going to escalate to. However, I'd like to point out that the guys seem to be completely useless in these matters. They are all off in the corner, hiding and drinking their beers, while the ladies circle around Ashley and rip her to shreds. It reminds me of the first episode that Peyton was on, where Austen Kroll left her alone to be attacked by Naomie. Are all of the men on this show complete weenies?
Let us know your thoughts on the episode in the comments below!
---