Southern Charm Recap: Pulp Fiction
Season 5 - Episode 5
Genny Glassman May 4, 2018 1:11pm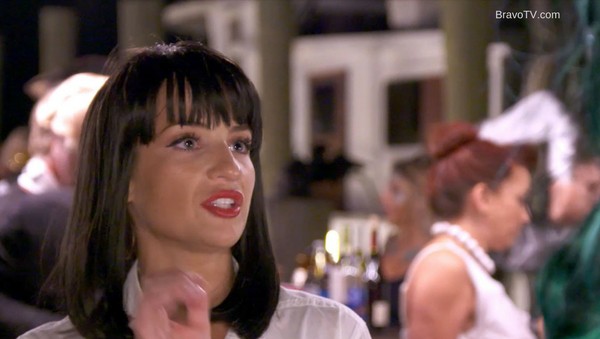 Naomie Olindo is really going for it this season. And by it, I mean she is really trying to embody every awful stereotype there is about "crazy ex-girlfriends". Tracking Craig Conover's phone? Check. Extreme possessiveness? Check.  Naomie is now that mean girl who goes up to a complete stranger at a party because she heard that her ex-boyfriend was into them and tells them that they're desperate and that they need to stay away from her friends.
Last season, the conversation on Southern Charm was constantly about Craig. When was Craig going to grow up? Why didn't he become a lawyer? What's up with his sewing? All of these little hobbies and side paths were touted as proof that Craig was a screw-up and immature. But this year that tables have turned immensely.
While Naomie is caught crying and stomping her feet, Craig is doing the hard work of getting his s**t together. Craig, according to Cameran Eubanks, has never been a ladies man and his refusal to start chasing after new girls so that he can officially end things with Naomie seems very mature. In this episode, Craig calls a life coach because he wants to be better. Despite what it might look like on the outside, Craig's break-up seems to be spurring him on to do better things with his life. Which compared to someone like Shep Rose, a man who is defined by his stasis and lack of ambition, is actually very attractive and winning.
Meanwhile, we get a little more insight into Cameran's reluctance to be a mother this episode. Cam meets her mother at Southern Belles  and confides to us in her interview that after her parents divorce, her mother had to go back to work leaving Cameran and her sister to fend for themselves. Perhaps Cameran did not want to be defined by motherhood because she saw her own mother's independence.
Over at Biergarten, Shep and Austen Kroll  meet and discuss the fact that they are getting older now and that their party-boy ways are starting to get stale. When you really think about how much money Shep must have to make it to 38-years-old and to never have had a job, it is appalling to know that he dresses the way he does. Naomie and Chelsea Meissner joins the boys and discuss Peyton's move to Charleston. Chelsea reveals that Craig has a crush on Peyton and Naomie eyes go black.
Over at Fashion Fabrics, Craig and Kathryn Dennis meet and Kathryn actually gives Craig some good advice. She tells Craig not to try and change himself for Naomie, but to do it for himself. She says that Craig is never going to flourish if he is still stuck on trying to get Naomie back and make her happy. Wait, is Kathryn deep?
Austen goes home to have dinner with his parents and his sister, Katie. Austen reminds us that his other sister Kyle, had passed away when he was a child and when his parents decided to have another child, "I was over the moon." I'm just going to say this now and get this out of the way. Austen and Chelsea should get married. They're both tall, lanky, beautiful people who have chill personalities and like to play golf together.
When Craig meets with his life coach (who is NOT his Uber driver, thank God). She seems like she is going to be really positive for Craig. She really builds Craig up and has a very nice therapist voice. She assigns Craig some homework, to describe himself in as much positive detail as possible. Awww.
Over at Goulette, Thomas Ravenel meets Whitney Sulder-Smith and his mother Patricia Altschul. Thomas speaks his "Pepé Le Pew French" as Patricia calls it and she asks him if he is going to marry Ashley. Patricia, who rivals some of the greatest in her capacity for pettiness and s**t-talking, says that Thomas is seeking perfection, but why should he "of all people" demand perfection? Burn.
Thomas says that Ashley is too forward and open in her intentions. He attributes that characteristic to being "quite a northerner thing," but no. It's called being an adult woman who asks for what she wants.
The next day, Cameran meets Naomie over at Mylk Bar to get a pedicure. The two talk about Craig's crush (a term I use loosely) on Peyton and Naomie says that she is very thirsty.
At Austen and Peyton's joint Halloween party things really take a dive. Peyton is dressed like a unicorn and Austen is a "Chick Magnet." Naomie, who is just starting to lose her chill, sees Peyton and tells Kathryn that she stalked Peyton's LinkedIn.
Ugh. Of course, J.D. Madison comes dressed as Donald Trump. Of course he does.
Naomie spends most of the party trashing Peyton, but when Austen finally introduces the two things get ugly, quickly. Naomie just comes right out with it.
"Peyton, why are you HERE?" she asks.
Austen sees that drama is about to go down and then just walks away (???). And Peyton tells Naomie that she feel in love with Charleston and wanted to move back south.
Then Naomie slams her again, "Because Charleston is such a hub for dog boutiques?" Okay, I have to admit, that was sort of funny.
Naomie tells Peyton that she's a girls-girl and to be real with her. And Peyton (correctly) says, "it doesn't seem like it." Naomie says that she sees right through Peyton and that Peyton is going after every guy in their circle. Peyton runs off crying and when Austen goes back to confront Naomie she completely starts to unravel. "How dare you pick her over me!" She tells him. Then Craig comes over and Naomie starts laying into him. She calls Craig a liar, but Craig was honest with her and told her that Peyton was the first girl he had considered hooking up with since their break-up. Naomie storms out of the party and Craig tells her that maybe they shouldn't speak anymore because they always end up fighting.
Tell us if you think Naomie lost her cool in the comments!
---