Southern Charm New Orleans Recap: Etoufee-Faced
Season 1 - Episode 6
Jennifer Ray May 21, 2018 9:33am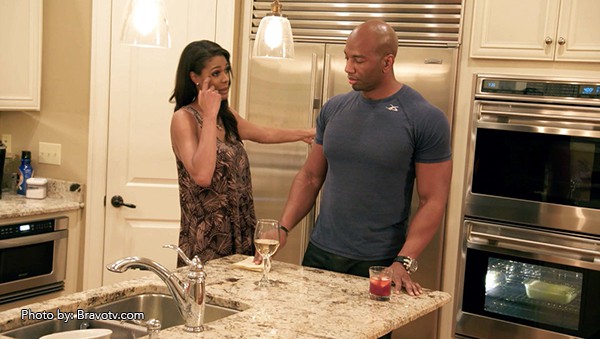 As a horror enthusiast, I never thought I'd say this, but it is, in fact, possible for ghosts to be put off by people. How do I know? Well, how else would you explain an exact number of zero hauntings happening at the Myrtle Plantation on this week's Southern Charm: New Orleans?
We're brought back to one of the most (supposed) haunted areas in the nation, only to find that the only scary thing to happen was  Justin Reese got sick. Oh, and Jon Moody woke up without socks. I wake up without my socks all the time but I think it's more because of the heat and less because a ghost isn't down with my choice of sleep attire.
Everyone wakes up from their uneventful evening and gets ready to head to the golf course. However, before they head to the golf course they have breakfast because they need more things to happen. Those things include Tamica Lee trying to scare Justin by telling him he should get checked out because her father passed away of a heart attack. While Tamica pours her heart out, Barry Smith asks for some sauce for his food and this sets Tamica off because it was rude. Once again, the notion of Tamica being insecure is brought up and Barry says that she's just taking on too much and that's why she is the way she is. I think it's because she's on a show and someone needs a personality.
After everyone quits crying they go about their golf excursion. The trip ends with Tamica explaining that she and Barry pretty much want to kill each other, the guys end up being more interested in driving the golf carts than playing golf, Jon tries to show off but looks like he's playing T-ball. Jeff Charleston asks Barry how he's able to juggle family life and professional life, then proceeds to give us a PSA on how therapy is awesome because he's learning how to deal with Reagan Charleston. Meanwhile, Reagan is trying to figure out how to deal with Tamica. After hearing about the fight, Reagan is told, by Tamica, that marriage is bipolar, to which she replies "you only hear what you want to hear." So dramatic.
The trip is finally over and a collective "hooray!" can be heard from me and the ghosts. Back at Tamica's house, Barry's mom is visiting and it's obvious that she's not a Tamica fan. Or a fan of the show. She's basically all of us. You see, Tamica is too busy to cook or clean or pay attention to anyone but herself – or her audience because if she was we would be more entertained. Barry is normally a happy guy, but this is making him not happy. Yet, while talking to Tamica, he's still smiling. This whole scene feels like a trick.
Tamica and Barry's story isn't over: after arriving with their child and getting after her for not shutting the door to her liking, Barry tries to comfort their kid and tells Tamica she needs to try harder and not be so hard on the kids. Tamica lost her dad when she was 5-years-old and her mom got sick not long after so she has no sympathy for her child who just wants Tamica to not be a jerk to her.
While Tamica and Barry work out their problems over dinner, Justin prepares for his dinner with Kelsey. He and Barry paid a visit to a jewelry store earlier, making us all believe that, after a year of dating, he's going to propose to Kelsey. After opening the box, however, Kelsey's face lets us know that an engagement is not happening. When she opens the box she looks as disappointed as the ghosts that got too bored to haunt the Myrtle Plantation. He gives her a necklace, which will suffice for now. Hopefully, this isn't a basis for season two. Please God no.
Other things that happen are, Jeff is enjoying his therapy but Reagan is skeptical of it. She's going to school to be a lawyer so she would know. Jon Moody paints while his sister watches, and we're given the gift of knowing how Jon got his start in painting: He used to draw people's buttcracks. I'm sure there's more to it but that's my interpretation and that's all you need to know.
With so much drama going on, what do you think will happen next? Will Jon paint more buttcracks? Will Reagan graduate law school? What piece of jewelry will Justin buy Kelsey next? Make your comments more interesting than this episode!
---