'Southern Charm' Star Patricia Altschul Determined to Hunker Down Despite Oncoming Hurricane Florence
Is Patricia crazy?!
Genny Glassman September 13, 2018 4:18pm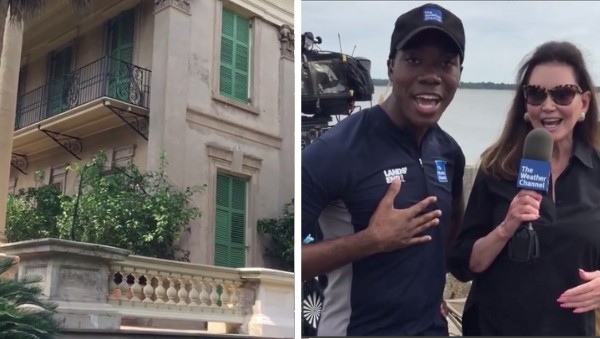 One would think that the news of Hurricane Florence would cause someone to run for the hills, but apparently Southern Charm star Patricia Altschul is not easily shaken. The 77-year-old matriarch took to social media to show off her hurricane prep, despite numerous warning by public officials to evacuate the area.
Patricia first took to social media on September 10th, where she showed off her pre-Florence haul with her butler Michael.
#HURRICANEFLORANCE #Preparedness #costco pic.twitter.com/oJT8NQ6zLz

— Patricia Altschul (@Pataltschul) September 11, 2018
She also showed off her boarded-up Charleston mansion.
House on lockdown…. shutters wired over plywood, generator inspected, pool water lowered, cars in parking garage, supplies bought, pets accounted for. Bring it on #HurricanefFlorence #southerncharm pic.twitter.com/alOamFXK2q

— Patricia Altschul (@Pataltschul) September 11, 2018
And it appears that Whitney Sulder-Smith will be staying with him mom. Patricia also posted this video of Whitney jamming the song "Rock You Like A Hurricane" on his guitar.
"Rock me like a Hurricane " @WSUDLERSMITH #SOUTHERNCHARM pic.twitter.com/1JFVuc2zwF

— Patricia Altschul (@Pataltschul) September 13, 2018
She even got some screen time on The Weather Channel!
Patricia seems to be the only member of the SC cast who's keeping close to home despite South Carolina Gov. Henry McMaster telling his constituents,  "If you're going to leave — and you should leave, if you haven't left yet — you should leave now. … time is running out." And according to CNN, officials reason that even though Florence has been downgraded to a category 2 storm, that doesn't mean it won't be deadly. The storm will still exhibit deadly storm surges, coastal flooding and rainfall is expected inland.
Is Patricia crazy for staying behind? Sound off in the comments.
---