Southern Charm New Orleans Recap: Big Easy, Baby!
Season 1 - Episode 1
Jennifer Ray April 16, 2018 2:33pm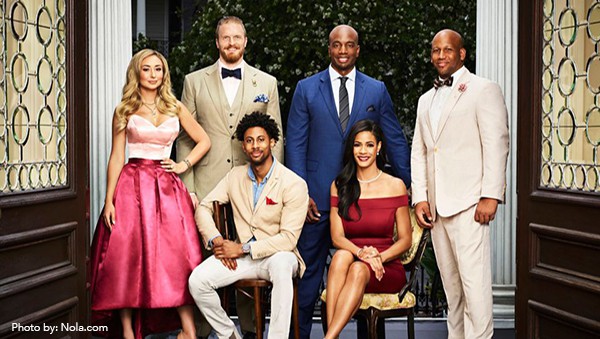 Tonight I watched Southern Charm New Orleans and you know what, where's my show? I'm real every day, I think things and sometimes I say them. Where's my show? I'm from the south – the super south. I'm from a border town for Christ's sake. And here we are, talking about super rich people who live in New Orleans.
I know you're wanting a juicy recap for Southern Charm: New Orleans but tonight it's all about meeting the people who we'll be talking about for possibly the next 12 weeks.
First, there's Tamica Lee. She's a talk show host and her husband Barry Smith is Mr. Mom. Aside from being Mr. Mom, I have absolutely no idea what he does. Tamica is apparently the ringleader of the group. Everybody knows her, she's "fine" as a cast member calls her, and to be perfectly honest, I'm impressed by anyone who can wear fake eyelashes like the ones she wears on a daily basis. (Unless your name is Scheana)
Then there's Reagan Charleston, who's married to a former New Orleans NFL player named Jeff Charleston. Reagan has been a resident of New Orleans since forever; her family is a part of its history. It's also her belief that that's why she's an alcoholic, or at least that's her reasoning. (I'm part Mexican so that's mine) Reagan claims to be finishing up law school, explaining that everyone refers to her as Legally Blonde. It's not the compliment she believes it to be. Tamica and Reagan claim to be friends but it's obvious they don't like each other. So I guess they'll be fighting by next week.
Enough about those two. When Barry's not being Mr. Mom he's hanging out with his friends. Additional castmates include Jon Moody, a 24-year-old successful painter, Justin Reese (we'll get there), then Sonny, Tamica's brother. On this episode we learn that Barry hates Mardi Gras, and to be perfectly honest, I'm starting to as well. And that's what we know about Barry so far.
Justin Reese is a friend of everyone's and, on this episode, we learn he wants to move in with his mom to help her fix up her house, but he also wants to move his girlfriend Kelsey in. Justin is an attorney who represents NFL players so we're just going to go ahead an assume he genuinely wants to help his mom.
There's a woman named Nicelle whose sole purpose appears to be showing off her butler, Benny Poppins, and bringing a priestess to parties.
After we're introduced to the cast, and following the Mardi Gras parade where Tamica spent half of it passed out, we're treated to one of her parties. Nicelle brings over the Priestess, and the priestess blesses the house. A jazz singer by the name of Robin Barnes sings for everyone. Jon the painter unveils his gift to Tamica and her husband, Nicelle gives Tamica a potion so her and her husband will start having sex again, and then Tamica deflects by asking when Justin and his girlfriend Kelsey will get married, prompting Kelsey to wear her mad face for the remaining 2 minutes of the episode. BUT! She's not the only one with a mad face: Jeff pulls a tarot card from the priestess that tells him not to look back in the past, which prompts Reagan to bring up the past he's not supposed to think about, primarily the memory of his own mother stealing his money.
Listen, I realize this is an incredibly short post. But we're just now getting to know these people. Also, not a whole lot happened. At one point I thought I had paused the episode but no, it was just a bunch of nothing happening. So the show is people, parties, and the only people who work are Tamica, Jon the painter and Justin. So we're going to have to wait until next week to see if they do something. Literally, please do something.
In the meantime, let's take some bets. Who do you think will be the most obnoxious? Reagan, the self-proclaimed Legally Blonde "almost" lawyer? Or Tamica, the boss of Barry and apparently, everyone else? Comment below!
---