Southern Charm: Accusations From Former Nanny's Deposition!
The ex-nanny of Kathryn Dennis and Thomas Ravenel's kids made serious accusations against the reality stars!
Ashley Hoover Baker March 7, 2019 8:11am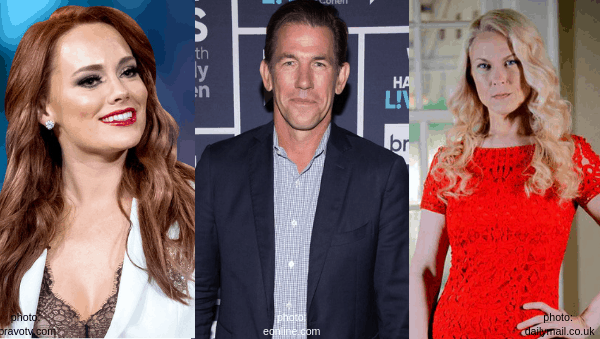 It's not uncommon to see Southern Charm's Kathryn Dennis and Thomas Ravenel in the news because of the damning accusations they make about one another. I was surprised; however, to read what Dawn Ledwell, the former nanny of the exes' two small children, said about both Thomas and Kathryn.
Keep in mind, Dawn started working for Kathryn and Thomas back when they were a couple and their first child was born. Dawn accused Thomas of rape. Thomas was charged with second-degree assault and battery. A trial date has yet to be set. Keep in mind, Thomas has another lawsuit against him for a sexual assault case involving another woman. Yes, in addition to Dawn.
The Blast got their hot hands on a transcription of the deposition that Dawn gave in late 2018. In the deposition, Dawn was asked about her time working for the 'then' couple and their children. This gets suuuuuper messy, so I'll outline it for you.
Dawn (the former nanny) accused Thomas of:
not concentrating on the kids
being forgetful
having issues with substance abuse
drinking around the kids
sometimes taking prescription pills while drinking
taking Klonipin and Viagra
going into rages on Kathryn
Let's pause for a moment to break down Thomas' treatment of the mother of his children. Dawn included in her deposition that she believed Thomas was capable of hurting Kathryn. Dawn described watching Thomas pick up an ashtray with cigarette butts in it and throw it at Kathryn's face. His reason? "Because she overslept when it was her turn to take the baby in the morning," according the the deposition transcript obtained by The Blast.
The heroes (most likely NOT wearing capes) over at The Blast also shared this quote that I felt compelled to send your way! Dawn claims she never saw Thomas vomit in his sleep, but "noticed that he was vomiting down the bed, down the nightstand, down onto the floor, and I was very afraid that he would die of asphyxiation or like choke on his own."
Dawn notes one occasion where Thomas nearly "amputated Kathryn's hand in a car door. One day he was very angry at Kathryn for not keeping her house clean enough and was pushing over bookshelves," as per the deposition from The Blast.
And now onto the accusations made by Dawn (the former nanny) in the deposition about Kathryn:
very attentive and affectionate toward children
never saw her do drugs with the kids
smelled marijuana once when a friend was over
found marijuana another time but never saw her use it
accuses Kathryn of drinking while pregnant
Let's break that last bullet point down. Thomas filed court docs in his custody battle making the allegation that Kathryn consumed alcohol while pregnant with their youngest kid. Naturally, Dawn was asked in the depostion if she worried if Kathryn was drinking or doing drugs when she was pregnant with her second child.
Dawn's response? "I did. But my concerns were for both parents because Thomas bought and provided the alcohol for her while she was pregnant." When pressed about whether Dawn saw Kathryn drinking while pregnant, she answered, "Yes. It was during her early pregnancy, and it wasn't very many times. But I recollect very clearly was that Thomas bought the alcohol and handed it to her" This deposition obtained by The Blast reads like a novel.
Kathryn filed for primary custody last year after she lost custody in 2016 after failing a drug test. She earned joint custody of her kids after going to rehab and staying clean. Kathryn is currently working to get full custody of their kids while Thomas is making it as difficult for her as possible.
What do you think would be the 'best case scenario' in this disaster of a custody battle? Let me know in the comments!
---