Southern Charm Stars Kathryn Dennis And Thomas Ravenel: The Battle Continues
Bank records and text messages are subjects of the exes latest drama!
Ashley Hoover Baker March 11, 2019 12:56pm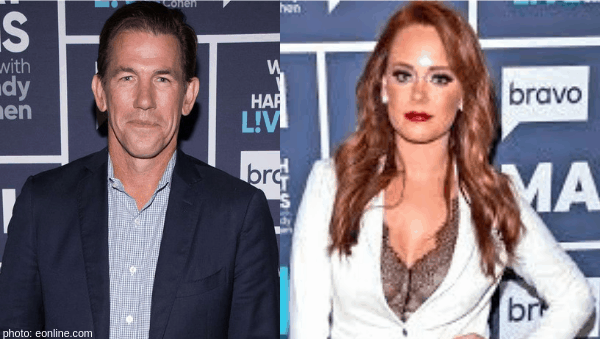 Southern Charm's Thomas Ravenel is desperately trying to get a judge to take his side in the custody battle with his ex, Kathryn Dennis.
The Blast got their hands on court documents that reveal Thomas is begging a South Carolina judge to order he does NOT  have to turn over bank records and text messages that pertain to any issues prior to June 30, 2017.
Thomas accused his baby mama of bringing up allegations of alleged sexual assault by him. He claims that when he and Kathryn reached their original custody deal two years ago,Kathryn was fully aware of all allegations of sexual harassment against him. I have a suggestion for Thomas. Don't rape women, allegedly, and you won't have to worry about it getting brought up!!!! Just a suggestion….
Thomas's reasoning is that since the judge reviewed the accusations made and still awarded him primary physical custody, Kathryn should not be allowed to mention the rape allegations in the new custody battle. Thomas has a problem with Kathryn's requests for the court…
Kathryn is demanding her ex turn over bank records, text messages, emails as well as copies of social media posts the father of her children has made. Thomas requested the judge to limit what he has to turn over saying it would be 'too burdensome,' according to The Blast, for him otherwise.
Among all of Thomas' legal issues, Thomas has a lawsuit against Bravo. He claims that Bravo and Southern Charm producers "encouraged" his ex to file for custody against him to create drama on the show, also according to reports from The Blast. He is demanding Kathryn NOT be awarded primary custody, despite her request.
We'll have to wait and see how that plays out, as Thomas is about to be on trial for an alleged sexual assault in South Carolina. The reality star claimed he learned that Bravo producers have unaired footage of his kids and Kathryn talking about the legal battle. Thomas filed a lawsuit demanding a South Carolina judge prohibit Bravo's sensitive footage from airing Thomas' dirty laundry. Does Thomas understand how reality tv works?
Do you think Bravo should be allowed to air all of the footage captured by their crew? Let me know your stance in the comment section!
---