'Southern Charms' Kathryn Dennis Files Motion to Modify Custody With Ex-Flame Thomas Ravenel After His Arrest
Are Kensie and Saint going to be spending more time with their mom?
Genny Glassman November 5, 2018 11:37am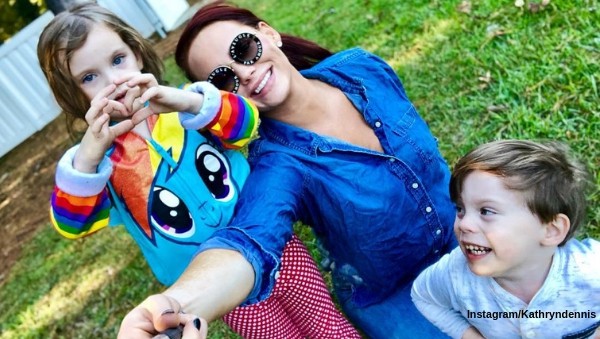 Kathryn Dennis is making a change and we think it'll be for the better. The 27-year-old mom and star of Southern Charm has filed a motion to change her custody arrangement of her two children with ex- Thomas Ravenel in light of his recent arrest for battery and assault.
In a report made by Us Weekly, the magazine confirmed that Kathryn has filed paperwork to change her custody agreement for Saint, age 2, and Kensie, age 4, on October 26th.
This comes shortly after Thomas was arrested in Charleston this past summer. Which was made because of a warrant against the former politician for allegedly assaulting his former nanny, known as Nanny Dawn, in January 2015 .
According to an affidavit noted in the report, the legal document described the assault, saying that "the defendant (Thomas) undressed and made sexual advances on the victim."
"The defendant grabbed the victim's hand and placed it on his penis before attempting to removed the victim's clothing. While attempting to remove the victim's clothing, the victim's underwire bra cut into her skin and her shirt wrapped around her neck, which caused the victim to struggle to breathe.'"
Thomas then allegedly grabbed Dawn's vagina and she "crouched down to the ground to try and prevent further assault."
"The defendant then put his penis in her face and asked, 'Do you like big dicks?'"
The story is certainly shocking, but Thomas has denied any wrongdoing in the assault charges leveled against him.
For her part, Kathryn has most kept silent about the assault claims, even refusing to speak about her ex on the Southern Charm reunion special.
"I'm not going to comment until, I guess, it's resolved, I think," she explained. "What I'm going to focus on is the children and staying out of it."
At the end of last season, viewers learned that Kathryn had finally won 50/50 custody of her kids, after losing her custodial rights due to substance abuse in 2016. While it's not clear what Kathryn will be asking for in her new custody arrangement, one thing is clear, it's probably best if the kids spend a little bit more time with their mom.
Do you think Kathryn should get full custody? Sound off in the comments!
---