Shep Spills That He and Kathryn Dennis Have Had Sex 'Six or Seven Times'
Shep kissed and told.
Genny Glassman July 10, 2018 3:01pm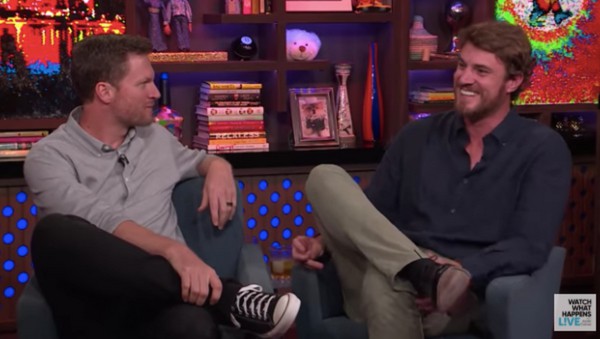 Shep is spilling the beans again! On a recent episode of Watch What Happens Live! Shep Rose from Southern Charm really dished the dirt, revealing that at one point Kathryn Dennis considered him "her booty call."
On Monday's explosive episode of WWHL, the mailbox money-aire was candid with host Andy Cohen, explaining that the sparks between Kathryn and himself started up again at one of his bars. "We met at one of my bars and we had a couple drinks and it was just on fire again," Shep said. But added that the relationship never went farther because Kathryn had "[fallen back] with Whitney [Sudler Smith] and Thomas [Ravenel] and I was just like, 'No, no no!'"
Prodding, Andy asked Shep if he and Kathryn had ever gone on dates before their trysts, but Shep said that the two only got straight done to business. "We've never been on a date. But I would go on a date with her!" Shep says trying to backpedal.
And as far as sleeping over after sex, Shep also divulges that because Kathryn wears so much make-up they decided that it was easier to shower before so that he didn't have to keep changing his sheets.
Shep also confirms what fans had been suspecting for months. That even Craig was susceptible to Kathryn's charms. "Craig was courting her, but he slept for two nights in the bed with her for two nights in a row and didn't try anything," Shep says. "So I swept in. I'll try something!" he adds.
Of course you will, Shep.
Do you think Shep and Kathryn could go the distance? Let us know in the comments!
---