She Did It Y'all. Ashley Iaconetti and Jared Haibon From 'The Bachelor' are Finally Dating.
I believe in love now, friends.
Genny Glassman May 23, 2018 3:58pm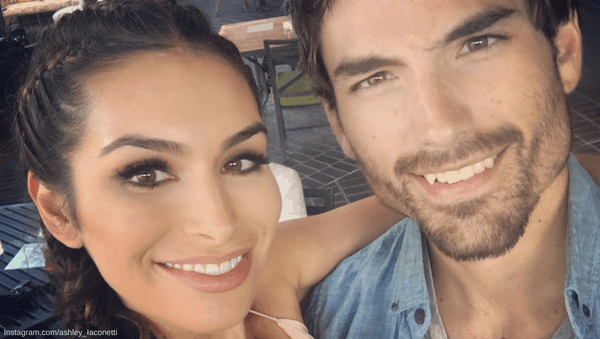 Love is real, everyone! After three years of friendship and a very public, one-sided infatuation, Ashley I. has finally gotten her man. The two Bachelor alums have survived two rounds of Bachelor in Paradise, one Bachelor Winter Games, and many, many tears, but now at last the two are DTR (or defining the relationship) in a 44-minute long video, called The Story of Us.
If you've been a member of Bachelor Nation, then you know that for years, Ashley has been obsessed with Jared. Even before the two met and eventually became friends. In the video, Ashley explains that after seeing Jared on Kristen Bristowe's season of The Bachelorette, she immediately told producers that she wanted him to go on Paradise. And while Jared did eventually make it to BIP, it wasn't exactly love at first sight in his mind.
More from Taste of Reality: The 'Bachelorette' Cast Bios are Here & They are Perfect
"I didn't think I could ever see myself with someone like Ashley because I've only ever been with like, shy, very like — how would you describe it?" he asks Ashley in the video.
"Soft-spoken, feminine. [Whereas I'm a] big personality, [someone who] puts her emotions out there. I'm not like very well composed, but he's been with very composed women."
However, on their first date in Paradise, Jared's first impression of her quickly changed once he saw how easily they got along. He decided that things "weren't over" for the two after he broke-up with Ashley on that first season of BIP and admits, "it was a slow burn for me."
My favorite part of the interview was when Jared was describing the moment he knew that he had fallen for Ashley. Ashley had asked nine other Bachelor contestants to participate in a charity event at her parents house in Virginia. "I was like total boss-woman and Jared wasn't my focal point, I was too busy running these two events. And –"
"I was in love," Jared interjects. "You were just so down-to-earth and easy-going. And you were ambitious, and you were working hard that weekend. And you looked sexy. You were wearing this purple v-neck dress and your hair was up in a pony. Damn, you were sexy!"
The two celebrated their announcement, by of course, blasting their love across social media. Jared even posted this picture of himself and Ashley and captioned it, "when you realize you want to spend the rest of your life with somebody, you want the rest of your life to start as soon as possible."
More from Taste of Reality: Favorite Bravoleb Couples
And Ashley posted this pic on her Instagram, writing, "I love my boyfriend."
So far, the internet has been overjoyed by the news that Ashley I. has finally gotten her man. Now let's just hope there are no more tears for these two in the future!
Are you happy for Ashley and Jared? Let us know in the comments!
---