Khloé Kardashian's Reveals Daughter's Name Days After Cheating Revelation
The new parents brought baby home, together
Genny Glassman April 16, 2018 6:17pm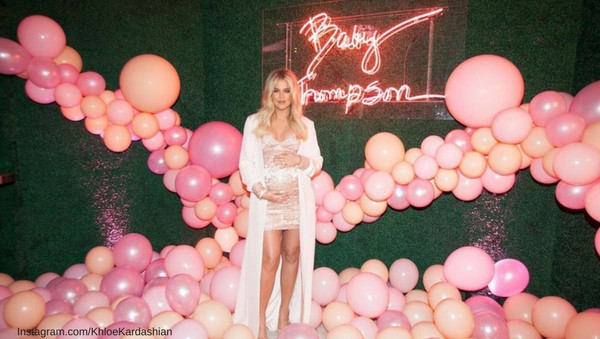 Whew! After a week of much drama, anger, and shocking revelations, it looks like Khloé Kardashian and boyfriend, Tristan Thompson, are moving forward with their relationship. Amidst outrage over Khloé's declaration that she and Tristan will be staying together despite his flagrant cheating , Khloé took to Instagram today to welcome home her new daughter, True Thompson.
The new mom gushed about her new baby on Instagram, writing "Our little girl, True Thompson, has completely stolen our hearts and we are overwhelmed with LOVE. Such a blessing to welcome this angel into the family! Mommy and Daddy looooooove you True!" Notice Khloé's use of we.
Khloé even posted her welcoming message to her personal website and revealed that baby True weighed in at 6 lbs., 13 oz. and was a 21 inches long.
The new parents have certainly had a busy week. Last Tuesday, The Daily Mail exposed Khloé's baby daddy,  Tristan Thompson, with a video that showed Tristan making-out with another woman at the PH-D Lounge in New York City. TMZ was quick to follow up on the story, releasing a video of Tristan from October, kissing, motorboating, and getting handsy with two women in a Washington D.C. club.
More from Taste of Reality: Khloé Kardashian Goes Into Labor, While Tristan Thompson's Mistress Goes Into Hiding
Unfortunately for KoKo, those were only the first revelations, in an avalanche of allegations that followed, including an alleged sex tape that has yet to be confirmed. A Tristan Thompson insider told People Magazine that he is a "serial cheater."
Of course, Tristan's cheating scandal angered fans of Keeping Up With The Kardashians  who had seen Khloé struggle to find love after her disastrous marriage with Lamar Odom ended. Fans were sure that Khloé would leave Tristan and head back to Calabases, but on April 12, People Magazine reported that Khloé had already forgiven Tristan and that the two were going to move forward as a couple.
More from Taste of Reality: Khloé Kardashian Gives Birth to a Baby Girl With Tristan Thompson By Her Side
A Kardashian source ( *ahem* probably Kris) told People, "Khloé is feeling nothing but happiness right now. She is head over heels in love with her little girl—she is just consumed with love. Absolutely nothing else matters."
Despite fan speculation, Khloé did not give her daughter the famous Kardashian last name, instead choosing to stick with Thompson. Although according to Ohio law, if a woman is unmarried when she gives birth she retains full custodial rights unless a jury orders otherwise. Meaning, that if Tristan wants to spend any time with his new daughter, he might have to watch his p's and q's.
As for the origin of baby True's name, grandmother, Kris Jenner, shares a little insight. "FUN FACT," Kris writes, "my Grandfather's name on my Dad's side was True Otis Houghton…my Dad's name was Robert True Houghton…so i am excited Khloé name her daughter True!!!"
More from Taste of Reality: Kardashian Jenner Round-Up: It's All About Khloé, Baby! 
Although Grandmama Kris does shed light on her granddaughter's new moniker, it does seem a little…interesting in light of Tristan Thompson's recent actions. Perhaps Khloé is also sending Tristan a message about what she expects from him from now on: the truth.
Tell us what you think of Khloé's new baby name in the comments!
---