Scientists Rate The Popularity Of The Hills Cast
Who said science is boring?
Ashley Hoover Baker October 3, 2019 12:33pm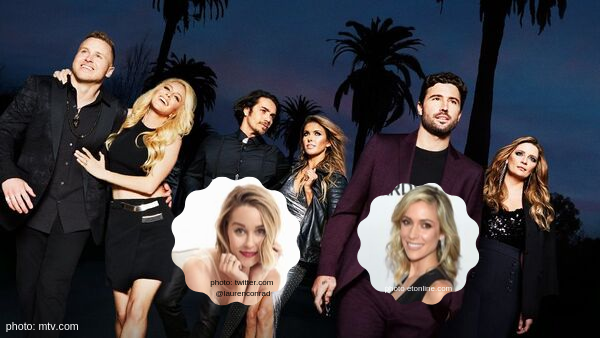 Scientists rated the popularity of the cast of The Hills: New Beginnings by analyzing the quantity of searches about each cast member and how social media users feel about that cast member. Now THIS is the kind of scientific inquiry I may have had success with in my under grad.
The OG version of The Hills aired from 2006 to 2010 with Lauren Conrad as the narrator, followed by her Laguna Beach co-star, Kristin Cavallari, taking the lead when LC decided to leave the hit MTV 'reality' show.
Fast forward to the present day craze of rebooting nostalgic favorites (ie, BH 90210) back into prime time air slots. The Hills are alive (again) – almost a decade later – with many returning cast mates, but not LC or K. Cav. It's no secret that Lauren and Kristin were the break out stars of the original version of The Hills, but neither chose to return for the reboot.
Returning for the reboot were original cast members, Audrina Patridge, Heidi Montag, Whitney Eve Port, Spencer Pratt, Stephanie Pratt, and Brody Jenner. Newbies joining the reboot cast were Mischa Barton, Brandon Thomas Lee, and Brody's 'wife' Kaitlynn Carter.
Now that season 1 of The Hills: New Beginnings has wrapped and MTV confirmed the show's return for another season, fans can't help but wonder who will be returning and who will not. That's why this list, courtesy of SEMrush, may give fans some insight on what's to come.
Without further ado…
14. Heidi Montag Pratt (barf)
13. Frankie Delgado (snooze)
12. Jason Wahler (I already forgot he even returned!)
11. Spencer Pratt (double barf)
10. Justin Bobby (who wore combat boots to the beach- never forget!)
9. Whitney Port (beautiful and boring)
8. Stephanie Pratt (thinks she's going to make 'fetch' happen)
7. Kristin Cavallari
HAHA! I loooove this, especially since she's not even on the reboot! Fans are still able to see KCav on tv with her husband, former NFL star, Jay Cutler on her hit E! show, Very Cavallari.
6. Brandon Thomas Lee, who is actress/model and 80's/90's It Girl,  Pamela Anderson and Mötley Crüe drummer, Tommy Lee's son.
5. Lauren Conrad
This makes me chuckle even harder than Kristin because LC isn't even on tv anymore! LC does host a podcast called Asking For A Friend. She is also a popular fashion designer and successful writer (with a hot hubby) who is expecting her second child.
4. Audrina Patridge (Is there anything behind those beautiful eyes?)
3. Mischa Barton, or as many of us teen drama tv lovers of the early aughts know her as Marissa Cooper from the hit show, The OC. 
#JusticeForMarissaCooper
2. Brody Jenner – whose dad is Caitlyn Jenner– which makes him Kendall Jenner and Kylie Jenner's half brother.
In the top spot…
1. Kaitlynn Carter (Brody's now ex-'wife')
Did Kaitlynn ranking in the top spot shake you to your core?
Me too!
Just so you know… Kaitlynn's popularity went up 1,922% once she split with The Hills' hottest hunk, Brody, and quickly moved on with pop singer and actress, Miley Cyrus.
If you are a fan of all things pop culture and nostlagia – including reboots – you should check the On This Day Entertainment Podcast. I break down all things happening in the reality world and with regular, nostalgic throwbacks to take us back to a time when things were simpler – like LC deciding to skip an opportunity to work in Paris to spend time with her boyfriend. Oh, those were the days. Here's a link to the episode I did celebrating The Hills' iconic theme song, Unwritten.
Do you think Kaitlynn's popularity will drop down (to where it belongs) now that she and Miley have split up? Sound off in the comments!
---