RHOP Recap: That's Scentertainment
RHOP Season 3-Episode
Emily Bertha May 21, 2018 9:15am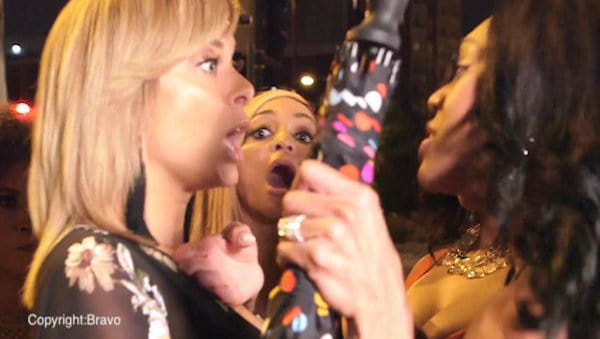 Ah, divorce. A staple in any reality series really. This week's episode of RHOP began with Karen Huger stating that Ray asked her for a divorce a "long time ago." I was hesitant to believe this because why bring it up now to Charisse Jackson Jordan if it happened so long ago? But I quickly believed her after  Karen whispers to Gizelle Bryant in private that she "can't really talk about it" in a way that seems to insinuate Ray asked her a divorce to protect her from his financial troubles. Is this an indication that Karen actually knew what was up with Ray's finances?
There is really no time for the ladies to speculate as the seriousness quickly turns to the hilarious impersonation of Mrs. Wig, Karen Huger herself. Ashley Darby saunters down the steps wearing Karen's wig and does the most accurate impressions of her. Half surprisingly, Karen laughs right along with little miss Ashley and the ladies, and they left Nemacolin on a high note.
Yet when the women are back home, the issues bubble right back up. Monique Samuels is upset that Ashley believes Monique had more to drink than she actually did. Honestly, any time there's a scene in Monique's kitchen it's hard to pay attention to anything else other than the fact that her kids are ALWAYS on the counter tops. The threat of a leaking diaper isn't exactly appetizing.
Gizelle spends her first days back from the trip practicing for her "role" in her upcoming book. She FaceTimes Robyn Dixon while wearing her "church lady hat" that looks more like something you'd see on an African safari. We learn that Sherman hasn't been in touch with Gizelle for over a day, and it may be because she sent him an article about their relationship that scared him. I like Gizelle, but this whole things bores me honestly. I'm not invested in her relationship because Sherman had maybe four minutes of screen time so far. I don't really know the guy, and if he's the kind of person to get upset over an article that showed him in a good light, then I don't really want to know the guy.
The relationship I'm most invested in this season is between Karen and her assistant, Matt. Karen is in the "discovery phase" of her fragrance line which basically means she's done nothing more than decide she wants a fragrance line. Every time I open the damn fridge to decide what I want to eat, from now on I'm calling it my "discovery phase." Karen might have floral scents, but does she really have business sense? She talks with Matt about wanting to start this fragrance line, and he literally says he knows NOTHING about that industry. This all sounds very promising. I'm sure when Matt was pulling all nighters studying for college exams, this is exactly what he dreamed his  future would be.
Meanwhile, Candiace Dillard is planning her wedding and visits the venue with her mom. They learn that they're going to exceed their budget (shocker), so her mom says that Candiace will need to ask her father for more money. The mention of her father, who divorced her mom when she was a baby, brings up all sort of past s***. Her mom warns her that not all relationships may be what they seem, and Candiace gets upset because she takes this as her mom insinuating that Candiace's own marriage will end.
The mother daughter relationship we've seen most this season is of course between Ashley and her mom. Ashley visits her mom, and the conversation heats up when Ashley mentions again that her mom needs to kick her freeloading boyfriend out. Ashley is one of the youngest housewives, yet she seems far more mature than her own mother. Her mom immediately throws Michael under the bus, telling her daughter not to defend him about his money. Um, hello? That's the whole issue here! He's paying for where you live! Ashley's mom doesn't have to love him, but she needs to understand his demand that he wants a freeloading old man out of the house he is paying for. Personally, if someone were paying for my house, I'd do whatever they damn well asked so I wouldn't get thrown out. You want me to sing entire Nickelback albums to you in pig latin? You got it. You want me to iron your socks while riding a unicycle? You better believe I'm going to try.
Later in the episode, the women (and Matt) are all invited to Karen's fragrance event.  I love how Matt is the lone white guy in all of these situations. Whenever he's around the ladies, he always has the face of someone whose ex girlfriend just told him she's pregnant with their triplets and wants to get married tomorrow.
The fragrance event starts off smoothly enough.  Monique is obviously ignoring Ashley because she thinks Ashley is insinuating that she crashed her car because she had too much to drink. We learn that on their trip, Monique drank another bottle of wine while smoking cigars and threw up. Monique claims she only threw up because she was teaching the ladies how to smoke it and inhaled too much. Girl, if you've smoked cigars before, you'd know how to not inhale.
Monique eventually confronts Ashley and again insists that she was just tired, not drunk. Monique gets a little too defensive when Ashley responds. Ashley wasn't trying to defame her, but like she says, the martinis didn't wake Monique up any.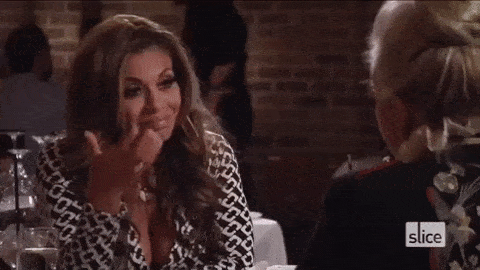 A screaming match naturally ensues, and one of the fragrance specialists tells Matt to take control of the situation. She says this multiple times, and Matt goes to stand up then immediately sits right back down. He's just a scared little fish amongst sharks. After things continue to escalate, Karen has security escort them out.  Really?! These are your friends; they're not threatening to do any classic table flips, so just let it be.
However, once the women leave, things heat up even more between Ashley and Monique. Monique goes from the kind of p**sed when someone eats the last cookie to the kind of p**sed when your husband "accidentally" throws out your priceless NSYNC memorabilia.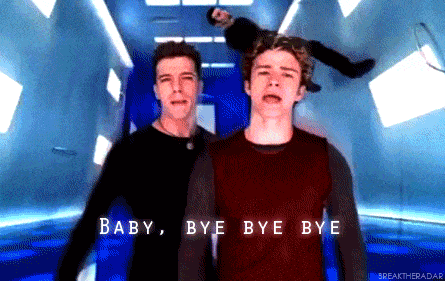 Monique basically says that by "accusing" her of driving drunk, Ashley is trying to break down everything she has and everything she has built. Robyn comments that Monique may have a drinking problem and basically says what everyone is thinking: what did you ever build?!
Monique then gets into it with Robyn and ends up threatening to choke Robyn with her umbrella.  FINALLY we are getting more juicy fights on this show! 'Tis the season!
We want to hear your thoughts! Whose side are you on, Ashley or Monique's? 
---