Southern Charm Savannah Recap: Turks And Consequences
Season 2, Episode 7
Jennifer Ray August 28, 2018 11:06am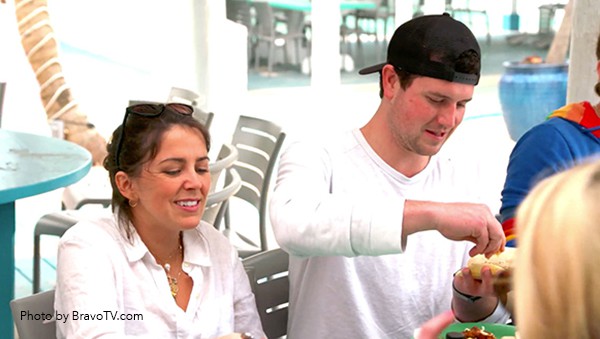 I'm just going to say it: there's no way everyone who's on a reality show enjoys taking a vacation with their cast members every season. Impossible. A few weeks ago my husband and I took a trip to Colorado and brought a couple (who we've been friends with for years) with us. We haven't heard from them since we got back. I'm sure it's us. Still, there's no way everyone who's on a reality show enjoys taking a vacation with their cast members.
This week, the gang is taking a trip to Turks & Caicos for Hannah Pearson's birthday. In preparation, Hagood Coxe joins Catherine Cooper at her house to partake in a spray tan and drinking because you can do those things when you don't have a job. After their spray tan, they sip champagne and Hagood begins talking about her emotional break down at Catherine's party, detailing the conundrum she's in: work on the farm or keep making saké, something that she doesn't know will work out but is hoping will. Since Catherine doesn't know what it's like to have to make a work decision, instead of offering advice she begins talking about the fight she had with Lyle. By this time she's got a good buzz going, or at least I hope she does because instead of saying the word 'aggravated' when describing Lyle, she says 'aggro'. DO NOT START USING THIS TERM. I REPEAT. DO NOT START USING THIS TERM. Anyway, she returns to english and tells Hagood that the Turks should make things better.
Meanwhile, Hannah is hanging out with Lyle Mackenzie, filling him in on what he missed at Catherine's house warming party which includes her getting wasted and dancing (video footage is provided, I highly recommend Googling it). She then talks about the Turks and asks Lyle to go, which he begrudgingly agrees to.
Trip day has arrived. Everyone arrives at the airport with the exception of Lyle and Louis Oswald. Louis is returning from a trade show and, just to make it to the Turks with Hannah, is driving all night to make it to the airport on time. Lyle's excuse isn't as grown up: he was up late drinking. They both manage to make it to the airport and eventually everyone arrives at the Turks. The gang piles into a van including a visibly drunk Lyle, who apparently kept the party going on the plane. Hannah tells him he smells and I don't know what his response was because there weren't subtitles to accompany his slurring.
Their first stop is at Da Conch Shack where they're met by Hannah's sister Hillary, as well as her best friend, Robin. From their, the drinking continues and so does Lyle's slurring. His first slur is a comment to Hannah, telling her she'll be back on her knees in no time, which ignited one of Catherine's faces. Then it's Louis' turn to make a bad comment, telling the group that Hannah told him all the money he made at the trade show had to go towards her ring, to which she replied "I never said that." In his defense, he is sleep deprived and Hannah probably did say that because her next comment is "the theme of the weekend is 'yes'". Drunk Lyle decides to chime in with, "no means yes and yes means anal." I'm glad we got that on film. Catherine immediately jumps to her own defense and says that comment isn't about her, which is funny because the first thing I thought when he said it was Lyle is an idiot. Because this isn't awkward enough, everyone starts calling out Hannah for her non-existent sex life with Louis. The lunch ends with Hannah pulling the penis off a conch and tomboy Hagood eating it.
The gang arrives at the house of a family friend of Hannah's. Hillary turns herself into a meme when she tries to push Louis in the pool but falls in herself. Brandon Branch entertains us by trying on Catherine's clothes, prompting Catherine to ask him if he'll be hooking up with Lyle. He then asks her the same thing, which starts her on a "he doesn't take responsibility for anything" tangent that is, Fortunately, cut short when she finds a bathing suit Brandon can try on. An exhausted Louis decides to go to sleep which pisses Hillary and Hannah off because he isn't going to make it Hannah's birthday dinner. Hannah's reaction is to tell everyone her life is falling apart. #firstworldproblems
At dinner, they do some more drinking which means it's the perfect time to play a game of "Let's Be Honest." Brandon starts by telling Lyle that he's been extremely mentally and emotionally abusive to Catherine, which (surprisingly) she responds by telling him they can talk about it another time. Then my favorite type of Hagood emerges, calling BS and making sure nobody forgets that Catherine is just as much to blame as Lyle. And now we're  talking about their relationship. Lyle tells Brandon that he's right; he hasn't treated Catherine the way he should have. Then Daniel Eichholz chimes in (he's barely visible during the episode but I assure you he was there) picking up where Hagood left off, to which Catherine replies with, "you better defend me. Now." Just as Brandon starts telling Lyle that he has anger issues he needs to address, the waiter brings out Hannah's cake and puts an end to the relationship we're all sick of hearing about – at least for now.
The next day, Lyle invites Catherine to walk with him on the beach and apologizes for taking his frustrations out on her. So they'll be fighting again next week.
Now it's time to hear about Hannah's relationship, again. Hannah meets her mom, Hillary and Robin for brunch and kicks things off with the "Louis said he wants to get engaged" story. Hillary's mom is like, "so you're broken up and now he's telling you he wants to get engaged. He's stringing you along." Then her mom tells her to quit putting pressure on herself, there's nothing that says she has to be married by a certain age. Robin tells Hannah that Louis won't change; Hannah's mom follows that up with "some people have everything and still aren't happy." To sum it up, she pretty much told Hannah to get her head out of her ass and I want her to be a cast member now.
After brunch, everyone heads out on a boat ride. While everyone else has a good time, Hannah sabotages her own by asking Louis to talk. At first I thought, "oh, everything her mom said sank in and now she's going to either leave Louis or quit b***hing because she's choosing to stay with him." That didn't happen. What did happen is she asks him why he does bad things and then tells him that she wishes he would work on their relationship as hard as he does on his socks. He says he's trying his best and wants to work on things and she tells him it's not good enough. And that is precisely the opposite of the advice she got from her mom. Louis has f***ing had it. He calls her out for not being intimate with him, tells her that she needs to reciprocate in the relationship, and then throws down the gauntlet by telling her she needs to find a dude who will wait on her hand and foot without wanting anything in return and walks off. Except they're still on the boat so this should make the rest of the excursion not awkward at all.
Raise your hand if you just want everyone except Brandon and his husband to break up already! Is it me, or did Hannah and Louis just become the new Catherine and Lyle? Comment below!
---