Southern Charm Savannah Recap: Pearls, Pajamas, and Lies
Season 2 - Episode 2
Jennifer Ray July 24, 2018 9:21am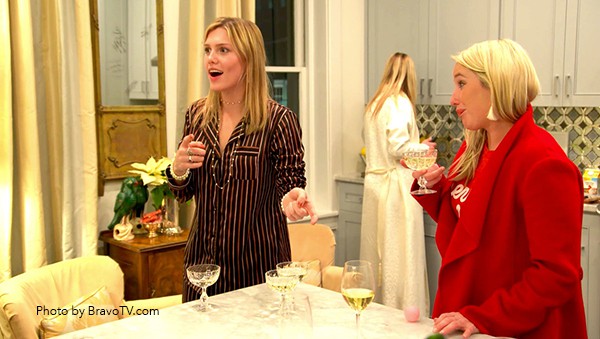 I recently read a lovely story about a gay couple, who do porn together, getting engaged immediately after a gang bang scene. If that doesn't scream 'together forever' I don't know what does. That's love. While it's not exactly a Hallmark movie (although it should be – that would be more interesting and entertaining than their Christmas in July crap), it's 583 times more loving a story than you'll ever get out of Lyle Mackenzie and Catherine Cooper.
Yes, it's episode two and Catherine and Lyle still hate each other. While buying bath salts with Brandon Branch, she tells him that her and Lyle are still rocky and she wants to see a counselor. Other than this drama she's holding up well; Brandon says if he were her he would just cry and eat wedding cake every night. Same. In addition to buying bath salts, Brandon is planning a girls sleepover at his house while his husband is out. You can probably guess how this will turn out.
Meanwhile, Daniel Eichholz and Lyle are training at a boxing gym. In case you missed it, Google the GIF where the 2 little karate girls are fighting. It looked like that. You're welcome.
After their training session, they sit down to talk personal life. Lyle will be in New York for the weekend, so being single right now would be perfect, or at least Daniel thinks so.
While Lyle and Daniel gave each other physical punches, Hagood Coxe takes some verbal one's from her mother. Her parents are in town and her mother has a comment for everything. Then they drop a bomb: they'll only bankroll her sake business for a little while, and oh yeah, by the way, don't f** with the family fortune. And I thought us Mexican's didn't play when it came to our money.
Following Daniel's boxing match, he takes it down a notch with some kayaking with Hannah Pearson. They talk business and because I'm new to the show, I had no idea she had her own dress line. Or kind of has one, it's hard to tell based on the footage they showed from season 1 where a seamstress told her that her design looked like a rectangle with strings. Hang on, I need to quit laughing….. Ok, I'm back. Daniel thinks she should quit her job and focus on her dress line, except she needs to job to pay for her dress line. He uses himself as an example, except he also hasn't told his family he's leaving his job. So basically nothing was accomplished here.
BUT WAIT! Later that night, Daniel invites his dad and brother over for dinner to let them know he's done with the law firm. His argument is valid: he'll never be able to be an owner so now he wants to do his own thing. His brother thinks he should put those feelings of not wanting to be an owner on the back burner and keep working for them. Ouch. Daniel declines but then is like "I'm quitting but also I need you to loan me money for my business." And they're like "Haha LOL no." Eventually, they tell him to present a business plan and they'll go from there. Which means "Haha LOL no."
Daniel isn't the only one talking business. Louis Oswald is in New York selling socks out of a suitcase. Later, he joins Lyle – Lyle is dressed as Santa and Louis is dressed as an elf – and basically pimps out Lyle to show him how lovely things are without Catherine. Also, the next time you think him and Hannah should get married (which of course you don't, you're not crazy) just remember: socks in a suitcase, dressed like an elf.
While they're in New York refining Christmas for any kid who saw them, Brandon's all-girl slumber party is kicking off. Hannah shows up and they discuss Catherine: word on Jones street is Catherine has been skanking around. Following this revelation, Hagood, Catherine and a woman named Meta show up.
They begin to play a game of beer pong but with goblets and champagne. While they get wasted, Meta cooks for them. Brandon always has someone cooking for him. I need to find a Brandon. After they eat and are sufficiently drunk, they play a game where everyone writes two questions, puts them in a pre-civil war jar (of course) and people answer them. Here's what we learned: Hagood got kicked out of camper 16 years old because they thought she was a witch (she's not, I think). She's made out with girls. And that was about it. They quit playing and relax on the couch, or at least Brandon does. Catherine tries to but he begins peppering her with questions about seeing someone else, claiming he heard rumors. And then here come the faces. Through her face, she calls the allegations absurd and ridiculous, which probably mean they're true. She heads upstairs for a drink, Hagood just wants to help her to which Catherine replies, "I don't need anyone's help, I'm the strongest person anyone will ever meet." And with that, she disappears into the night, followed by everyone else all because Brandon asked if Catherine was having sex with other people.
Do you think Catherine has been sleeping around behind Lyle's back? What do you think will be revealed on next week's episode of Southern Charm: Awkward in Savannah?
---