Southern Charm Savannah Recap: Duck, Duck, Goosed
Season 2 - Episode 3
Jennifer Ray July 31, 2018 4:50pm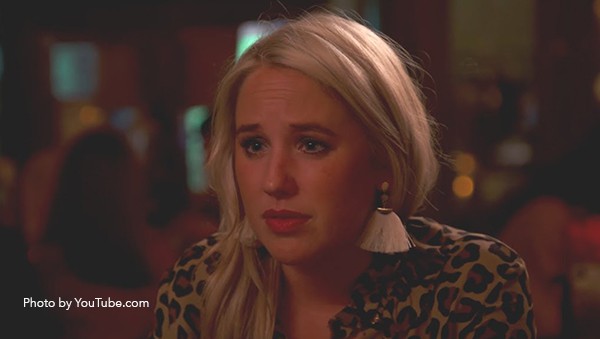 A while ago I tweeted that there should be an app that prevents you from commenting on social media while drunk. It'll never happen because what fun would that be? This is probably why there is an unlimited amount of alcohol for reality stars, because if there weren't, what fun would that be?
You already know who I'm talking about. After Hannah Pearson gets off a FaceTime call with Louis Oswald, one in which he asked her on a date after his "kiss me I'm an elf" tour, Catherine Cooper arrives to talk about what happened at Brandon Branch's slumber party. Upon arrival, she informs Hannah that she's been up since 5:15 AM getting her life together, which consisted of getting coffee. I wish I had more for you but that's all she did. Hannah has a come to Jesus talk with Catherine about their friendship, informing her that if they're going to be friends they need to be 100% honest with each other. With a drink in hand and looking everywhere but in Hannah's eyes, Catherine does her best to avoid agreeing that she should quit being a liar. A phone call with her sister, Anne, later reveals that she considers herself a very private person, which is the perfect personality type for a reality show.
Later that evening, she meets Lyle Mackenzie for a drink (his first of the day, her 97th). She's set up an appointment to meet with a counselor which makes Lyle snap. "Why should you be given a 100th chance?" he asks. She has no answer but I think it should've been because Catherine thinks a counselor will help her like Lyle again, except they're a counselor, not a hypnotist. Lyle declines, tells her to work on herself, tells he's done with her and everything they're going through, and then he leaves. She sits there, not emotion, just a girl, her drink, and her face.
Meanwhile, at a bar and grill somewhere else, a more pleasant date is taking place. Louis has picked up Hannah for their date and she seems excited based on her request for him to not hug her followed by a small hug she later gives him, one that you would probably give the delivery driver after your Amazon package arrives early. He's nervous; it's their first real date since they've been on a break. He tells her he wants to take baby steps in the right direction, she cries, he wants to be with her because he doesn't think he'll find another Hannah. After the elf episode, I'm pretty sure it won't be hard for him to find someone who doesn't want him touching them.
Anyhoo, it's time to get ready for their weekend at Hagood Coxe's family's ranch. She's invited them for a duck hunt at her parents' lodge, Roblyn's Neck Hunting Club. Hagood arrives first to help her parents get set up for her guests. She shows them videos of her making sake, then explains why she wants to do it. Her grandfather and his siblings actually own the farm and she wants to make enough money making sake so she can buy them out. It's a 24,000-acre ranch. She's making sake.
So everyone else arrives. Earlier, Lyle and Louis shopped for duck hunting attire, trying to mask the fact that neither of them are hunters. While shopping, Lyle tells Louis that he's done with Catherine. Louis doesn't believe him because Lyle is known as the boy who cries "for real this time I hate Catherine".
Eventually, they all meet up – the girls ride with Brandon and the boys ride with Lyle. Catherine and Brandon are friends again since he apologized for the comments, even though they were probably true. We find out why Hannah doesn't want to live with Louis: when she gets married she wants to be excited about living with someone. Catherine tells everyone about the counselor incident, claiming she told Lyle she was still going to go so she could work on herself. She never said that.
They finally arrive at the farm. I'm not sure how long they were there before Catherine was already drunk and flirting with Lyle. And you won't believe this but Lyle flirted back. So now Louis is p**sed. Then they have dinner and Lyle sits next to Catherine. Louis is now irate. Lyle and Catherine partake in witty banter: he asks if she's ever killed anything other than relationships, she tells him she was going to shoot him. I mean, is it getting hot in here or is that just the steam coming out of Louis' ears. After dinner, the guys light a fire outside. Catherine joins them and when she walks up Lyle calls her peanut and Louis is officially on homicide watch. While things are getting heated outside, things are a little more lighthearted inside: Hagood and Hannah are planning a prank by using beet juice and vinegar to make pretend wild boars blood, which Hagood is going to make everyone drink. Hilarious. Brandon freaks out but doesn't want to be disrespectful, so he drinks it and then immediately pukes. The prank wasn't that funny. What was funny was Hannah's reaction, which was "these idiots will drink anything you serve them." Hahahahaha, true. The mood turns from lighthearted "haha you thought you drank pig's blood" to Louis asking Lyle if him and Catherine are back together followed by spraying him with a fire extinguisher before he can answer. Lyle chases Louis into the house, drink in hand. End Scene.
BUT WAIT! I didn't leave him out, there just wasn't much to say about him. Daniel Eichholz meets with the marketing manager of his dad and brother's law firm – this is the person he'll be going into business with. The business, you ask? Marketing for attorney's nationwide. He explains the situation – needing to put together a business proposal to get his dad and brother to front them the money, and the look on his marketing manager's face is one of, well, disappointment? Like he trusted the wrong person to go into business with? Or at least that's how he should feel.
So, like his relationship with Catherine, will Lyle take Louis back? Will Louis and Hannah work out? Do you really think Daniel will start his own business? Me neither. Comment below!
---