Southern Charm Savannah Recap: Duck, Duck, Boom
Season 2 - Episode 4
Jennifer Ray August 7, 2018 8:27am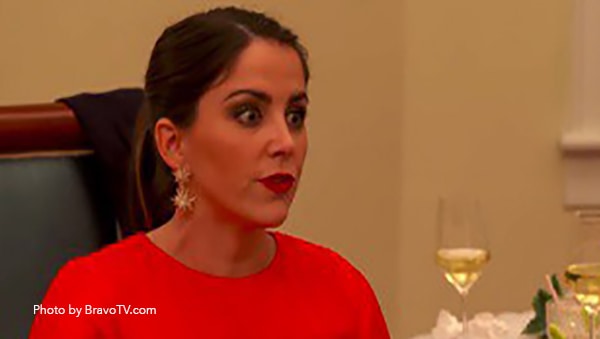 I'm not one for politics, nor am I one for hunting. I'm also not exactly sure how I'm from Texas. Anyway, I don't do either of those things. However, if memory serves, I do recall the time that former Vice President Dick Cheney shot his attorney friend while they were quail hunting. Remember that? His friend survived, but still, not exactly a memory for the books. Yet, through all of that, that attorney seemed like he had more fun than Lyle Mackenzie did at the duck hunt.
We're back at the fight of the ages: Lyle rolling around with Louis Oswald all because Louis' reaction to Lyle and Catherine Cooper was to spray Lyle with a fire extinguisher. They broke that fight up into two episodes but I'm sure it lasted about three minutes, on the high end. Afterwards, Louis asks Lyle if him and Catherine are back together then calls Lyle a joke, referring to all of the times he said he was done with Catherine and then he wasn't. That kind of a fight can take it out of you so they all go to sleep.
And then the next day, it's revealed that Catherine didn't stay with Hagood Coxe. Brandon Branch and Hannah Pearson search for Catherine and find her in a cabin all by her lonesome.. at least at the time. Prior to her discovery, they questioned Lyle about her whereabouts to which he replied "idunno", as quickly as his mouth could mumble it.
Now that we know their secrets it's time to go skeet shooting. Brandon shoots first, describing the experience as, "it's like kissing a girl, it's never happening again." Haha, oh Brandon. It's now time to go duck hunting, the event being kicked off by Catherine making another joke about shooting Lyle. This is starting to turn into a season of Snapped. Hagood then talks about being a tomboy and hanging out on the farm while kids were watching Transformers. Um, it wasn't just kids. I watched it too and if there's anything you should see it's the first Transformers, Hagood, thank you very much.
Lyle and Catherine share a duck blind as do Daniel Eichholz and Hannah. Daniel and Hannah aren't surprised Lyle and Catherine are at it again, that's old news. Except are they? While in the blind Lyle begins talking about their relationship, telling Catherine she was the worst girlfriend ever and in regards to working things out? Too little, too late. But it's only episode four, I'm new to this show, and even I don't believe Lyle.
Once they finish pretend duck hunting they return to their lives. While at the office, Daniel receives a call from an Ashley Borders, inviting him out for coffee. They meet and based on the clips of her that are shown, she appears to be who that Sex and the City character is based on – the one from season two who would throw parties and strip and then she got married and pregnant and stole Charlotte's secret baby name and is an a**hole. Her. Anyway, she wants to talk to Daniel because she's in a better place than last year and wants to make things right with everyone because apparently they all hate her, particularly Hannah. Remember how Hannah is starting or owns or is doing something with her dress line? Well, Ashely sells clothes too, except she claims to sell internationally and it seems as though last year, Lyle pointed out that having a kiosk at the airport does not equal international sales. Hold on, I'm laughing……. OK, I'm back.
Anyhoo, now that Daniel has made Ashley cry by telling her how awful she is (is anyone having flashbacks of the Stassi Schroeder and Tom Schwartz conversation from Vanderpump Rules circa 2017?) it's time to switch gears and get in the Christmas spirit. Daniel and Hannah decide to throw a Christmas party called chrismikah. She teams up with Brandon's party planner, Bruce, and begins detailing her wants: lots of green, lots of candles, nothing tacky. Got it. She's basically trying to recreate her childhood memories of Christmas before her parents divorced.
Meanwhile, Catherine meets with her dad a day before his heart surgery. They have a glass of wine (I'm no doctor but I don't think you're supposed to do that) and discuss the details. She's worried, he's not.
While they drink up, so do Lyle and Louis. They have a beer and talk about what happened on the duck hunting trip. Lyle finally snaps, telling Louis to just leave him alone in his decisions, and if him and Catherine are meant to be together they will. Yeah, Louis.
After Lyle throws down the gauntlet, it's time to get ready for the party that Daniel didn't help with. Like, at all. Hannah arrives and friend-zone hugs Louis. Daniel's brother, David, shows up. Catherine and Meta arrive. Oh, and if you're wondering why Catherine is there it's because her dad is fine and there's alcohol. They all sit down to dinner and being the fun host that Hannah is, she begins explaining her reason for throwing the dinner party and then wants everyone to talk about their peaks and pits of their year. So this shouldn't be too depressing. Hagood kicks things off with her story on how she went from painting to making sake. Hannah talks about her time with Louis, how bad it was and then how her dad talked about never being in love with her mother. Fun stuff, huh? She tries to bring everyone back up by saying her peak is her friends but its' too late, we're all sad now. Christ, now it's Catherine's turn. She talks about her relationship with Lyle, to which he asks "is that a pit or a peak?", to which she responds, "hey Louis, what about you?" Lyle chimes in with Catherine being the hardest part of his life, but he's figuring himself out and thanks his friend. You know what? Why didn't everyone leave this party? It's 863% more awkward than Brandon's was and at least you didn't have to dress up.
Anyway, it's white elephant time and you may think the presents are lame, but last year the white elephant gifts I took to a friend's Christmas party were Monopoly and a coin purse. I don't think I'm invited back. After the gift exchange Louis and Catherine head outside to chat. He tells her that Lyle is in love with her, something she doesn't believe primarily because she doesn't like him at all. Sorry but I'll take my Monopoly game and coin purse over this party any day.
So then, other than learning how not to throw a Christmas party, what do you think will happen? Will Catherine make herself start liking Lyle again? Will Hannah use two arms the next time she hugs Louis?Will Ashley be let back into the group? (God, I hope so) Comment below!
---