Southern Charm Savannah Recap: Down to the River to Pray
Season 2, Episode 8
Jennifer Ray September 4, 2018 11:33am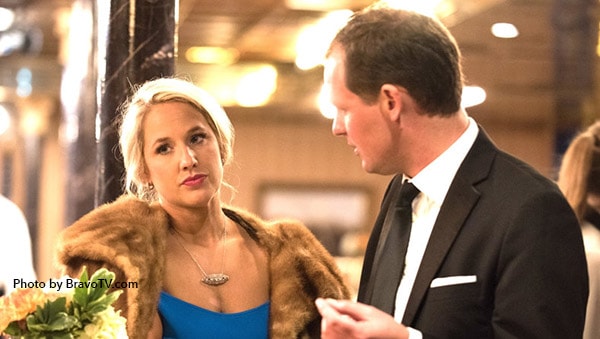 Wow. It feels like only yesterday I was introduced to Hagood Coxe the tomboy and Catherine Cooper and her faces. And now, we've reached the end. It's been an exhausting eight weeks, for all of us.
Yes, Southern Charm Savannah season 2 has concluded – are you ready to find out what happened to your favorite couples? Of course, you are.
So, we're back on the boat where Louis Oswald and Hannah Pearson are at the tail end of their fight. Louis storms off and heads downstairs where he joins the guys and begins venting, telling them he wants Hannah to be more physical with him. Catherine is surprised by their fight as just moments earlier Hannah told her she had seen the light and wasn't going to be such a pain anymore. Brandon Branch tells him he should just date men, it's easier. Meanwhile, Hillary (Hannah's sister) is trying to console Hannah, telling her she deserves better and it may be time to start making some decisions.
They arrive back at the house where Hannah tries to speak with Louis, who isn't having any of it. He wants to go to the casino and, to put it nicely, seek the affection of a woman willing to give him what Hannah won't. He packs a bag and starts (presumably) heading to the casino to gamble and bang some ho's. Lyle Mackenzie heads after him but he's disappeared into the night. Also, he didn't try searching very hard because the producer did find him and managed to convince him to head back to the house.
He walks in only to be confronted by Hannah, AGAIN. He's still not having it, telling her they're done. The rest of the group sits down to dinner which has now become dinner theater as they all can hear is Louis and Hannah arguing. These people live for awkward. Through a closed door we can all hear Louis telling Hannah that she's basically like a sister because they don't have sex or anything (let me know if you would like specifics, because he listed them in his rant). Hannah wants him to put on a fake face for the night as though her conversation was concealed by the paper thin door that was also cracked open a smidge. They join the group at the table where Catherine states the obvious: this is awkward. Hannah can top that: she starts talking about her problems with Louis, claiming she isn't getting what she needs from him and with that, she has taken it from awkward to me wanting to excuse myself from the dinner table by changing the channel.
Finally, this miserable trip is over and everyone is back in Savannah. Catherine cooks dinner for her parents as well as chats with them about the trip. She tells them that her and Lyle had a great time, prompting her parents to question if she's finally ready to commit to Lyle. The answer is probably not because she asks her parents what made them to want to commit. Her dad explains to her that it's up to her to decide when she's ready, only she'll know that. No, she won't, because if she did we would not have just spent an entire season watching the two of them going back and forth.
While Hannah and Catherine try to figure out their love lives, Hagood is busy dealing with real world problems. She's invited her parents to dinner to taste her saké as well as talk to them about integrating her saké making with the farm. For the 194th time, Hagood's mother tells her that this has been cute and all but she needs to go home to run the farm. No negotiations: RUN. THE. FARM.
We've just about reached the end of our eight week excursion with this group, and what better way to go out than with an anniversary gala hosted by my favorite, Brandon. Sounds fun and drama free, right? Wrong. Hannah finds Louis and pulls him away from the craps table to talk about what happened at the Turks. Louis apologizes, telling Hannah he was out of line and acted like a dick. Hannah is more confused than ever, telling him she has a lot of people weighing in on their relationship. Well, Hannah, that may be because you keep talking to everyone about it. Then she brings up the tantrum he threw at the Turks, recalling some of the things he said and then asking him if he's cheated on her. Of course, he says no and that he doesn't play games with her. She tells him their relationship is broken and she needs to put herself first. And with that, they break up. Again.
In a complete role reversal, Catherine and Lyle are flirting and having a grand ol' time. Or at least Catherine is. Lyle looks nervous, like severe diarrhea has just hit him and he's not sure what to do. It appears as though a woman he spent some time with while he was apart form Catherine is at this event and won't quit staring at him. It's actually quite creepy – she will not be ignored. I hope he doesn't have a bunny. Catherine, unknowingly, saves him by pulling him aside to talk about their future. She's ready to make the commitment and asks him if he'll move in with her and see what happens next. He agrees and with that, they're back together. Again.
Brandon tells Louis about Catherine and Lyle, but he can't be happy for them because he's too busy being p**sed at Catherine for telling Hannah about what he said at the Turks (the whole "banging ho's" thing). Catherine denies it, of course. Lyle comes to her defense and they walk off together.
BUT WAIT! There's more! Bravo was nice enough to give us an update on the two couples who couldn't get it together all season. It turns out, Lyle ended up NOT moving in with Catherine and actually asked her to quit contacting him. You want to know what else? Hannah and Louis DID get back together, but they're still not engaged. So basically we're back at the beginning.
Where was Daniel Eichholz, you ask? Well, here's what happened with him. He told his dad he was unhappy and needed to take a break and make some changes. Again, we're back at the beginning.
So that's it. An entire season that ended the way it started. Do you think they'll be back for a season 3? Based on the updates at the end of the episode, and avoidance of any cliffhangers, I doubt it. What did you think about this season? Comment below!
---