RuPaul's Drag Race News: Shangela, The Frock Destroyers, And RPDR UK Are Taking Over
Find out which of RuPaul's girls beat Ariana Grande on the charts!
Ashley Hoover Baker November 8, 2019 10:52am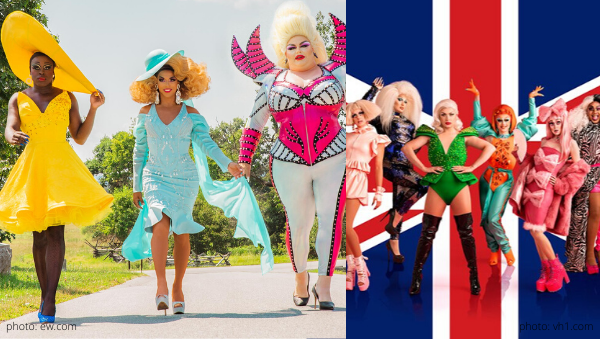 Condragulations to RuPaul's girls as it was a big week in the wonderful world of RuPaul's Drag Race! As for Ru's American girls,  Shangela, Bob The Drag Queen, and Eureka have an exciting new project while the UK's 'The Frock Destroyers' are killing it on the music charts.
Let's start off by paying respect where it is due- to Queen Mother RuPaul. RuPaul's Drage Race UK was renewed for a second season. Ru's British girls don't need to sashay away, as World of Wonder and BBC Three want more!
According to gaytimes.co.uk, RuPaul said in a statement, "I want to thank the BBC and all our fans for their overwhelming support of RuPaul's Drag Race UK." The game-changing drag icon continued, "Here's to another season of love, laughter and light!" Ru couldn't help but throw in his favorite acronym in his statement, "This season's queens proved that Britain's got charisma, uniqueness, nerve and talent and I want to see more!"
Speaking of Ru's girls on the other side of the pond, can we talk about the continued success of RPDR UK's 'The Frock Destroyers?!' In case you missed it, Blu Hydranega, Davina De Campo, and Baga Chipz performed as The Frock Destroyers, a play on the British girl group, The Cock Destroyers, on last week's episode. Their debut song managed to rank higher than pop princesses Ariana Grande's remix of Lizzo's Good As Hell and Selena Gomez's Lose You To Love Me in the charts.
Who's that at number 4 on the iTunes charts? Oh it's just the #FrockDestroyers! #DragRaceUK pic.twitter.com/akN276q5As

— RuPaul's Drag Race UK (@dragraceukbbc) November 1, 2019
Back to RuPaul's girls here in the states, three fan favorites will star on We're Here, a six-episode unscripted program set to debut in the spring of 2020. The reality show is set to follow Shangela, Eureka, and Bob the Drag Queen as they recruit small-town folks across America to strut their stuff in a one-night-only event. According to Entertainment Weekly, the queens will "inspire and teach their own 'drag daughters' to step outside their comfort zone" and transform into full drag for the show.
MAJOR! MAJOR! MAJOR! I've been working on a new series with @HBO called "WE'RE HERE," (YASSS I SAID HBO!) … traveling to small towns across the country with my homegurlz @thatonequeen & @eurekaohara, empowering… https://t.co/9tkqcYpWrc

— Shangela (@itsSHANGELA) November 5, 2019
If you're like me and love all things RuPaul's Drag Race related, you should check out the Alright Mary podcast. Johnny and Colin hilariously break down the happenings on RPDR and Dragula. Click here to hear their RPDR UK 'Snatch Game' recap!
Which We're Here gal are you most excited to have back on your screen? Sound off in the comments!
---