RHOP Recap: You Gotta Make Millions to Owe Millions
Season 3 Episode 1
Emily Bertha April 2, 2018 4:47pm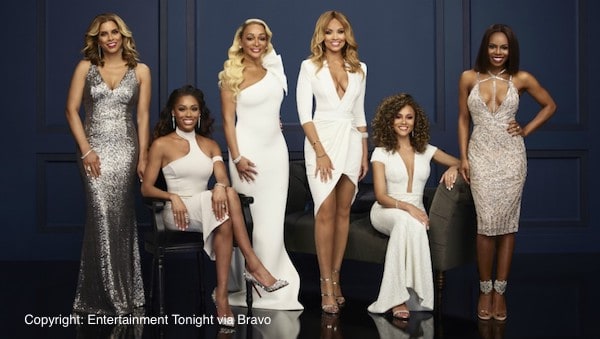 At precisely 9:59pm EST last night, I cracked open a bottle of Virginia's finest and cheapest pear wine as my mom changed the channel from "Jesus Christ Superstar: Live" to the real superstars of reality television, the ladies of Potomac. Here's everything you need to know about the premiere of season three of Real Housewives of Potomac (and half of the Virginia apparently since much of the cast no longer lives in Potomac).
The season premiere unsurprisingly focused mainly on Karen's financial situation and Ashley's relationship with Michael Darby. Charrisse was missing as she is no longer a housewife, but why bother doing literally anything else besides lounging in your champagne room if you're lucky enough to have a champagne room?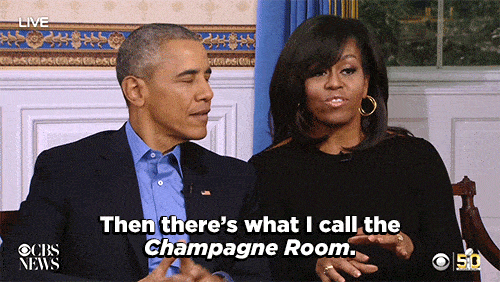 The show began with dramatic headlines of Karen's financial situation and the fact that her husband owes about a million in back taxes. Have you learned nothing from Joe and Teresa Giudice?! Don't go on a reality show if you're doing anything that shady. Karen claims she was unaware of her husband's financial situation and actually expects us to believe that.  I don't believe for a second that she didn't have an inkling that something was up with her husband's business. You're husband and wife! Typically that means you share everything from food to gossip to your financial problems and occasionally each other's razor. Karen professed her innocence claiming her personal finances are in order.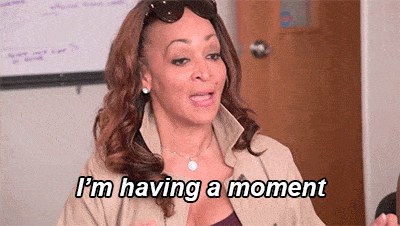 Of course, Karen's finances were talked about among the ladies as new friends Ashley and Gizelle sat down to chat over popcorn soup (which ?!?!). Ashley's own financial problems were discussed as it was revealed her buying her mother a house and car plays a big role in her marriage troubles.
While neither her finances nor her marriage is falling apart, apparently Monique's life is beyond stressful as she repeats throughout the episode while showing off her new house complete with a pond and a very 80's giant wall fish tank. She is busy having dinner dates and running her non profit while being a mom to two kids under five without a nanny, can you believe it?! As my mom was quick to point out, she had two kids under five and somehow managed to still work part- time without a nanny and a rich husband. Sorry Monique, but no one with a pet stingray and a professional closet organizer is allowed to have high stress levels.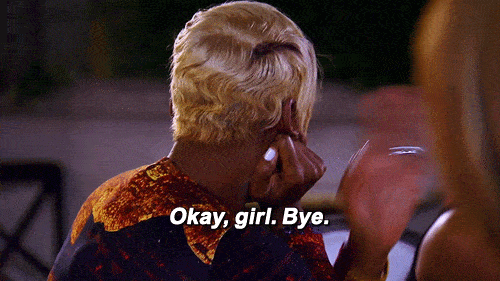 As for Gizelle, she talks about the struggles of being a single mom saying, "Do my kids eat cheetos sometimes for dinner? Yes." With her EveryHueBeauty collection trying to be the next Fenty and her relationship with Sherman, Gizelle is doing pretty well for herself. She continually reminded viewers of all the sex she was having.  "All I have to do is the two F's: I don't feed him, but I take care of the other F," she says. We get it Gizelle, you're gettin' it.
Robyn is also getting some with ex-husband Juan as she finally admits they "sometimes have sex." Unlike Ray, Robyn and Juan have their finances back in order and have moved from the condo they were in. Things also seem to be looking up for Ashley and Michael later in the episode. Ashley moves back in with Michael after an explosive fight and 6 months of living apart.
Of course, the premiere ended with a different fight, this one between Robyn and Karen over Robyn doubting Karen's story. In the episode, a clip is shown of Ray saying he mentioned his financial mess before to Karen. Robyn believes Karen wasn't in the dark and informs her that she told the other women that Karen called her before the story broke. Cut to Karen dramatically talking about herself in the 3rd person, saying she will never trust Robyn again, and walking out of the restaurant. Apparently, Robyn was left to pay the Black Bill Gate's wife's bill (not a good look for someone claiming her finances are in order…).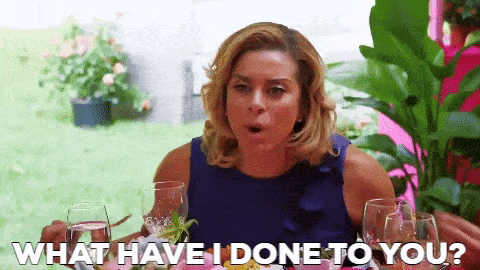 What did you think of RHOP Season 3 premiere? Do you believe Karen's story? Comment below!
---