RHOP Recap: Reunion Part 2
RHOP Season 3 Episode 20 Recap
Emily Bertha August 20, 2018 1:53pm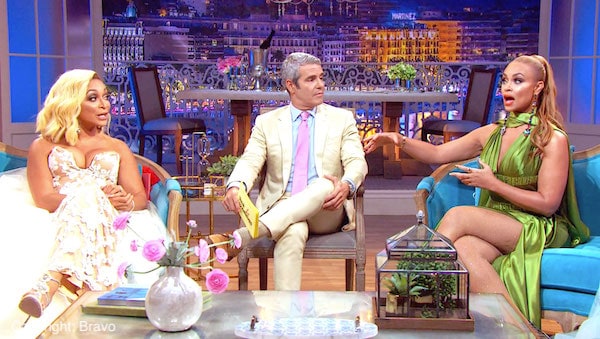 The beginning of the end starts on a somber note, much like part one of the RHOP reunion. All of the women express their sympathy for Karen Huger's loss and seem to genuinely feel sorry for her, regardless of their own relationship with Karen.
Charisse Jackson Jordan joins the ladies on the couch, and predictably s**t gets messy. We learn that she recommended Sherman's ex-wife, Kyndall, for season 1 and 2 of the show. However, she claims to have had nothing to do with her being on the show this season. Monique Samuels calls her a liar, which prompts Gizelle Bryant to call Monique a liar. Gizelle says that Monique brought Kyndall on the show just to ruffle her feathers. Monique womans up and apologizes to Gizelle for talking about Sherman's past.
Gizelle reveals that her former boo Sherman was looking for a ring when they broke up. He wants to get back together, and they're now "in contact." Gizelle is talking about this quasi relationship like she's writing a boring business email.
Meanwhile, Monique and Charisse are still on the outs, mostly because she became friends with Charisse's friends to up her charity game. How dare she! What a truly awful betrayal. Listen, it's unfortunate but let's just admit everyone uses everyone for networking to increase their own social status. It's like taking out the trash: no one necessarily wants to do it, but realistically it needs to be done. So everyone ends up doing it anyways. Plus, Monique was at least doing it to help others through charity as well, so get over it Charisse.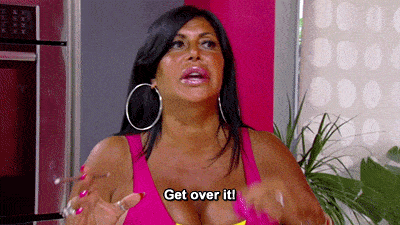 The real husbands (and susbands) finally join, and it gets juicy. Predicktably, there are a lot of questions about Chris's d***. He confirms that it is not in fact white (but honestly no one's is entirely pure white so I get it).
Chris reveals that someone on social media said Monique had a miscarriage because she was an alcoholic. I can't even imagine how hard it is to lose a baby and then have to deal with that. Ashley Darby says that she too experienced not one but two miscarriages. Ashley and Monique connect on a more personal level because of their shared experiences. Ashley and Michael also seem more connected than ever (much to my dismay).  He very clearly says he wants to have a kid with her, and while I'm happy for her, I still think she can do better.
Of course, Andy Cohen brings up the tax topic. Ray says the business thing was a mistake (duh). Evidently, the company and the government didn't recognize there were any issues at first. He basically blames the government for half of the mistake, which seems like a stretch but okay.
Ray goes on to discuss the pizza on his doorstep incident. The ladies say it was all in jest, but the Hugers don't find it humorous. Ray says that the women got his landscaping guys in trouble because their boss thought they left the pizza box. Now that's the only thing the trio should feel bad about, but Karen is still p***ed about it and says it was childish. Karen says she has seven years to press charges on them. Okay Karen, that seems like a reasonable response. She's the one acting childish with these dumb threats. "Oooh you did something that I didn't like so I'm gonna tell the government on you!". Karen says they live in the Great Falls house, but Michael says none of it makes any sense from a real estate perspective. Ray shuts Michael down when he says that Mr. Australia has business issues too.
Charisse claims that she hangs out with Karen's assistant, Matt, who supposedly talks s*** about Karen frequently. Who knows if this is true or not; Charisse is just trying to stay relevant so they'll bring her ass back next season. Charisse is like jelly. Jelly technically exists in its own right, but we all know that without peanut butter (aka RHOP in this extended culinary metaphor),  jelly ain't s***.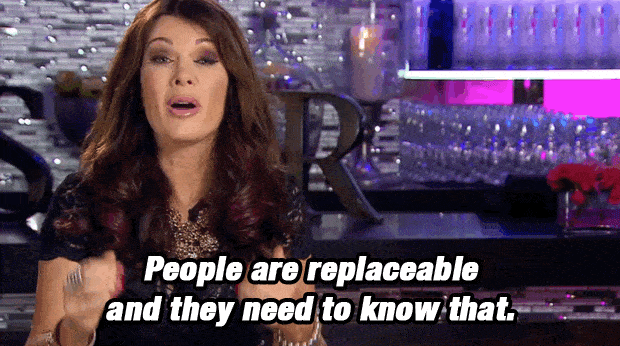 Ashley claims that Karen isn't forthcoming and that's why she has an issue with her. Michael says the one thing I think I've ever agreed with when he says Karen has a superiority complex. Karen doesn't issue an apology for talking about Michael's alleged d*** pic on Grindr geotagged in London. To set the record straight, Michael brings his passport to show he wasn't in London at the time of the picture.
Karen took things to a whole new level of crazy when she sent Ashley a cease and desist about the mysterious Blue Eyes.  Ashley is adamant that her stepson witnessed Karen and Blue Eyes in an embrace. All I have to say is that if it weren't true, you wouldn't' go through that legal effort. Ray says he looked into the situation years ago because he thought Karen was having an affair but found nothing.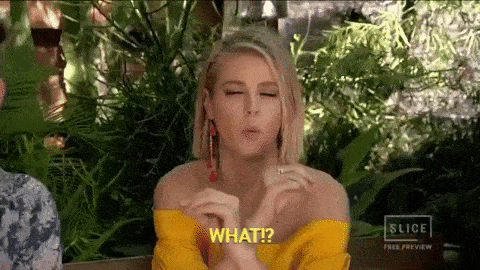 Um..I don't think you can call your marriage a true "institution" if your husband basically has you stalked because he doesn't trust that you're not cheating.
Not only are Ashley and Michael in a better place, but Michael is working on his relationship with Ashley's mom. Her boyfriend is employed for the first time in fifteen years, and the two couples were inspired to mend their relationships because of the show.  Something good really can come from reality tv besides just more followers on Instagram and book deals!
In the final moments of the season, the women share what they learned, and it's about as cliche as inspirational quotes on a sorority girl's wall. Monique says she learned to mind her business (we'll see if that is true) while new housewife Candiace Dillard says she is appreciative of her new sisterhood. The rest of the ladies want to mend the friendships they need to work on with one another. A+ for effort, and cheers to the end of another season!
Check out all the places the ladies visited on the show here.
---