RHOP Recap: Can't Hide From These Green Eyes
Season 3 - Episode 12
Emily Bertha June 18, 2018 10:58am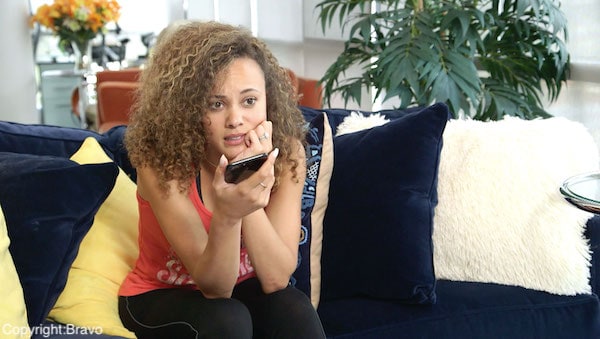 This week's episode of RHOP was quite an exciting event. It was followed by another event, and another, and another…
Gizelle Bryant and Robyn Dixon arrive at Karen Huger's Alzheimer's charity event and immediately start to confront her. They're upset with her for not being straight with Robyn about attending Monique Samuels' event over Robyn's female empowerment event. Karen calls for security to escort the " green-eyed bandits" out within the first two minutes. Two minutes! That has to be a new record for The Little Girl That Cried Security.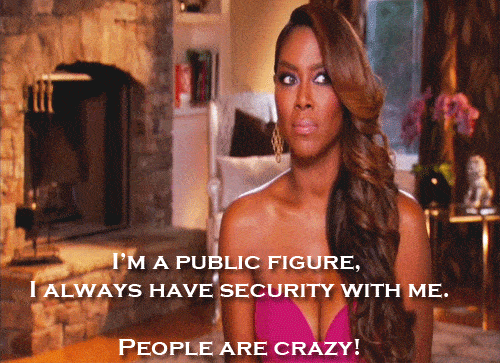 But I agree that a charity event is absolutely not the time nor place to "ambush" Karen, especially since the event is honoring Karen's deceased mother in law and her parents living with Alzheimer's. Gizelle and Robyn leave/are kicked out quicker than pop up shops disappear in New York. Robyn is upset with not only Karen, but Charisse Jackson Jordan as well. Charisse sticks to her story that she committed to Monique's event before she knew about Robyn's event.
Back inside the event, there's more talk about Karen's request for the checks to be addressed to her personal business, Icon Hair Collection (update: the website is still closed), and not the foundation for Alzheimer's cure.
On a different financial note, this season continues to follow Candiace Dillard's wedding planning. She is still over budget, and finally works up the nerve to ask her dad for more money. She puts on her "Daddy's little girl" face, but unfortunately he still shuts her down embarrassingly quickly. She has to make more budget cuts which leads to an argument as old as time: the fight over money. This argument is relatively tame, but it's certainly not the only one between Candiace and Chris this episode.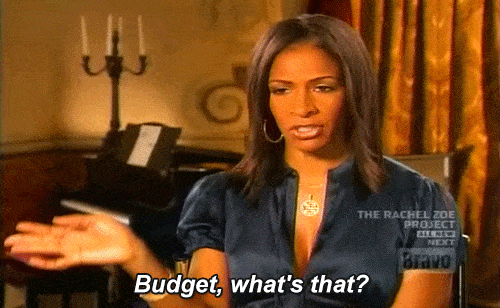 While Chris tells Candiace to cut back on spending, Gizelle tells her new intern to step up the pep. Gizelle is preparing for an event that will feature her EveryHue Beauty line, and she's apparently the next Sonja Morgan now with her desperate need for an intern.
Gizelle and her intern finish discussing the upcoming event while Ashley Darby makes a call to talk with her uncle about Michael. Her uncle, a trusted father figure in her life, says that her husband is full of it and just loves having a trophy wife. I mean… DUH. I'm glad someone is blunt enough to finally tell her that directly.
Ashley tries to put the conversation out of her mind later when she invites Gizelle and Robyn to workout. In the wise words of Gizelle, "Girl, can't we just do nothin'?" I've never related to Gizelle more; I'd rather do almost anything than work out. Although I have to say, the trampolines Ashley's group are on look like a lot of fun. Put on some Van Halen, and I'm ready to jump. The trampoline ladies then jump in on Karen's questionably addressed checks once again. Meanwhile Karen, Monique, and Candiace exercise together and discuss the other women.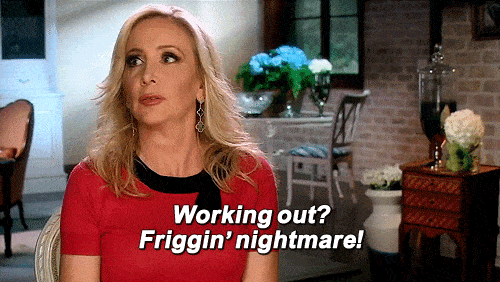 Later, Candiace says in the confessional how Ashley is different when she's with Robyn and Gizelle, yet she doesn't really confront Ashley about it. Instead, Candiace talks with Ashley over lunch about wanting her extravagant dream wedding, and the two ladies discuss their relationship issues with their men. As we saw in the last episode, Michael may now not ever want kids. If Michael really doesn't want a family, he never should have married Ashley. That's completely unfair to her and a waste of their time.
During a different lunch, Robyn meets with Charisse to talk about her absence at the empowerment event. A very small but particularly irksome detail in this scene is when Robyn asks Charisse about her "vegan" diet, and they both say they're eating fish. You.are.not.vegan.then! Don't pretend to be! Anyway, Robyn is upset with Charisse for not attending her event, and I'm getting tired of Robyn's whining. Girl, get over it already. I don't like to defend Charisse, but if she had previously committed to Monique's event, then just leave her alone about it already! They seem to pretty much resolve the issue and proceed to talk trash on Monique, because god forbid she has the same friends as them!
It's finally time for another event: the CBC, a black caucus entrepreneurial event (aka a networking goldmine) which features Gizelle's makeup booth along with many others. Of course, all of the attention can't just be on one person for the day. Monique is upset that Charisse is seemingly ghosting her. I'm sick of hearing about this woman! Just make her a damn housewife already if she's going to be in every episode part of all the drama.  Monique and Karen claim they "missed" seeing Gizelle's booth even though it's pretty hard to miss considering there's an in your face giant picture of Gizelle's face behind her booth. As the grand dame and Monique are walking away , Robyn, Ashley and Gizelle go over to them. Clearly, they just want to be left alone, so they exit. Robyn apparently doesn't know how to properly leave uncomfortable situations since she loudly shouts after Karen, repeatedly calling her a "liar." Again, I'm pretty sure female empowerment isn't rudely yelling insults during an entrepreneurial event. Robyn criticizes Karen for running away, but shouting down a hall is appropriate?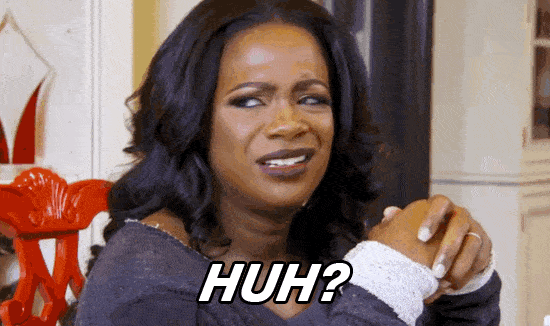 After the CBC scene, ominous words flash across the scene telling us it's only hours since the event. Dark, dramatic music plays as the camera zooms in for a close up shot of a discarded engagement ring. I mean, can we give these editors an award already? Bravo to Bravo.  Candiace and her man evidently got in a fight during the CBC afterparty. He called her a spoiled princess because she asked him to hold her purse while he was busy, and she lashed out at him. She texted him accusing him of acting like his deadbeat dad. Thankfully, she apologizes and they're able to work it out. However, I can't help but think that the editors were just slightly disappointed they couldn't work on an extra dramatic breakup scene…
What did you think of this week's episode? Let us know below!
---