'RHONYs' Carole Radziwill Signs Multiplatform Deal With Verve
Carole has a career, ya'll.
Genny Glassman September 5, 2018 2:44pm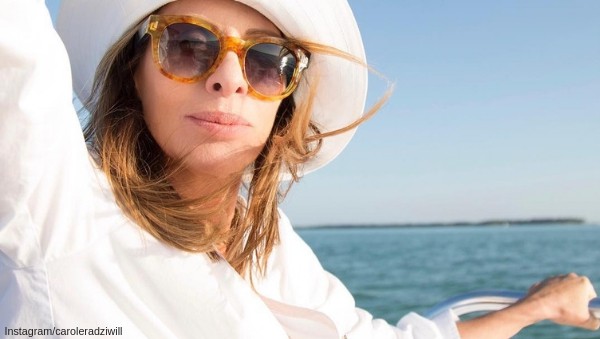 It looks like Real Housewives of New York's Carole Radziwill has another summer left in her! Following her departure from the hit Bravo series, Deadline reported that Carole has signed a deal with Verve in all areas, including scripted, unscripted, digital and publishing.
In the past, Carole has had an illustrious television career. Aside from her six season stint on the hit Bravo franchise, she began her career at ABC as a journalist working for Peter Jennings' documentary unit. Carole covered stories in Haiti, Cambodia, Israel, and Afghanistan, and produced segments for 20/20, Primetime Live, and Day One. Carole is also a three-time Emmy winner.
Carole then moved on to the world of book publishing. She wrote memoir in 2005 after the death of her husband, Anthony Radziwill, which spent 20 weeks on the New York Times Best-Sellers list and her most recent book, The Widow's Guide to Sex & Dating, has been optioned by Critical Content for development. She also wrote a monthly column for Glamour Magazine, called "Lunch Date."
Which is all to say that Carole has an impressive body of work behind her should she decide to use any of these ventures as projects in the future.
The news is also interesting in light of part-three of the RHONY reunion special, which airs tonight. According to People Magazine, after a season where Bethenny Frankel alleged that Carole "doesn't have a job," the two will finally compare resumés.
"Are you degrading my career?" Radziwill asked in a clip. "I'll put my resumé up against yours any day of the week. You are the one who said on television that I don't have a career."
To which Bethenny claps back and lists her entire work history:
"I was a personal assistant to Jerry Bruckheimer, worked for Lorne Michaels, Kathy, Paris and Nicky Hilton," Frankel says. "Then I moved on to become a natural food chef and went on to have my company, Bethenny Bakes. We were egg and dairy free. I created the fastest growing liquor brand in history, the first ever ready-to-drink alcohol. Skinnygirl Brand and Jeans … I may have been on the cover of Forbes magazine. … Oh, and created the largest private relief effort."
"That's great," Carole shoots back. "I never said that you didn't have a career like you did to me."
We guess that Carole can now list this new deal as part of her impressive resumé.
What do you think Carole's first project should be? Sound off in the comments!
---