RHONY Season 10 Premiere Recap: Ghouls Just Wanna Have Fun
We're just getting started with the New York Housewives!
Stephanie Downs April 5, 2018 11:06am
Attention all reality TV fans, the best Housewives series is finally back! Season 10 of the Real Housewives of New York recently premiere and boy did it already bring the drama from the very beginning. So, let's jump right back in and catch up with all of them in the Season 10 Episode 1 recap of the Real Housewives of New York.
The season started off on an incredibly positive note. Dorinda Medley planned her Halloween party (more on that hot mess of an event later) and her bubbly Lady Gaga costume. While Dorinda was in the middle of planning her party, Bethenny Frankel had an event of her own to attend. At her event, which was held at the Museum of Natural History, Bethenny discussed her efforts to help those affected by Hurricanes Harvey and Irma. If you followed the Housewife on social media around the time, you'd know that she's been so busy helping out in any way that she can. She's been sending planes filled with supplies and traveling down to Houston and Puerto Rico herself to help out. Ramona Singer and Tinsley Mortimer also attended the event, as they donated money to help these causes.
That kind of positivity didn't last, though. The Housewives got right back into their classic shenanigans in no time. Seeing as though Luann de Lesseps and her ex-husband Tom D'Agostino separated shortly after Season 9 of RHONY, there was a lot of catching up to do on that relationship front. Luann met with Dorinda to tell her everything about the pair's divorce. Dorinda told Luann that things got worse in the marriage after they got married and… what!? Was Dorinda absent for all of that "It's about Tom." stuff or something because things were definitely not going well even before their marriage.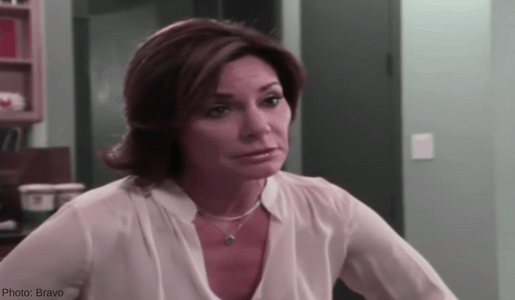 Luann said that the last straw was that there was a lack of respect with Tom. He was meeting with his exes, coming home late, and basically everything he did before the two even got married in the first place. Luckily, she revealed to Dorinda that there's no chance that she'll go back to him. But, Luann didn't want to focus on Tom anymore. Instead, she turned her frustrations towards two of her fellow Housewives: Carole Radziwill and Sonja Morgan. She was mad at Sonja for spreading a rumor that said Luann was back on the dating scene. Honestly, Luann should have expected something like this from her friend. It is Sonja, after all. And she's mad at Carole because she didn't reach out to her when the divorce news broke. Also not surprising, Carole's always a little aloof.
Oh and just as Luann's busy complaining about Tom and her Housewives friends, there's a montage of all of the Housewives basically saying "I told you so." about the couple's relationship. Bethenny was on fire tonight, as always, with some pretty amazing one-liners. When it came to the divorce, she said, "Death, taxes, and Luann's divorce are some things that are just going to happen." Harsh, hilarious, but true. Anyone with eyes could have seen this outcome from a mile away!
Carole then caught up with Tinsley. Apparently, the two have become close friends. They went on a vacation to Spain together with their (now ex) significant others. Unfortunately, things didn't work out for Tinsley and Scott or Carole and Adam. As soon as Adam moved out of Carole's place, this split was kinda inevitable, right? However, there's still a friend with benefits situation for Carole and Adam. So, he's not totally out of her life.
Then, something truly shocking was revealed. It appears that there's trouble in paradise for Ramonja. Ramona said that Sonja's been evading her calls and texts throughout the summer. It doesn't help that their greeting is kinda awkward (a classic "hey girl, haven't seen you in so long"). But, Sonja just said that she's focused on herself this past summer taking anti-depressants and eating croissants (a dream combo lol). Apparently, that means that there was no time to check in with one of your closest friends. However, it doesn't seem like this trouble in paradise for Ramona and Sonja will last for long. These two have too much history together as besties.
RHONY then takes us through the tale of Rocky a.k.a. Carole. She's been training for the NYC marathon. Carole revealed that she's mainly training because one person told her that she couldn't possibly do it. That's as good a motivation as any. And Carole is very serious and dedicated to her training, whereas she never even went to the gym before. Good for her!
Before we get to the Halloween party, Bethenny gave viewers an emotional update on her life. She discussed how her dog, Cookie, recently passed away. Cookie was sixteen and was a big part of the Housewife's life. Cookie's older than Bethenny's daughter and was with her before RHONY was a thing. So, it was understandably very hard situation for Bethenny, who said that Cookie was truly her "family." Anyone with a pet that they hold near and dear can relate to Bethenny's feelings. I'll even admit that her segment brought me to tears. It was very emotional.
But, let's head back to the fun and the drama of Dorinda's Halloween party. Here's what everyone dressed up as: Dorinda was Lady Gaga, Carole was Amelia Earhart, Tinsley was Madonna, Ramona was Britney Spears, Bethenny was Barbie, Sonja was Lucy from I Love Lucy, and Luann was… Diana Ross. OK, the ladies did look great in their costumes. Sonja, in particular, is the perfect Lucy. One might think that Sonja's just silly and fun, but she's also incredibly smart and business-savvy, much like Lucy on the classic show.
Now, about Luann's costume. Just, yikes. She later explained that she was not doing blackface on Watch What Happens Live. However, the abundance of bronzer and the absurdish afro wig she wore implied otherwise. Regardless, it wasn't a good pick. Carole said it best when she said that it's not surprising from Luann, who can be "tone deaf" when it comes to other cultures.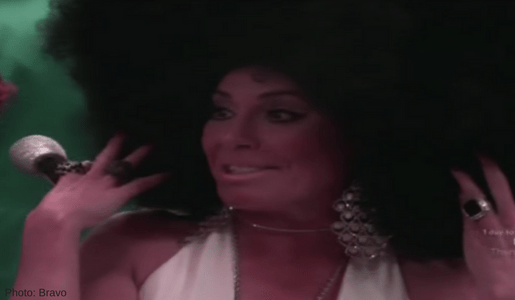 Dorinda soon went into a fury at the party because Sonja didn't say hi to her. She was furious that Sonja wouldn't greet the host (herself). She's right, though. Sonja should have at least said hello to her Housewives buddies. At one point, Dorinda was loudly sh!t-talking Sonja and the whole situation. Just as she went into why it was rude for the thousandth time, Sonja plopped down with the group, entirely unaware of the drama. The matter was pretty much dropped after that (maybe because Dorinda got too sloshed to care).
Although, Luann was just getting going. She first confronted Sonja about the gossiping. Luann told Sonja that she was annoyed by it. But, Sonja, of course, denied that she said anything bad about the Housewife. When that went nowhere, drama-wise, Luann set her sights on Carole. She told Carole she was sad that she hadn't reached out to her following the divorce news. Carole also hit back that Luann didn't reach out to her either after her breakup with Adam. Luann didn't want to fight too much "cause I'm Diana Ross right now." But, the two eventually apologized and made up. We'll see how long that lasts.
Then, we got a peak Housewives argument, y'all. Bethenny and Ramona literally got into a fight because of where Bethenny's new house is located in the Hamptons. Yes, really. Bethenny revealed to the group that she recently purchased a property in the Hamptons. And it happens to be near the highway. Ramona immediately scoffed at the location and said that everyone knows that it's better to have a house below the highway in the Hamptons. Yeah, this is basic Hamptons code of conduct; how could Bethenny be so stupid to buy her undoubtedly lovely, expensive, and chic house on the highway?!!!!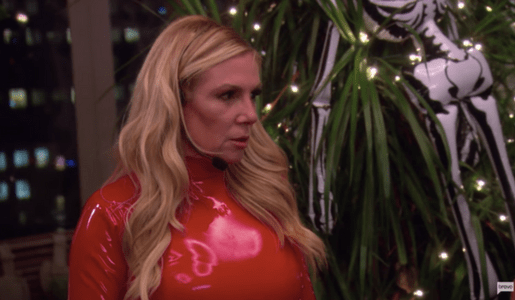 Bethenny eventually got fed up with Ramona. Turns out their pool truce in Mexico didn't last long. Who woulda thought? Bethenny had the clapback of the night when she told Ramona, "When you start being successful at something, call me back." Yes, the Real Housewives of New York City are back and they haven't wasted any time on the drama front.
Was Ramona in the wrong with her comment to Bethenny? How do you feel about Luann's costume? Tell us your thoughts on everything below!
---