RHONY Recap: War and P.O.S.
Season 10 - Episode 4
Stephanie Downs April 26, 2018 11:09am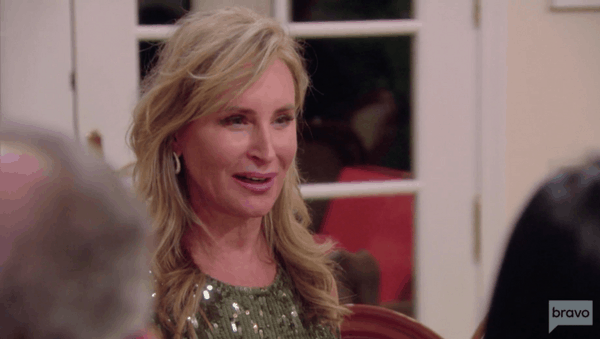 The Real Housewives of New York continued to prove why it's the best Housewives series with its latest episode. It had it all: a "Ramonja" break-up, "Dorinda Medler," and a hysterical moment courtesy of a forgetful Luann de Lesseps. Let's jump right into everything that happened on the latest episode of RHONY.
The episode starts off with the aftermath of that Sonja Morgan and Dorinda Medley fight. And boy is this tiff still going. The two are both saying that the other should apologize and neither is budging. Ramona Singer begs Sonja to apologize. But, that only angers Sonja further. Throughout all of this, Ramona's main concern is that everyone is getting along… because she has a party coming up.
Bethenny Frankel then shows off her new Ramona-disapproved Hamptons home. It's super nice and Tinsley Mortimer and Carole Radziwill agree. Dorinda called the group to tell them about her fight with Sonja. Surprisingly, Bethenny says that she can see Sonja's POV in all of this. She said that a divorce is akin to a great loss. So, maybe Sonja will have at least one person on her side?
Then, Ramona hosts the most dramatic party ever (even for Housewives standards). So much happens at the party that is supposedly in celebration of Carole's marathon run (spoiler alert: it isn't really). The fashion at this event was out of control. Seriously, everyone was dressed with an entirely different theme in mind. Ramona's dress was a hot mess, Luann gave off some can-can vibes with her boa outfit, and Carole donned a full-body tattoo look. Yes, Carole really did. And she thought that the other Housewives were jealous of her outfit. Think again, girl.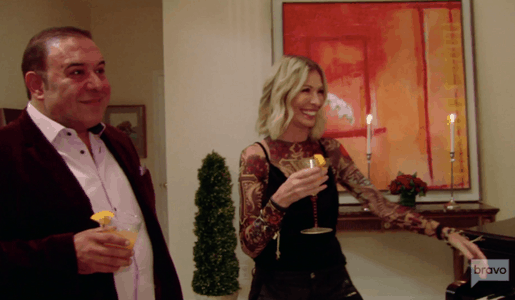 Sonja still showed up to the party, even though Ramona suggested that she didn't. Bethenny and Sonja chat about the fight, where Bethenny expresses how sympathetic to Sonja's position in the whole ordeal. Then, Ramona pops up and her and Sonja start arguing because Ramona didn't defend Sonja against Dorinda's accusations. Eventually, the whole thing verges on fight #2 of the night territory. Dorinda tried to get Tinsley to confront Sonja about those kept woman accusations during this fight. However, Tinsley chickens out, of course, and doesn't say anything. Womp. Gotta give props to Dorinda for trying though.
The funniest moment of the episode (and now one of my all-time favorite Housewives moments) came during the actual dinner portion. Luann started to chat with Bethenny and her boyfriend Dennis about how they met and stuff. Then, someone asks Luann if she remembers discussing the pair's relationship at length at the Season 8 reunion. At the reunion, she claimed that Dennis may have cheated on his wife to be with Bethenny and something shady was going on with the pair's relationship. However, she totally forgot she said that until this very moment. Once she did, all she could say was "Ohhhh." Reality TV gold, folks.
The dinner quickly gets out of control. Sonja was discussing her boyfriend Rocco, which caused Dorinda to jump in. She said that Sonja was lying about being with Rocco. She even said "liar, liar, ho on fire." Tinsley finally jumped in too and asked Sonja why she spread rumors about her being a kept woman. She was so mad about Sonja's accusations that she started to write a check to pay Sonja for letting her stay with her (for free). As she strolled off to sign the check she said, "Shut your mouth and shut your f*cking legs." While dramatic as hell, I'm not here for all of these slut-shamey attacks. It just made Dorinda and Tinsley both look bad.
Sonja didn't accept Tinsley's check, though, and it just sat there on the table. Enter Bethenny. The Skinnygirl owner broke the tension by burning the check with one of the candles donning the table. It was perfection. After the check burning, Dorinda pulled Sonja aside the talk. The two kinda made up after everything. But, neither of them outright apologized for anything in particular. So, don't expect an end to this feud anytime soon. By the way, Dorinda complains about Sonja all the time. Yet, she always tries to stay on her good side. I don't get it. Can someone explain what Dorinda's endgame is with all of this Sonja drama?
The day after the party, Dorinda and Ramona discussed the pseudo-makeup between Dorinda and Sonja. Then, Ramona revealed that she got a nasty text from Sonja. And, tbh, it was really nasty. It started off by calling Ramona a "b**ch." Sonja went on to say how mad she was at her friend for not having her back concerning all of Dorinda's allegations. She ended the text tirade by calling Ramona a "p.o.s" (a piece of sh*t). Remember the days of "Ramonja" tearing it up at parties and co-opting the biggest hotel rooms together? Yeah, those days are apparently over.
Considering that text, there was yet another awkward dining date in store for the group. The Housewives attended brunch and things soon got way too uncomfortable. Tinsley and Carole set up a seating chart for the meal and put Sonja at the end of the table as per usual. They put Ramona across from Sonja, but Ramona was not feeling it after the text. She whispered the situation to Carole and said that she was going to just change her seat. Carole said that it'd be awkward. Yet, Ramona thankfully didn't listen to that advice.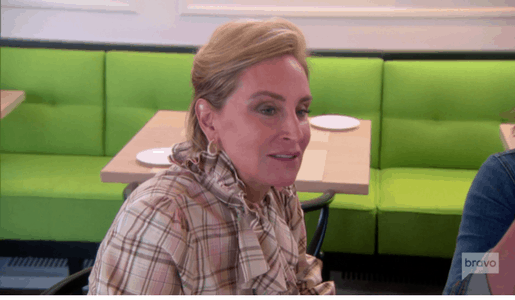 Now, Ramona is anything but casual. However, she still tried to casually move to the other end of the table, away from Sonja. It obviously didn't work. Bethenny immediately called her out for being childish and leaving Sonja out. Luann backed her up and said that moving like that was rude. The anti-Sonja coalition of Dorinda, Tinsley, Carole, and now, Ramona, told Sonja that they didn't want to really be around her considering all of the drama. In her in the moment interviews, Sonja said that she felt like she was being shamed by the other woman á la Cersei from Game of Thrones. She also called Ramona a loser. So, it does seem like "Ramonja" really is no longer.
What do you think about Sonja and Ramona's friendship break-up? Tell us your thoughts on "Ramonja" and the Housewives below!
---