RHONY Recap: Til Brunch Do Us Part
Season 10 - Episode 3
Stephanie Downs April 19, 2018 12:45pm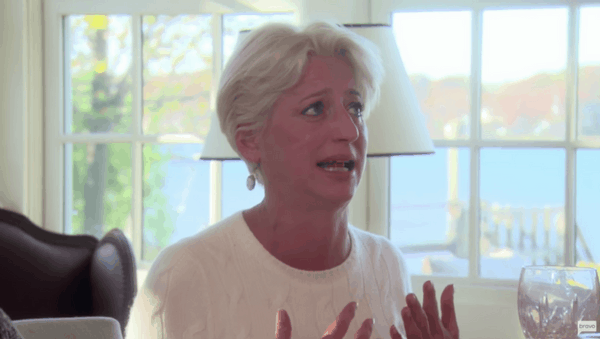 Things got crazy in the Hamptons on the Real Housewives of New York this week. Bethenny Frankel and Carole Radziwill got in a little tiff. Luann de Lesseps and Tinsley Mortimer exchanged some words. But, nothing compared to the screaming match between Sonja Morgan and Dorinda Medley that rivaled any ole' WWE fight. Seriously, it was wild. Before we get to that, let's head back to where Season 10 Episode 3 of RHONY began.
All of the Housewives are readying to go to the Hamptons. Carole, Tinsley, and Dorinda are heading there together in a car so they have some privacy to gossip about the other ladies.  They're all p**sed about Sonja, mainly. They talk a lot about Sonja calling Tinsley a kept woman but didn't say they were gonna call her out about it. Um, call her out already! That way this complaining can stop and it'll provide for some great drama.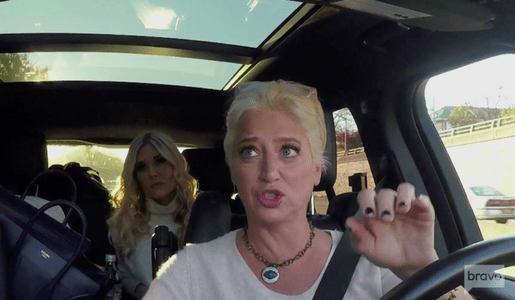 Luann arrives at the Hamptons in her new "toy" i.e. her Mercedes. She then goes to get a lovely gift basket for Bethenny's birthday. Luann also has to go on a hunt to find a blender. Why? Because Sonja, Luann's houseguest for the weekend, gave Luann a list of necessities for her stay. And one of those necessities was a blender of some sort so that Sonja could make her veggie juices. Luann is actually being a good friend and going to find the blender. I would have told Sonja she could bring her own if she wanted the veggie juices that bad during her two-day stay. But, I guess Luann's nicer than I am.
Ramona Singer arrived at her own Hamptons pad. There, she had an artist, and their friend, bring her some paintings so that she could decorate her place. However, you would have thought that the two guys were on Ramona's personal payroll because she put them to work in her house. She had them carry in the paintings, hook up electronics, move furniture, and that's not even all of it. Could you ever imagine asking two random strangers to essentially be your maids? Only Ramona could pull off that move.
Then, Sonja arrived at Luann's house. And guess what? She brought her adorable little dogs, without telling Luann that she would. That's houseguest faux pas #2 after the blender situation, girl. Sonja and Luann discussed the ongoing drama with Tinsley. At one point, Luann called Tinsley a spoiled brat for the way she was behaving. Yeah, there's a fight on the horizon for Luann and Tinsley.
The ladies all met for dinner to celebrate Bethenny's birthday. However, Bethenny was the first one there and she was even ten minutes late. I'm getting flashbacks to their Season 9 Mexico trip, guys. But, this time, everyone's lateness doesn't make Bethenny nearly as mad. Everyone else soon made it there. A lot happened at this dinner. Dorinda and Carole warned Luann about being friends with Sonja. Do they not trust Luann to decide who she wants to be friends with? She's an adult.
Drama ensues when multiple Housewives bring up that Carole barely responded to them after her marathon. Carole doesn't seem to care at all about it, because that's how she rolls. Bethenny then got angry and said Carole didn't even reply to her. She took out her phone to show her the receipts. But, she ended up just getting embarrassed because Carole did reply to her, albeit a short reply.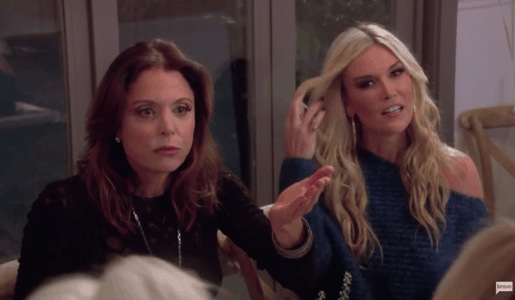 Oh and through all of this Tinsley said they should be grateful to get any reply since they didn't even show up for the marathon. Out of all of the Housewives, Tinsley's the only one that's driving me up a wall this season. She's so far up Carole's butt and seems like a straight-up mess… but not in a fun way.
Also at the dinner, Luann told Bethenny that she was right about the Tom situation. And if there's one thing Bethenny loves to hear, it's that she was right. Luann then says that she doesn't want to talk about the divorce anymore. Fine, that's her choice. But, Tinsley pops up and says that she wants Luann to speak up about it. Luann told her she was a little mean at their dinner last week since she obviously doesn't want to talk Tom anymore. That's what I love about Luann, she'll tell you to your face that she thinks you're mean.
The next day, Bethenny, Carole, and Tinsley met up for brunch. But, Bethenny felt out of the loop on their discussion about Tinsley's frozen eggs because Tinsley and Carole are better friends now. Bethenny says that she's cool with it, but she's obviously not.
Then, it's the brunch from hell at Luann's house. Ramona and Dorinda went over to Luann's to have brunch with her and Sonja. The whole thing started with one of Sonja's many "jokes." Dorinda calls it being "nasty nice" and it's the perfect term for it. But, I don't even think Sonja realizes it. She's almost too glib to function. Ramona discussed her new contractor, which made Sonja joke that the two were dating. Ramona went on to say that they weren't but Sonja wouldn't let it go.
The convo once again turned to Sonja taking the summer off since she's been so stressed with everything. Luann said that Sonja's been through a lot, which set… Dorinda… OFF. It was like someone flipped a switch and we got scary Ms. Dorinda Hyde. She said that it's a joke to say that Sonja's been through a lot when she had to bury her husband. Sonja pulled the ultimate foot in mouth and said that that's a story we've heard a thousand times, about Dorinda's husband.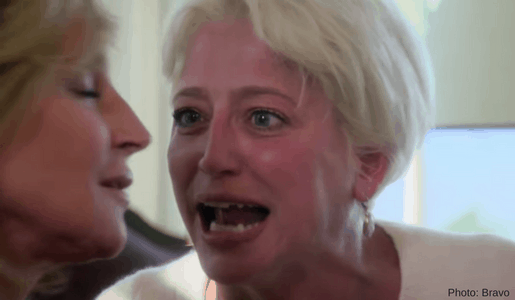 That was definitely not an okay thing to say, Sonja, by any means. So, it's kind of understandable that Dorinda really let Sonja have it after that. And boy, did Dorinda go ballistic on her. All Luann and Ramona could do at that point was hide and try to make themselves invisible. Dorinda yelled that Sonja's husband left her after Sonja was galavanting on the south of France. She also said that her husband left her for one of Sonja's friends. Dorinda finished her spiel by calling Sonja an "ass." The whole thing was a glorious mess. It'll be interesting to see if these two can make amends after such an intense fight like this.
Can Sonja and Dorinda make amends after their all-out fight? Tell us what you think about them (and Dorinda's verbal smackdown) in the comments below!
---