RHONY Recap: Ship Happens
Season 10 - Episode 17
Stephanie Downs August 2, 2018 8:03am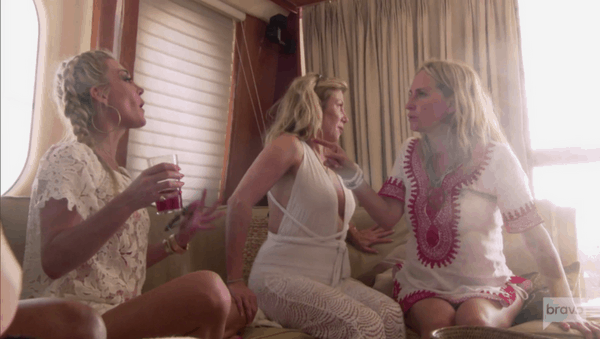 There's simply no rest for the wicked Real Housewives of New York. This week finally showed us the Boat Ride From Hell that they've teased all season. And, if you can believe it, the event was more wild than you can imagine. So, let's head right into everything that happened during the latest RHONY episode.
Things get crazy right from the start as the ladies take all of their drama to the breakfast table. Before Dorinda Medley arrives, Luann de Lesseps tells the Housewives about Dorinda's previous insults. She says that Dorinda brought up the "Countess" name ordeal and mentioned that Luann has no right to judge her behavior. Mind you, Luann's comment was as innocent as could be before Dorinda flew off the rails.
When Dorinda arrives, she decides to double down on her awfulness. In fact, she has the audacity to ask Luann for an apology for last night's argument. Everyone and their mother knows that Dorinda should be the one apologizing. Bethenny Frankel pipes in to say as much but she's shot down by Dorinda and Carole Radziwill. Bethenny and Carole just don't like each other by now, that much is clear. Their fighting loops are getting tiresome at this point.
Carole urges Dorinda and Luann to talk out their issues and they actually do. First, they hug it out. But, things soon go nowhere. Dorinda insists that Luann apologize if she wants an apology in return. Luann does say sorry but also says that Dorinda went to a really dark place (true). Dorinda responds to that with anger and says the weakest "sorry" I've ever heard. She also says that it won't happen again (false). Btw, we all know all of this is because Dorinda's extra defensive since she knows she can't control herself with alcohol.
They all head off to the island, with fences only halfway mended. Once on *the boat*, Bethenny and Carole do hug it out. I'm ready for it to be over even though I know that it won't be. They get to Tinsley Mortimer's private island complete with a stylish villa. I honestly wish that I could tag along on this vacay, drama be damned. Luann and Carole decide to have a bit of fun once they spot a crab. They get Ramona Singer to join Luann in the hammock. Once in the hammock, the gals place the crab in there their which, naturally, causes Ramona to freak out.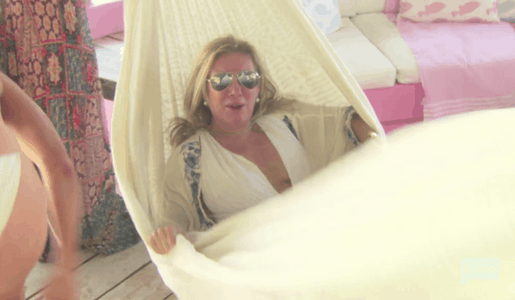 All of the Housewives are having a blast, including Sonja Morgan wearing a bikini with a tag on it. But, Dorinda's not feeling it. Bethenny asks her what's wrong. Apparently, Dorinda is feeling really bad about what she said to Luann. She (finally) admits that she did get defensive when asked about it at breakfast. Bethenny says that she should apologize to Luann for real, which she goes to do. She actually does give Luann a halfway decent apology.
Sonja and Luann begin to practice their cabaret routine. However, they're interrupted by someone saying that they should go back to the mainland because the water's getting choppy. As you probably know, things soon go to hell once they're on the boat. Honestly, all of the reports about the event were not exaggerating. Things got crazy in the most terrifying manner.
The boat is rising rapidly up and down. Sonja, like a normal person, tells Tinsley that something's wrong. But, Tinsley, living in her own fantasy world, says that there's nothing to worry about. Carole soon starts to get seasick and proceeds to throw up. Sonja pees her bathing suit. Ramona cries out that she can't swim. Dorinda says that the boat is taking on water and that she can smell smoke. The life jackets are nowhere to be seen.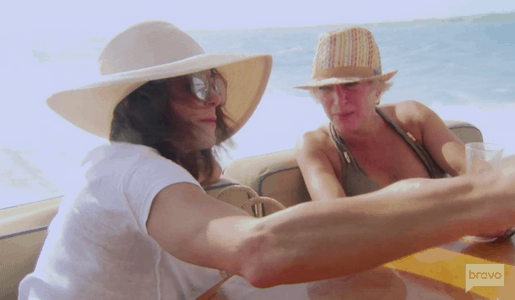 The screen then details that the crew had to stop filming because the conditions were so hazardous. The drama cuts to 17 hours later, where the Housewives are all recuperating from their ordeal and a nasty bout of food poisoning. They describe that the big disaster had to do with the anchor of the ship. The anchor apparently came loose and the captain had to cut it off with a sword as it was attached to a rope. They say that if the anchor was held by a chain that the boat would have capsized and things would have gotten even more critical.
While most of the Housewives related that they were experiencing a bit of PTSD after the incident, Tinsley said that she was unaffected. Apparently, that was just a regular ole' Tuesday afternoon for her. After this whole drama, the Colombia trip is officially over. And, unbelievably, we've all survived it.
What did you think of the boat ride from hell? Tell us your thoughts on the latest RHONY episode in the comments below!
---