RHONY Recap: Season 10 Reunion Part 2
Season 10 Reunion - Part 2
Stephanie Downs August 30, 2018 9:54am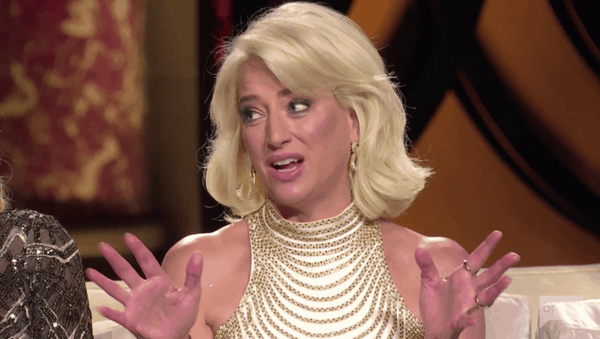 The Real Housewives of New York Season 10 reunion continued this week. Unsurprisingly, Luann de Lesseps was still the talk of the town (despite not being there). There were, of course, some other interesting topics they discussed. So, let's get into their discussion, too!
Dorinda Medley opened up even more about her presumed alcohol problem (a problem she denied having). She said that she's seeing a therapist to sort out her issues. She also says that she wasn't drunk when she went off on Luann in Colombia about her being arrested. Suuuure. What she doesn't realize is that her being sober means that she was truly being that nasty. She can't even pull a true "Housewife" blame her bad behavior on alcohol. Not a great move.
Dorinda's warped sense of reality continues as the ladies chat about Luann's cabaret show. She pretends that her screaming "Jovani" wasn't meant to be sarcastic. I don't think Dorinda even believes that. At least, I hope she doesn't. Then, the convo moved to Tinsley Mortimer, who said two words in the last reunion episode. She revealed that she's back with Scott. Those two are so on and off that there's no telling if they're together at this very moment.
The convo naturally heads into Luann territory. The only interesting update was Bethenny Frankel revealing that the lawsuit between Luann and her children was a catalyst for her relapse. Otherwise, it was a lot of speculation on the ladies' part about Luann's condition without her being there to defend herself.
Since they can't discuss Luann the whole time, they venture into Bethenny and Carole Radziwill territory. Basically, neither of them know exactly how their feud started. It seems as though it was just a natural falling out that became something entirely more dramatic than it needed to be (which is the Housewife way!). Carole did not come to play during this reunion. At multiple points, she read out lists of all of the receipts she had regarding Bethenny's negative behavior. It was pretty badass.
The show did include a montage of both of them saying nasty stuff about each other. However, neither of them owned it, surprising no one. Andy Cohen also said that they both trashed each other, but Carole immediately called bullsh*t on that, literally. Guess we can figure out why Carole might not have been asked back, right?
Do you think the ladies were right about Dorinda having a drinking issue? Tell us your thoughts on the subject in the comments below!
---