RHONY Recap: On an Island
Season 10 - Episode 7
Stephanie Downs May 17, 2018 8:30am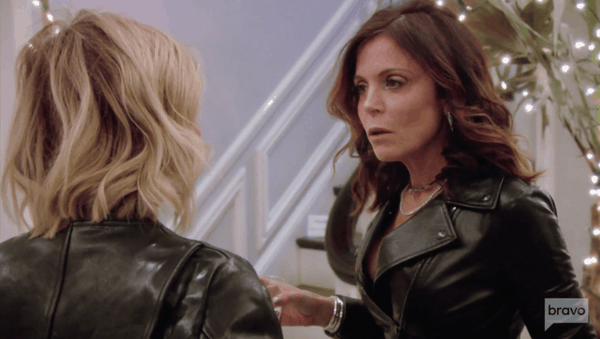 I say this a lot but it bears repeating: the Real Housewives of New York is the best Housewives series. And this recent episode showed exactly why that's the case. It had everything: heart, humor, and, of course, loads of drama. Let's get right into one of the show's best recent episodes.
The episode starts off with Bethenny Frankel and Dorinda Medley in Puerto Rico. While the two Housewives hand out money cards to everyone in need, they remark about how much the country is still in dire need of assistance. Dorinda says that the news coverage of the hurricane's aftermath doesn't do the country justice. She had no idea that things were that bad there. Dorinda begins to tear up during their excursion and I can't help but do the same. It's all been incredibly moving and eye-opening.
Then, we move things back to NYC. Sonja Morgan and Ramona Singer are headed out on a shopping trip. So, Ramonja's back on? It looks like it! Sonja tells Ramona that she just wanted her to have her back with the Dorinda fight from a few episodes ago. Surprisingly, Ramona does say that she's sorry for disappointing her bestie. The two friends then shop for expensive furs and have a grand ol' time of it. Ramonja lives, guys!
Luann de Lesseps then met with a theater director in order to get her cabaret show started. (I'm dying to see this show, btw.) At one point, the director asks Luann to sing "Happy Birthday" to him, so he can hear her voice. She does… directly into his face. It was a bit weird but it's not like she sounded terrible.
Back in Puerto Rico, Bethenny and Dorinda hand out even more money cards. They also visit the living situations in the country. It's safe to say that these situations aren't good. Some of them don't have electricity or even strong roofs. It's also revealed that Bethenny and the B Strong foundation are the first ones from the USA to come and give money to those in need. Just… wow. Major props to Bethenny. She's really putting in the work to make a difference.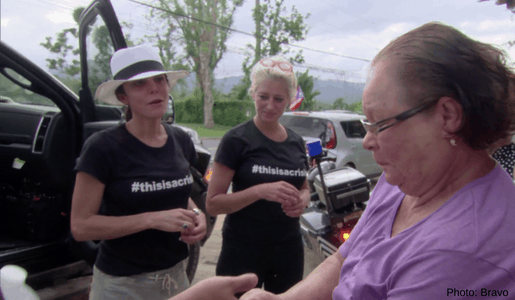 In NYC, all of the ladies (minus Dorinda) meet up for dinner. And boy was this dinner a doozy. Sonja started things off by talking about a recent date she had. That prompted Tinsley Mortimer and Carole Radziwill to make fun of her (not to her face, just aside and to themselves). It was total mean girls stuff. Luckily, Bethenny recognized how f*cked up the whole Sonja/Tinsley drama is. That proved again why I'm such a Bethenny stan now.
Bethenny says that Sonja's done a lot for Tinsley, including taking her in when she was down on her luck. She also explains that all Sonja wants is a little acknowledgment. Soooo, Bethenny questions Tinsley about it in front of everyone. You gotta love a good Bethenny call-out. In the middle of it, Carole chimes in to add that Tinsley was also not in a great place emotionally when Sonja took her in. But, Bethenny wasn't having any of Carole butting in.
Carole then said that she just wants Bethenny to be fair about the whole fight. Carole, who seemingly has a hard-on for both Bethenny and Sonja, should not be one to judge what's "fair." At this point, Tinsley's yelling about being picked on and everyone's trying to quiet her down.
Bethenny then says that all Carole does is defend the person sitting next to her, like she did with her and Heather Thomson. Carole then tells her to "get off my jock." After all of this, nothing was resolved. But, innocent bystanders Luann and Ramona got a great show out of it all.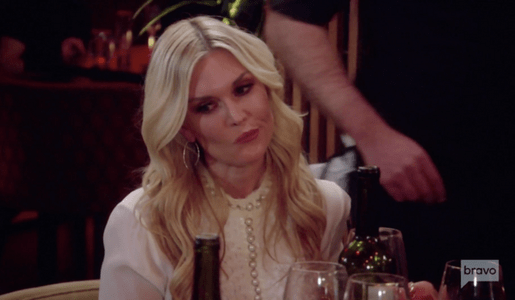 Carole meets with Michelle Promaulayko, the editor-in-chief of Cosmopolitan. She wants to get back to her writing roots with a new column. Carole wants to write about the ongoing sexual harassment and assault issues plaguing the entertainment industry and beyond. She even reveals that she has her own #MeToo story, in which she claims that a director sexually harassed her in the past. Carole has indeed gotten back to her roots and has already produced a piece for the publication.
Dorinda and Bethenny meet for lunch. Bethenny gives Dorinda the rundown of the dinner fight extraordinaire. She then gives some new insight into her friendship rift with Carole. Bethenny says that Carole's sometimes-boyfriend Adam refused to take photographs for her charity foundation because he wouldn't get paid. It left a bad taste in her mouth. She also says that Carole hasn't taken a big interest in the Puerto Rico situation. So, it looks like we may have a couple of reasons for why they're not on great terms.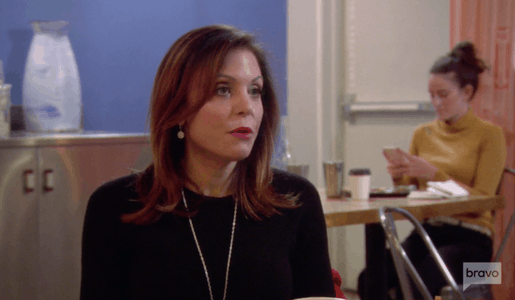 Luann and Ramona help Sonja with her townhouse. Sonja enlists them to help paint her furniture because it would be "fun." They put on hazmat-looking suits and get to work. They also discuss the dinner drama. Luann says that Carole wasn't holding her own. She also says that Bethenny had a point with what she said about Tinsley.
At a party for Carole's friend, Ramona brings up the dinner… again. Ramona tries to say that Bethenny called Carole a puppet. However, she definitely didn't. The show even played the footage from the dinner to clarify. Ramona, always the confused, hilarious pot-stirrer. Carole then asks Bethenny about the puppet comment. Bethenny denies if, of course, since she didn't say it. She says that's not even a word she'd use (even if it fits, as she says).
Then, Dorinda reveals that she's throwing a murder mystery dinner party during their "Beserkshires" getaway. All of the ladies get characters to play and you just know it'll be amazing. I love that the Berkshires trip is such a classic *thing* now on RHONY.
Tinsley then pulls Sonja aside privately. She says that she wasn't okay with those kept woman comments. Although, she also wants to put the drama behind her. She apologizes if she ever came across as ungrateful to Sonja. The two Housewives then make-up and all is well in the world. We'll see how long it lasts.
What do you think about this update on Bethenny & Carole's relationship? Can they ever be besties again? Tell us what you think!
---