RHONY Recap: Wigging Out
Season 10 - Episode 15
Stephanie Downs July 19, 2018 1:10pm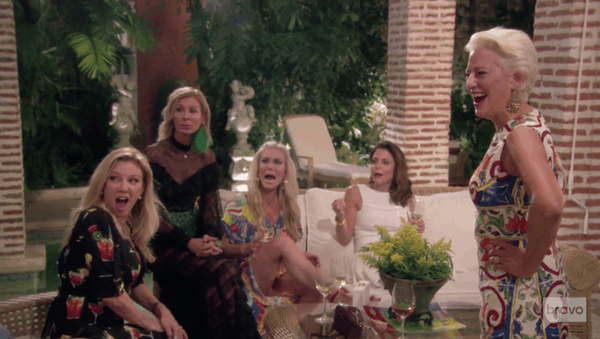 The ladies of NYC finally made their way to Colombia this week. Since this is the Real Housewives of New York we're talking about, it definitely didn't disappoint. Let's head right into all of the craziness that happened on this week's episode of RHONY!
The episode starts with the Housewives packing for their trip. It also gives us a glimpse of a wounded Ramona Singer. Apparently, she twisted her ankle on a different vacation after she fell down some stairs. But, Ramona's still dedicated to the Colombia trip.
Once they're all in the South American country, Bethenny Frankel relates to Sonja Morgan and Luann de Lesseps that she's been texting red scarf guy. He told Bethenny that he got drinks with Ramona after the speed dating event, but he's not interested in her. So, this whole love triangle… square shouldn't be dramatic at all.
All of the ladies get to Tinsley Mortimer's pad, and it really is beautiful. Bethenny, of course, wastes no time in complaining about her accommodations, though. Like, girl, just have a good time. Tinsley has an interesting method she's using in order to pick out the rooms. Gone are the days of the women fighting over the biggest one I guess.
Instead, Tinsley's using Tiffany necklaces that have their initials on them. Once they go to a room, one person will open a box and the person whose initials are on the necklace will be the one who gets the room. It's kind of ingenious, actually. And, once again, I'm dying to be a houseguest of Tinsley's in some form or another.
The group sits down to eat lunch, which includes a generous helping of fish stew. As soon as Bethenny takes a bite of it, she realizes something's wrong. It turns out that she's allergic to fish. Now, if you're a normal person, you'd go into panic mode over your friend having a possible allergic reaction, right? Well, no one seems concerned in the slightest as Bethenny leaves the lunch to go be sick in her room.
Cut to the group getting ready for dinner (complete with a recovered Bethenny), and it's a scene. First, Ramona gets stuck in an elevator and no one hears her crying out for help. It's my worst fear but I also can't help but laugh. She's eventually freed, though, so no biggie. Then, Luann arrives for the dinner donning a blonde wig because… she can? She does look good, though. And she's giving off extreme Sofia Vergara vibes.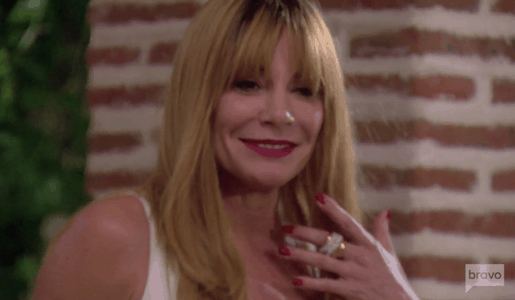 At dinner, things quickly turn south, as they're wont to do during a RHONY dinner. Carole Radziwill mentions that she went on a date with red scarf guy and that it went well. Bethenny, oozing jealously, scoffs at this. Carole says that it's no big deal since she thought Bethenny and red scarf were friends.
Bethenny immediately says that they're not friends and then goes off on a tangent about how this guy's a player. At one point she even calls him "Tom 2.0." That very well could be true, but this is still not a good look for Bethenny. Sonja pipes in to say that they're just worried for Carole since he seems like a player. Sure, that's exactly why Bethenny went off the rails.
The dinner breaks up with Bethenny declaring, "That was a slice of torture." Actually, it kind of was for everyone involved. Outside of the restaurant, Bethenny complains to Dorinda Medley that she's not vibing with Tinsley's place and that she'd almost rather go to a hotel. Then, go? I don't really have to tell you, but Dorinda immediately took that info to Tinsley, who also said Bethenny should leave if she's unhappy.
The groups split up into Team Bethenny (with Sonja and Luann) and Team Carole (with Ramona, Dorinda, and Tinsley). They both complain about the other, naturally. But, they eventually meet back up in the same bar, where things can't help but go south yet again (surprise!).
Tinsley brings up Bethenny's complaints. Obviously, since she only told Dorinda, she knows it was her who had loose lips. She relates that she can't tell Dorinda anything without her spilling it to someone else later. Dorinda didn't think it was too important, which is why she told Tinsley. Um, yeah right. We all know you wanted to cause some drama, Dorinda (and no one can fault you for that really).
After the messy night, Bethenny apologizes to Tinsley about her comments. She tells her that she just has a lot going on, so she's been stressed out. Tinsley accepts her apology. Then, as the ladies all sit down for a surprisingly drama-free breakfast, Tinsley gets a gift from her boyfriend, Scott. It's a flower display with their initials "TM+SK" on it. The card read that there are 365 flowers for the 365 days they've known each other. It's as corny as it is adorably romantic, tbh.
The episode ends with Bethenny opening up to Dorinda about those aforementioned issues. She says that the restraining order against her ex will be up soon and that there's still drama with her custody case. On top of that, there's still so much tension with her former BFF, Carole. It all gets to be too much for Bethenny as she starts to have a panic attack and then… the dreaded "To Be Continued" ends the ep.
Will Bethenny be able to continue on with the trip? And will she ever get along with Carole? Let us know what you think!
---