RHONY Recap: Running Your Mouth
Season 10 Episode 2
Stephanie Downs April 12, 2018 12:52pm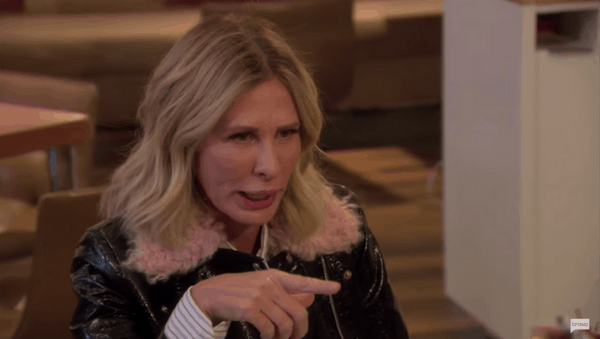 Almost nothing could top the explosive Real Housewives of New York season premiere from last week. The second episode of the season certainly tried to top it, but, alas, it didn't manage to be nearly as dramatic (or as exciting, tbh). Still, there was a lot that went down on this week's RHONY, so let's head right into everything that happened on the latest episode of the reality series.
The ladies sat down in various groups to discuss that disastrous Halloween party. Dorinda Medley and Bethenny Frankel talked about their feuds with Sonja Morgan and Ramona Singer, respectively. They were both annoyed at Ramonja's trash-talking… even though that was exactly what they were doing while talking about them. Tinsley Mortimer, Carole Radziwill, and Ramona (weird lunch date group) discussed the party as well and Carole's upcoming participation in the NYC marathon. Ramona even let it slip that she's holding a party in Carole's honor after the marathon at her Hamptons house. She called her friend Kirk, who's helping put the affair together, and it sounded as though there was a little flirtation going on between those two (she did tell him "I love you" even though they haven't even kissed yet). Has Ramona made a love connection?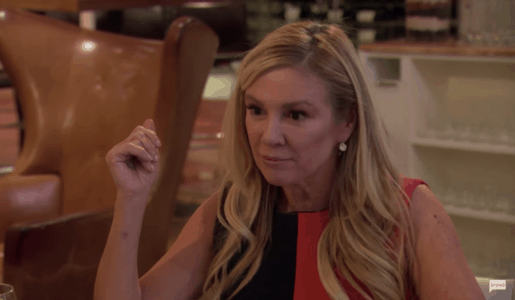 Sonja and Dorinda then met up to take a walk, even though Dorinda was just telling Bethenny how annoyed she was at Sonja. Sonja told Dorinda that she hadn't talked to Tinsley nearly all summer. Although, she's texted her about possibly meeting up at some point. She then went on to say, prompted by nothing in particular, that Tinsley's a kept woman and that her (now ex) boyfriend Scott pays for Tinsley's hotel (where she's currently living). Dorinda was shocked by that statement and tried to defend Tinsley. But, Sonja couldn't help but continue to say that she'd never let a man pay for her like that since she's an independent woman.
Luann de Lesseps and Tinsley then met up for dinner. Tinsley immediately started to complain about her "text war" with Scott. Yes, a text war, because they're fifteen-year-olds? Luann tried to give Tinsley some advice about the situation since Tinsley brought it up in the first place, but she wasn't having it. She was annoyed that Luann was giving her relationship advice, considering the whole Tom D'Agostino situation. OK, then why did you even bring it up, girl?!
Tinsley then got mad that Luann wouldn't open up about her divorce situation even more. Uh, because it's not like Luann has to? Carole and Adam's relationship then got brought up for some reason, with Tinsley saying that Carole's relationship was more legit than Luann's. Well, that's probably true. But, it also sounds like everyone's comparing them just because both couples broke up around the same time. The whole comparison thing is just weird and needs to stop.
Carole and Dorinda had a chat at the Highline. Dorinda continued her anti-Sonja tour and told Carole about Sonja spreading gossip about Tinsley's living situation. During their little chat, Carole told Dorinda that Sonja had apparently called Dorinda fat at the Halloween party. And, honestly, yikes. If that happened, that's totally not cool, Sonja. The two then talked about the upcoming Hamptons trip everyone's going on. Carole was a little iffy about rooming with her (former?) bestie Bethenny. It seems like these two had some kind of falling out, but no one's explained why yet.
Then, and in the most random scene in the entire episode, Sonja explained how she enjoyed "throwing the gay parties." She invited all of her gay friends over to her townhouse to have a party. None of her female friends were invited, especially the Housewives. She said that she just feels more herself at these parties. Sonja also said that she feels like she's a gay man trapped in a woman's body. The randomness of this aside, why has Sonja distanced herself from the other Housewives? She doesn't invite them to these parties, didn't jive with anyone during Halloween, and is even distant from her BFF Ramona. What gives?
Bethenny then showed off the new location for her Skinnygirl business in Soho. It really is a nice location and place, even though they still have a lot of setting up to do in it. She said that her business is booming and that she consequently needed a bigger space. Bethenny also said that she wants to expand her staff as well, especially since she's focused her time on her hurricane relief efforts as of late.
Dorinda and Tinsley met up for lunch, where they ordered wine at 11:30 (I'm not judging, I love it). Dorinda, almost immediately, told Tinsley about Sonja's comments. Tinsley was obviously floored by them and maintained that Scott doesn't pay for anything, especially since they're not together anymore). Dorinda said that she just wanted to give her the heads-up (i.e. to start drama) because of the group's Hamptons trip. So, it will be interesting to see Tinsley confront Sonja about her statements during their group outing.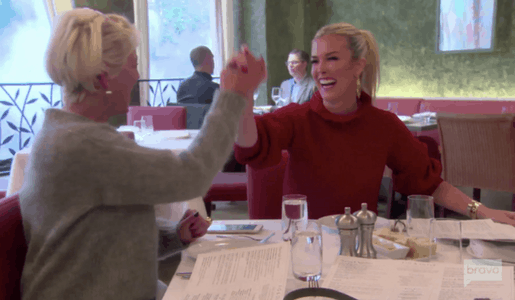 Sonja and Luann than had lunch, where they dined outside in November (I will judge that). During the lunch, Luann said that she was going to focus on her music career, even though some of the other Housewives judged her for it. She then boasted that she has numerous singles on iTunes and a station on Pandora (who has Pandora anymore?), so they're in no place to judge. Luann also said that Tinsley wasn't nice during their previous dinner get-together. She's not wrong. Tinsley wasn't the nicest. The Countess then went on to say that Sonja's been one of her truest friends throughout her divorce ordeal. And, because they're such good friends, she invited Sonja to come stay with her during the Hamptons outing. I'm loving this little Sonja/Luann alliance, not gonna lie.
The rest of the episode was all about Carole's amazing NYC marathon run. She said that she was running the marathon partly in honor of her late husband, Anthony Radziwill, who ran the same marathon decades ago. Carole had plenty of people there to support her, including her on and off boyfriend Adam, who also ran the marathon, her parents, and Tinsley, who was the only Housewife to show up. All of Carole's hard work training paid off, as she finished the marathon and was greeted by all of her supporters at the finish line. It was all very emotional stuff.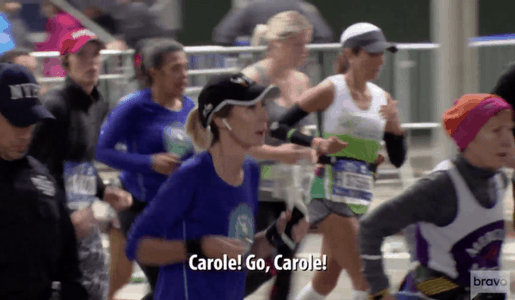 What do you think about Sonja's comments concerning her former housemate Tinsley? Were they over the line? Let us know your thoughts below!
---